ATC Computer Transport & Logistics' dedication is to customer service
09/09/2021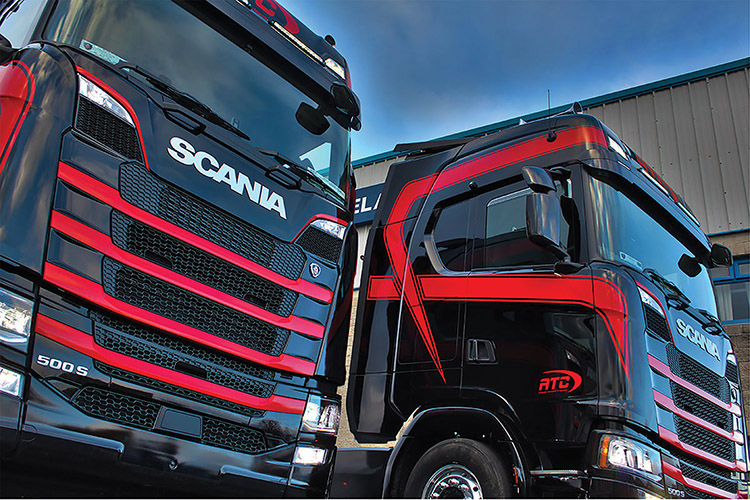 ATC Computer Transport & Logistics is recognised by clients as one of Europe's leading computer transport and logistics companies and data centre specialists. Irish Trucker found out all about this thriving transport company recently – from its origins to the state of business today.
Business is good right now at ATC Computer Transport & Logistics, and the plan for the Young family, based in Co Dublin, is to try and keep things that way.
With six different locations (two in Dublin and four spread across the continent), the company has recently adopted two brand new Scania trucks to its fleet.
It is yet another example of the firm investing in high quality equipment, as the new acquisitions look fantastic and perform superbly. They also symbolise ATC Computer Transport & Logistics' unshakeable dedication to customer service.
ATC Computer Transport & Logistics sees itself very much as a European company, performing its excellent transport services across the continent.
Since its inception more than four decades ago, it has grown and developed into one of Europe's leading high-tech specialists, providing white-glove transportation services to data centre operators and the final mile for global logistics partners.
The company's high specification vehicles and expert drivers at the wheel ensure that clients' deadlines for deliveries are met every time.
Indeed, ATC's services don't stop at the loading bay; they will bring equipment to its destination, then connect it to power and networks.
Right now, the family-run company is in the process of relocating to its new headquarters in Co Dublin alongside the N7 motorway. Expected to be completed in the Autumn, the new HQ in the capital is just one of six different locations in which ATC Computer Transport & Logistics operates.
The company also has an Operations Centre in Rathcoole, Co Dublin, while in the UK, they operate from Farnborough in northeast Hampshire, England.
On the continent, ATC has bases in The Netherlands and the Czech Republic and have also recently opened their new Operations HQ in Mörfelden, beside Frankfurt airport in Germany.
Business is good despite all the challenges out there at the moment between the Covid-19 pandemic and Brexit. The general feeling is that many good things are coming up for ATC, starting with the opening of its new operations HQ in Germany and the new Dublin HQ coming later this year. The company is also delighted to be creating employment within the industry as a result of this expansion.
At the end of last year, ATC received what it described as "a great honour" when the company was announced as a winner in two different categories at The Irish Logistics and Transport Awards.
The Irish Logistics and Transport Awards (ITLA) are established for more than a decade now and celebrate excellence in the logistics and transport industry and encourage teams and individuals to continue raising the bar.
As a company, ATC was humbled by the industry's recognition, which saw them winning the Customer Focus Achievement award and the Logistics and Transport SME of the Year award.
The Customer Focus Achievement award recognised ATC's commitment to delivering superior customer service to clients throughout 2020.
"Loving Our Customers" is a core value of the company. It highlights its pledge to earning and keeping clients' trust by continually working as a team to offer solutions that exceed their expectations.
The award for Logistics and Transport SME of the Year reflects excellence and innovation displayed by ATC throughout 2020, and it means a great deal to the company.
ATC worked tirelessly throughout the year to upgrade its operations and continue the expansion of operations across Europe.
Since 'Day One', ATC's customers have been the focus, and they work tirelessly to earn and maintain their trust.
Always staying in constant touch with their clients, the company aligns its processes to its customers' needs, continually offering solutions to exceed their expectations.
Down through the years, they have earned customers' trust by getting the job done to the highest standards of safety, security, and reliability — every time. Through personal honesty, rigorous processes, and real-time technologies, ATC maintains its customers' supply chains' integrity.
Experts in their field, ATC's superior customer service, are enabled by the quality of its processes. They continuously seek innovations and see every challenge as an opportunity to innovate and use its skills, knowledge, and new technologies to re-define its services.
Above all else, ATC's management team will tell you that its greatest strength is its staff. They embrace mentoring and cross-training within their teams and work hard to promote a culture of development, training and self-improvement, both internally and from industry bodies.
Things have indeed come a long way for ATC since Alan first started out in 1979 by delivering letters, packages and small parcels in an estate car.
As the years went by and computers became more and more popular, he saw a niche in the market and bought his first truck with a tail-lift.
The rest, as they say, is history.
ATC Computer Transport & Logistics
2059 Castle Drive,
Citywest Business Campus,
Dublin 24.
Tel: 01 403 5710
Email: [email protected]
Web: www.atc-logistics.ie
Published in Irish Trucker & Light Commercials magazine, June/July 2021, Vol 24 No 4