Family owned and run, delivering to the nation
07/09/2021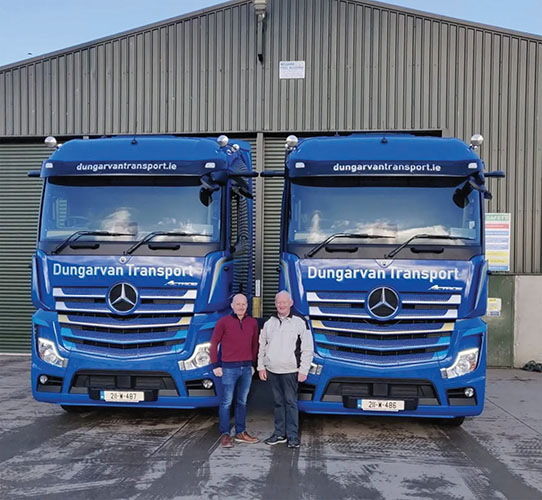 Established in 1979, Dungarvan Transport is Waterford's largest transport company and delivers quality transport services throughout Ireland and the UK. Irish Trucker touched base with its Managing Director, Tomas Horgan to learn all about the business, including the latest additions to its impressive fleet.
These are busy times at Dungarvan Transport and the plan for Tomas Horgan and the rest of the team down in Garryduff is to try and keep things that way right through 2021.
First set-up by his parents a little over four decades ago, Tomas has been involved in the business as far back as 1993 when the company operated with just a single truck.
Today, Dungarvan Transport operates with a fleet of 50 trucks and 120 trailers, with 70 full-time staff on the books.
Over the past 42 years it has built up an excellent reputation amongst its clients, as Tomas himself outlined to Irish Trucker.
"We're involved in four main sectors," said the Managing Director. "Pharmaceutical transport would be a key part of what we do here and we also provide a lot of tanker transport with more than 30 food grade tankers, Container transport with a fleet of Goose neck low height Dennison trailers and Bulk feed blower units of which we operate ten.
"We have 30 tankers here and we have many with pumps as well. We do some work with Irish Water, so tankers are a big part of what we do here."
With the pharmaceutical industry being so key to both the town of Dungarvan and its surrounding area, Dungarvan Transport endeavours to ensure that its transport needs are met with safe, secure and timely transport solutions.
"Because we do so much work when it comes to pharmaceutical transport, all of our drivers are GDP qualified," Tomas explained.
"We do a lot of container work as well, delivering to all 32 counties, and with regards to animal feeds transport we have ten trucks which are completely dedicated to it for us here."
This past year has been a mixed one for businesses, according to Tomas, with the Covid-19 pandemic having affected so many companies nationwide.
Add Brexit into the mix and you can see the obstacles that stand in the way for Irish transport companies at the moment.
"2020 was very up and down," he said. "We'd a good start to the year until the first lockdown hit in March when things really slowed down as some of our customers stopped production and more scaled back, however but going into the summer it picked up again and the second and third lockdowns had much less of an impact on our volumes.
"We kept operating through the second lockdown and into January 2021 it has been relatively quiet for this time of year."
Still, however, container transport, agri-products and pharmaceuticals sectors continue to keep Dungarvan Transport's trucks on the roads day in, day out, as the company's unwavering commitment to its clients remains as strong as ever.
Dungarvan Transport is a company that is known for its customer care and high-quality standard of vehicle and equipment on the road, which is crucial when it comes to customers' peace of mind and trust.
"I suppose we've been working with some of our customers in excess of 25 years now," said Tomas.
"Customer care is huge for us. We've always placed a big emphasis on Health and Safety as well and compliance and we have Truck Safe Gold accreditation from the FTA.
"Above all though, I suppose our customers choose us because we're efficient and reliable."
Indeed, the team of drivers, mechanics and office staff at Dungarvan Transport always work to meet the demands of customers.
The company's fleet of trucks and equipment are modern to also ensure continued reliability.
The beginning of this year saw 10 brand new Mercedes trucks added to the fleet down in Garryduff, where the machinery on hand is simply second to none.
"We've six of them on the road at the moment and the rest will be coming over the next few weeks," outlined Tomas.
"They're very reliable trucks and include cam mirrors, lane departure warning system and break assists in the features with them. From the point of view of the driver, it's great because they're a lot better and make things that bit easier, they are all fitted with a fridge/freezer, GPS, and microwaves and extra storage space."
It's also worth noting that all of the company's trucks are fitted with mobile phones, live cctv and satellite tracking systems so the team can offer customers quick response times in resolving any concerns.
So, whether it's, Bulk Liquid, Bulk Feed, Pharmaceutical, Container or Low Loader Transport that you require, look no further than Dungarvan Transport to service your needs.
This second-generation successful venture is also a member of both the Irish Road Haulage Association (IRHA) and Freight Transport Association Ireland (FTAI) and see these groups as being vital to better the industry, backing and assisting them to make Irish haulage better, safer and more efficient for all.
Looking towards the coming months, the company's Managing Director holds similar hopes to so many at the moment and those are that the situation with regards to the global pandemic can improve to the point where they'll be somewhat of a return to normal life.
"I suppose we're no different to anyone else in that we hope that the vaccine roll out will be completed as soon as possible and hope that life and business will get back to some sort of normality.
"With regards to business itself, we are always looking for opportunities for new growth at Dungarvan Transport and hopefully we'll continue to find it," Tomas concluded.
Dungarvan Transport
Garryduff,
Colligan,
Dungarvan,
Co Waterford
Tel: 058 68 855
Fax: 058 68 104
Email: [email protected]
Published in Irish Trucker & Light Commercials magazine, June/July 2021, Vol 24 No 4