Ever evolving Whitten Road Haulage continues to set record breaking standards
31/08/2021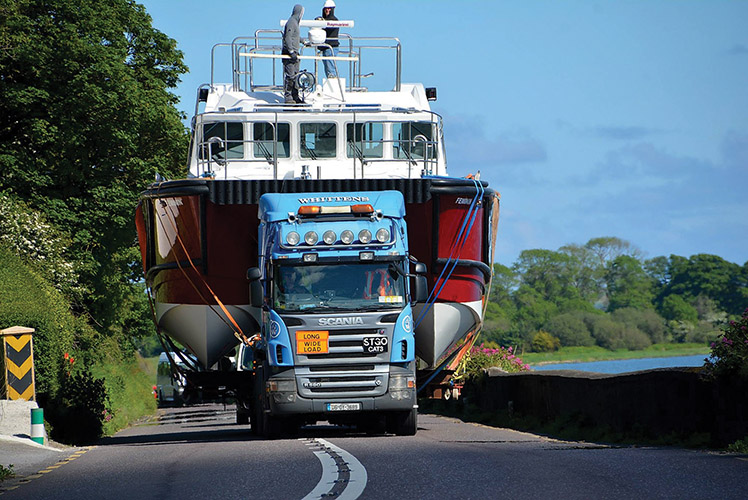 Established by Frank Whitten in 1963, Birr, Co Offaly-based Whitten Road Haulage specialises in Heavy Haulage, Abnormal Loads and Boat Transportation. Now under third generation management, the company's proven track record and experience is second to none.
From humble beginnings with a Guy Warrior dedicated to hauling livestock around Ireland, Whitten Road Haulage has evolved into being a progressive company that is positioned at the forefront of the Heavy Haulage industry, being trusted time and again with ever more challenging projects.
A mutually beneficial partnership with Banagher Precast Concrete (hereafter BPC) began in the mid-seventies and laid the foundations for the expansion of the family-run business's fleet and services.
It was in the early 1980's that Whitten Road Haulage purchased its first Scania from long time suppliers Delaney Commercials. They subsequently purchased their first set of 'Bogies' for the transport of BPC's loads which continued to grow in length and, in tandem, picked up more and more clients across the engineering industry and ventured into the UK market.
They became the premier haulage company when it came to Iarnród Éireann and their upgrade of their fleet of carriages and engines. They also started to dabble in the world of boat haulage, with the purchase of a crane lorry. Throughout the 1980's Frank and his close friend George Dennison worked together to innovate and have trailers created to meet the increasingly varied workload.
The construction of the Motorway network in the 1990s saw massive investment in Whitten's fleet and the purchase of their first fully steering trailers in order to carry BPC's beams as the weight started to get beyond the capacity of the 'Bogies'.
Iarnród Éireann also kept them busy with various rail projects while they also notably started to carry many more heavy loads to the UK with the Leeds Bypass, in particular, seeing massive workloads. Towards the end of that decade, they had installed a lorry full time in the UK to keep up with the massive volumes of loads that they were required to bring over and back.
In addition, they bought their first HiAb crane lorry and Frank became almost entirely involved in the haulage of boats etc with the crane lorry. The end of the millennium saw the company transport the Millennium Bridge from Carlow to Dublin.
The early 2000's saw, along with the continued roads network expansion, projects such as the Dublin Port Tunnel which helped to keep them busy along with working on the Croke Park expansion. The company had to invest in a second larger HiAb crane lorry to keep up with the demand. The fleet continued to expand and the trailers continued to diversify as more and more work came their way.
In the mid 2000's the time had come to invest in their first modular equipment to carry what were at the time BPC's largest precast beams ever manufactured which were also the largest ever in Ireland or the UK - the 42m loads for the Limerick Bypass. This particular trip saw the trucks having to reverse 10km to then drive forwards and proceed onwards to and through Birr.
The 2010s saw some readjustments as the recession took hold. The company through some astute management came out through the recession stronger, more resilient and fortified.
Their fleet of trailers had grown to include the largest selection of extendable steering trailers in Ireland and boat trailers that can be loaded lower than anyone else in Ireland. In 2017 they bought their second set of Modular Trailers and also purchased the first of their kind 4 axle Dennison trombones. A year later they upgraded their crane lorry.
The company moved into serving the European market with trucks working in France, Germany, the Netherlands and Spain moving cranes, boats and other oversized loads. They also moved several power transformers and wind turbine blades. Whitten Road Haulage's fingerprints were all over other notable projects such as Glanbia in Waterford, a Boeing 767, that was moved from Shannon to Enniscrone in Sligo, and the movement of the boat "Thunderchild".
Frank sadly passed away in 2007 but today his three grandsons - Darren, Philip and Rhys - have picked up the baton and are building on his legacy. After taking over the management of the company last year, the forward-looking trio have invested in DVS equipment, are in the process of attaining FORS and ISO accreditations and have continued to invest in fleet overhaul and replacement.
In addition, they have added the ability to perform swept path analysis and have purchased the company's first 250 Ton rated lorry.
They have also successfully moved the largest precast beams ever made in the UK and Ireland at 50m and 155 Ton as well as a 103 Ton Rotor with more projects upcoming, and have recently ventured to Denmark for the first time for Whitten Road Haulage's first abnormal load from Scandinavia to Ireland.
"Grandad started off in the agricultural aspect of haulage and then over the years the company would have evolved," Darren McDowell outlined. "Working with Banagher Precast Concrete led to us specialising in the pre-cast haulage which evolved into the concrete beams, with the long loads. The exposure the loads then gave us driving with them throughout Ireland attracted other business for abnormal loads haulage and that then helped us to diversify into other markets for oversized projects and to gain the experience necessary to be able to get anything abnormal moved."
Operating throughout Ireland, the UK and Europe, the extensive range of services Whitten Haulage provide to its valued clients includes Heavy Haulage, Specialist Haulage, Abnormal load transportation, Boat Haulage, Power Generation, Aerospace and Aviation, HiAb Crane services, High & Wide Load Transport and overall project management. Their fleet includes extendable flat beds, extendible stepframes, vessel carriers, boat transports, semi-extendible trailers to 80 tonnes and modular trailers to 400 tonnes.
"The company would have started off with very basic equipment but has now advanced into the modular equipment. You can sort of move on to anything you want after that. The world is your oyster to start buying bits and pieces to help you keep going.
"For example, we were involved in moving record beams to Macroom for BPC. They were the longest ever manufactured in Britain or Ireland at 50m long and 155Ton the truck and trailer combination was 62m from head to toe. We completed that job in February. The beams were moved in December, installed in January and then there were ones that were a little bit shorter that went on through January into February. At the moment, we're doing beams up to Dungiven that still involve the modular equipment."
Not content to rest on their laurels, Darren revealed that there are ambitious plans in the pipeline for further expansion of the company which currently has 20 employees on its books.
"The three of us are looking to renew and reinvigorate the fleet and then, through that, attract younger drivers into the business who will eventually replace our more experienced drivers. There are less people coming into the industry than are going out of it at the moment. We're trying to attract new drivers with a fresher looking fleet and get them in young so that we can teach them how to do the loads and specialise in it while you still have the experienced lads there to bring them through it.
"There's a bedding in process with what we do. You can't just suddenly tell a lad to hook up to a 50m beam and go down to Macroom with it. He has to learn his way up through it. We want to be able to have a selection of lads available that can go down to BPC, hook up to a 50m beam and take it where it needs to be. That way you can share the work around and not be overly reliant on one or two people.
"At the moment, we are very fortunate to have a lot of experienced lads. Rhys and Philip would have to be involved with most of the beams that are currently going down the road but they are in the process of training the lads how to use the heavier equipment and how to steer them themselves. This way they can stay at home if they need to and know that they team is capable of getting the job done without them having to be there. Not to say that they won't be there when the job is being done anyways. When you've grown up with it and it's in the blood it never gets old being involved in moving these loads. I try to explain it to my friends from non-haulage backgrounds and they just don't get it."
The Whitten Road Haulage team pride itself on offering a reliable service as well as attention to detail. As a consequence, Darren is confident that the company's graph will continue on an upward trajectory in the years ahead.
"We get the job done on time, efficiently," he pointed out. "There's no fuss about us. If you want the job done, we're going to out and check that everything is possible to be done in the first instance. That means we're not suddenly going to come upon an obstacle at the last minute. We're thorough in that regard.
"There's work we are expecting that will see further investment in complete fleet expansion of new trucks and trailers, we would look at a bit of overhaul/modernisation on of some of our specialist trailers and the purchase of additional specialist trailers of types we don't currently have and we would also be looking at buying further implements for our modular trailers in particular that can help us diversify the offering we can give our clients. As I said, you can go out and buy any amount of implements you want for them. They are a very diverse trailer so we'd look at diversifying into getting implements for them so that if anyone came and asked could we do a job, it's not something that we have to say that we can't do," he concluded.

Whitten Road Haulage
Clareen
Birr
Co.Offaly
Phone: 057 9131022
E-mail: [email protected]
Website: www.whitten.ie
Published in Irish Trucker & Light Commercials magazine, June/July 2021, Vol 24 No 4