Quality and Service. Delivered.
26/08/2021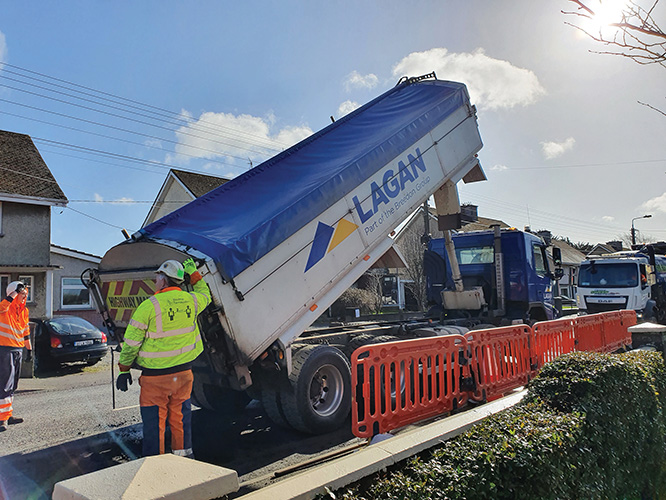 Lagan Asphalt (Part of the Breedon Group) is a major supplier of Hot Rolled Asphalt, Asphalt Concrete, Thin Surfacing Systems and innovative special surfacing products throughout the Republic of Ireland.
Lagan Asphalt, along with the rest of the Lagan Group, was acquired by Breedon three years ago in a £455 million deal and continues to go from strength to strength. Breedon is a leading construction materials group in the UK and Ireland which produces cement, aggregates, asphalt, ready-mixed concrete, Welsh slate, specialist concrete and clay products, while offering a range of contracting services.
Breedon has a strong asset backing, with around one billion tonnes of mineral reserves and resources. The Group's strategy is to continue growing through organic improvement and the acquisition of businesses in the heavy-side construction materials market. Breedon reports as three segments: Great Britain, Ireland and Cement. Its operations in Great Britain and Ireland are fully integrated aggregates and downstream products businesses. Its Cement business is a major producer of bulk and bagged cement in the UK and Ireland.
Lagan Asphalt's manufacturing plants are strategically located across Ireland to provide nationwide coverage as follows: Cladybeg, Co. Armagh; Ballysdare, Co. Sligo; O'Callaghans Mills, Co. Clare; Ballycoolin, Dublin 11; Kinnegad, Co. Westmeath; Tuam, Co. Galway; Sheastown, Co. Kilkenny; Carrigtwohill, Co. Cork.
James McManus is contracts manager of the Armagh Asphalt Plant in Cladybeg which produces approximately 80,000 tonnes of asphalt surfacing for footpaths, cement bound pavements, carparks, roads and motorways each year, and services the north-east counties of Cavan, Monaghan, Meath and Louth. In existence since 1998, Armagh Asphalt is a 2.25T batching plant with the capacity to produce 150 tonnes per hour. There are hot storage bins for 250 tonnes of materials and a fully-equipped laboratory for the testing of aggregates and coated materials.
James' role entails pricing works and laying out a programme for completing works. He also coordinates the supervision and completion of the contracts liaising with customers. "We source our aggregates from Loughran Quarries and bitumen from Lagan Bitumen. We supply to a wide range of customers in the north-east counties, from local authorities to private clients," he explains.
Rather than running its own fleet, Armagh Asphalt subcontracts its transportation work to well-respected haulage operators. The company has implemented strict requirements for hauliers and owner-drivers in relation to vehicle maintenance and compliance with road traffic regulations.
The Armagh depot has been involved in the construction of some of the country's largest road projects. It supplied the M1/A1 Newry to Dundalk scheme with approximately 200,000 tonnes of asphalt materials and also supplied the N3 upgrade scheme. Internationally, Lagan Asphalt has been involved in major projects in Poland, Scotland and Oman to name but a few. As an essential service, Lagan has stayed operational through the different lockdowns caused by the COVID-19 pandemic.
"A seamless transition" is how James describes the Breedon takeover. "We recently upgraded our offices and laboratories which underlines Breedon's commitment to growing the business," he says.
Lagan Asphalt is always mindful that it operates in a community and therefore has a valuable role to play in supporting and engaging with its neighbours and making sure its operations make a positive contribution to the locality. Aside from the social and economic benefits of offering local direct and indirect employment, the management at Lagan are very focused in practical terms on ensuring that there is minimal potential for nuisance of any sort for the local community arising from their activities.
Lagan Asphalt implements the highest industry standards as part of its established ISO 9001 Quality Management System and asphalt is produced in accordance with EN13108. Its commitment to research and product innovation has led to the development and use of sustainable quality surfacing materials. In addition to being a major asphalt producer, Lagan's Road Surfacing and Highway Maintenance division is a leading asphalt surfacing and maintenance contractor in the public and private sectors.
On all contracts, the Group implements impact assessments to mitigate any or potentially adverse environmental impacts.
Lagan's products / services range from aggregates, asphalt, bitumen and concrete to contract surfacing, cement, road markings, civil engineering, Breedon Roof Tiles and Breedon Clay Bricks and Products. The main products of the Asphalt division are CE-marked asphalt concrete, hot rolled asphalt SMA, thin surfacings, coloured surfacings, Foamix and streetprint.
Lagan Asphalt combines aggregates with bitumen to produce a wide range of surfacing materials, including specialist products for motorways, trunk roads, airport infrastructure, driveways, footpaths, farm roads, carparks and recreational areas. It can also provide recipe, design and performance-based asphalt to suit all applications.
Thin Surface Courses (TSC's) are high stone content materials for Surface Course applications. They are durable, deformation-resistant, reduce noise and spray, and offer excellent ride quality when compared with traditional hot rolled asphalt. For coloured surfacings, the conventional choice of colour for bituminous materials has been either black or deep red due to the black colour of the bitumen used in the mix.
Foamix is a flexible and tolerant cold mix product that utilises the proven Foamix technology approved by the NRA and local authorities, while streetprint provides the classic look of cobbled stone or brick for streets, paths and driveways for lower costs than traditional methods.
Armagh Asphalt Plant
55 Friary Road,
Cladybeg,
Co. Armagh,
BT60 2HE.
Sales enquiries: +44 (48) 37507180
Web: www.lagan.breedongroup.com
Published in Irish Trucker & Light Commercials magazine, June/July 2021, Vol 24 No 4