Another stunning addition to the Tony O'Mahony Agri Plant & Haulage fleet
24/08/2021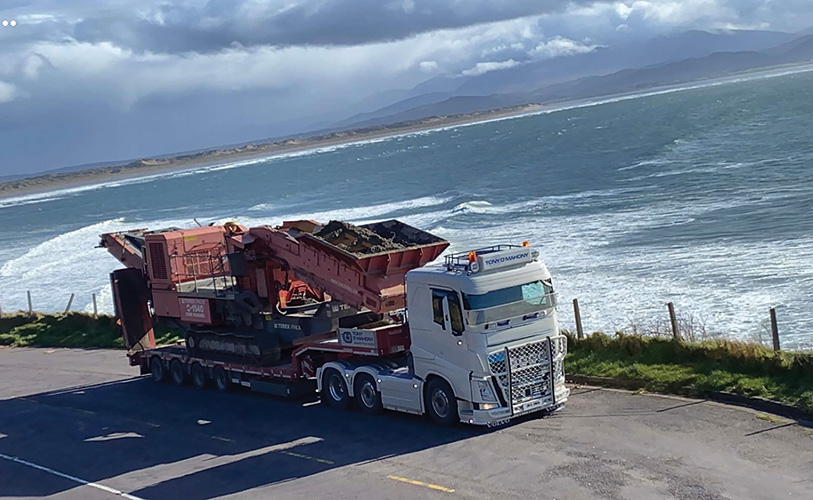 One of the most impressive and versatile fleets in the country got a whole lot better at the start of 2021 when Tony O'Mahony Agri Plant & Haulage took possession of a truly magnificent new Volvo FH tractor unit complete with a host of specs and extras that would bring tears to the eyes of any discerning trucker. We caught up with Der O'Mahony to gain a little more insight into this head-turning new arrival.
A multifaceted family business serving the haulage, agricultural, construction and environmental sectors from their base in Bandon, County Cork, Tony O'Mahony Agri Plant & Haulage have bolstered their eleven-strong fleet of trucks with a stunning new 211-reg 70-ton Volvo FH 540 tractor unit.
Purchased from McCarthy Commercials in Watergrasshill, the striking new Volvo – which has quickly become the talk of the trucking fraternity in the Rebel County and beyond – is an absolute showstopper and is highly spec'd to cater for almost any application. On full air suspension with 70 ton GVW, it comes with three-way tipping gear, Mouvex pumping equipment, ADR certification and an in-cab living package as well as many more bespoke specifications to make each working day a pleasure for lucky driver Joe Keohane.
Some of the other specifications include Volvo Dynamic Steering; Durabrite Alloys; Multi-Function Wireless Remote Control; Fridge, Air-Con and Night Heater; Microwave and Coffee Maker; Enhanced Factory Paint Finish; High Intensity Bi-Xenon Headlamps; Factory Gearbox PTO and Top Quality Local Interior & Exterior Enhancements with the keenest attention to detail on every touch and an immeasurable amount of planning, time and craftsmanship – not to mention money! - invested into making this wonderful Volvo the best it can possibly be.
None of this would have been possible without the input of a huge number of businesses and individuals, Hi Power Ltd. looked after the hydraulic and pumping equipment, while John Twomey provided unrivalled fabrication, painting and auto electrical services. Aidan Ryan handled the bullbar fabrication, D Wilson & Sons did the side rails, while other who deserve a big shout-out are Bits and Bobs Truck Accessories Monaghan (bars, lamps, headboard racks, ladders), Auto Installations (Dashcam and Tracking) and Ivan Ledwith (interior). Before the truck went out to work in early February, FC Detailing sealed the paintwork.
To say this was a long-term project would be an exercise in understatement. The new Volvo was ordered during the summer of 2020, arrived in Cork in mid-November and took to the road for its first load on February 7th, 2021. Transport manager Diarmuid 'Der' O'Mahony – son of business founder Tony - agrees that it was worth the wait:
"We are thrilled with how it turned out. It's not an anniversary truck or anything like that, so there was no real reason why we decided to pull out all the stops this time. But you are constantly trying to perfect the thing and to run the best fleet you can. In a way, it was spontaneous … we had a plan in our heads as to the truck we wanted and it just progressed as time went on.
"A flat cab done up like that isn't very common. Our 2018 model is similar and we started with the same idea and the concept just grew and expanded from there. We kept adding bits on and upping the spec of the truck, with the living packages for the driver, etc. You could say it took on a life of its own and we are delighted with the outcome."
Tony O'Mahony Agri Plant & Haulage's fleet of rigids and artics comprises Volvo exclusively. They provide a comprehensive and diverse haulage service including bulk feed transport, tipper work (aggregates, top soil, tar, etc.), muck shifting, liquid sludge transport and flat and low loader transportation.
From their West Cork HQ, the O'Mahonys also provide keen agri contracting and plant hire services, for which they own and operate a vast fleet of tractors (all New Hollands), agricultural machinery and excavators, dumpers, loaders, track machines, etc., which are available to both the farming and construction sectors. With such an array of fresh machinery at their disposal, Tony O'Mahony Agri Plant & Haulage have the capacity to invariably provide professional, prompt, efficient haulage, plant hire and agricultural contracting solutions.
All three aspects of the business complement each other, with direct employment generated for a crew of 15 as well as considerable season and indirect work.
In keeping with the fact that Tony O'Mahony Agri Plant & Haulage is built on half a century of experience, all work is carried out to the highest standard with Health & Safety to the forefront. No job is too big or too small and the O'Mahonys pride themselves on being hands-on with customers to ensure that a top-quality service is delivered at all times.
"We're doing quite a bit of vacuum transport for both the agri (slurry) and industrial (waste) sectors," Der notes. "On the tipper side, we draw a lot of aggregates and do a fair bit of muck shifting. We're also busy with low loader work and do our share of traction for different haulage companies as well. With the plant, trucks and tractors, one hops off the other. They complement one another and you have to be always looking at the bigger picture."
The O'Mahonys run a substantial agri contracting operation, which is overseen by Diarmuid's brother, Micheal. A third brother, Sean, and father Tony are also actively involved in all aspects of the family business.
"I am grateful that our whole family work so well together which is key to the day to day running of the business. We pride ourselves on the presentation of our equipment for all jobs big or small and that we provide the best service possible to our customers. It is a credit to all our staff, from the drivers to our staff in the office for the attention to detail, dedication and commitment that keeps it all going. It's a team effort and we are very grateful for what they do."
On the equipment front there is continued investment and there is a reason for that according to Der: "Exceptional service requires exceptional equipment.
"We have a new silage harvester coming this year, we bought a new tractor in January (New Holland T7.245) and two new silage trailers. You have to constantly keep on top of it and make sure you have the best equipment ready to do the work when you're needed. "
Down through the years, the O'Mahonys have been regular attendees at trucks shows in Ireland. Alas, with such gatherings indefinitely out of the question due to the ongoing public health restrictions, it could be quite some time before the wonderful new Volvo rig is put on parade at Full of the Pipe or any other show…
"We're definitely a little disappointed about that," Der confirms. "We had planned to introduce her at the truck show scene as that's a big interest of ours and it's frustrating that the year she arrived there are no shows. But she has got a lot of virtual coverage and attention online, so we can't complain.
"We have a great lad driving her. Joe is a very responsible driver and he's looking after her well. He's getting a lot of attention these days when he's out and about!"
Notwithstanding the grim reality that we are in the throes of a global pandemic and a national emergency, Der says business in general remains quite brisk, with Tony O'Mahony Agri, Plant & Haulage perhaps benefiting from the fact that they don't have all their eggs in one basket:
"We're working away and that's all you can ask for," the personable Cork man concludes. "We have of course taken a hit in turnover and capacity, but we're thankful to be still up and running and we are especially thankful that none of our staff have contracted the virus. The plant side has been notably quieter for obvious reasons but it's all about people around here and health comes first. As long as everybody remains healthy and fit, we are happy going forward."
Tony O'Mahony Agri Plant & Haulage,
Cripple Hill,
Bandon,
County Cork.
Tel / Fax: 023 8841957
Mobile: 087 2592840 (Tony); 086 4132833 (Diarmuid); 086 2592840 (Micheal)
Email: [email protected]
Web: omahonyplant.ie
Published in Irish Trucker & Light Commercials magazine, June/July 2021, Vol 24 No 4