Keeping your vehicles on the road
19/08/2021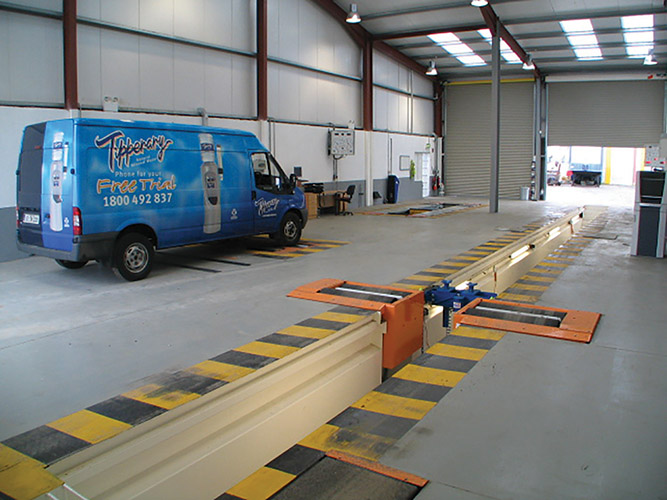 Transway Fleet Solutions is a one-stop shop for all your maintenance needs. Established in 1984, the business has expanded to become a leading supplier to the transport industry.
At Transway Fleet Solutions, they understand that you cannot afford to have your vehicle off the road for any length of time, and that is why they have spent the past 37 years building an outstanding product and service range. Conveniently located off the M50, N4 and N7 in Clondalkin Industrial Estate, Dublin 22, the company's state-of-the-art premises are easily accessible to the greater Leinster area. With a six-bay servicing workshop, three-bay body repairs workshop, CVRT Test Centre, curtain manufacturing facility and parts department all on-site and manned by highly-trained technicians, Transway has the tools and expertise to get you back on the road quickly.
A large part of their success is that Transway Fleet Solutions has its own dedicated spare parts division, Transway Spares, on hand to minimize down time. Transway Spares stocks all major truck and trailer parts in a 3,000 sq. ft warehouse. They are Irish distributors for JOST truck parts as well as service agents and distributors for Legras Walking Floors, Schmitz Cargobull, Krone, SAF, BPW, Loadlok, Dawbarn and Roland International. So whether it's brake, body or fridge body components, you can depend on Transway Spares to always have what you need.
Furthermore, Transway Fleet Solutions can make older vehicles look like new again by supplying a range of curtain products in your corporate colours and livery. As Roland International's Irish agent, the Transway team supply all types of curtains to the transport industry, such as standard side covers, EN XL-rated covers, roll overs for tipping trailers and sliding roof sheets for euroliners. One of Transway's newest product lines is the supply and fitting of automated cover sheeting systems. With operators facing Health and Safety challenges, these systems are compliant and can be opened and closed from the cab in a matter of seconds. As Dawbarn's Irish agents, Transway have a variety of these solutions offering watertight sealing, load security and excellent heat retention to trailers and rigids transporting grain, animal feed, aggregates, waste, gravel, scrap metal or waste paper.
Transway Fleet Solutions' purpose-built CVRT Test Centre has gone from strength to strength since it first opened in 2010. It is part of a network of independently-owned CVRT Test Centres dotted throughout the country which carry out annual and periodic inspections on behalf of operators and the RSA on all commercial vehicles. The company has invested heavily in the latest equipment for testing all LGV and HGV commercial vehicles and is also NSAI licensed to perform 1c tacho checks and plating. As COVID-19 restrictions ease and the economy gradually reopens, Transway Fleet Solutions has extended its opening hours to help businesses get back on their feet. "We're now open from 7am to 7pm Monday-Friday and 7am to 5pm on Saturdays. Anything that can help people get back to work quicker, we're all for it," says Operations Manager Gavin Butler.
"COVID and Brexit have made the past year very challenging for everyone in the transport industry, but hopefully the worst is over and things can start returning to normal. When the pandemic first hit in March 2020, there was an awful lot of uncertainty. As an essential service, we were allowed to keep our door open to our contract maintenance customers and followed all the Health & Safety guidelines in relation to social distancing, wearing masks and the installation of protective counter and desk screens. We got the green light to reopen the Test Centre in May and are now increasing our opening times to help those back at work and unable to take time off."
Transway Fleet Solutions' business is evenly split between servicing / maintenance and crash repairs. This wasn't always the case as Gavin explains: "Trailer maintenance and servicing used to account for 80% of our business, but since we became service agents for Legras, Krone and Schmitz Cargobull, crash repairs have become a major part of what we do. We sent our technicians over to Germany for expert training in this area."
The garage has a wide range of loyal contract maintenance customers whose vehicles are serviced on a regular basis. "We look after all their maintenance and repairs, and know exactly when 12-week inspections and brake tests are due. We want our customers to have a hassle-free experience," Gavin adds.
Transway Fleet Solutions was founded by Managing Director Brian Balfe and has grown to employ over 30 staff. The other board of directors are John McCann (Sales Manager), Louisa Kelly (Financial Controller) and Gavin Butler (Operations Manager). The company services vehicles for a wide client-base that includes Glanbia, Hannon Transport, Sam Dennigan & Co, Clare Distribution, CLF, Primeline, Transland, Shannon Transport, Musgraves, Dixon International, Keenan Refrigerated Trailers, ESB, Clonmel Waste, Thornton Waste and Dalton's of Cahir.
Keeping you on the road at all times, Transway Fleet Solutions would like to take this opportunity to thank its customers and suppliers for their continued support as well as its staff for their hard work, dedication and skill.
Transway Fleet Solutions,
Unit 4D,
Besser Drive,
Clondalkin Industrial Estate,
Clondalkin,
Dublin 22.
Telephone: 01 457 3420 (Fleet) / 01 457 3613 (Spares)
Email: [email protected]
Web: www.transway.ie
Published in Irish Trucker & Light Commercials magazine, June/July 2021, Vol 24 No 4