HT&T Transport Ltd marks 20 years 
12/08/2021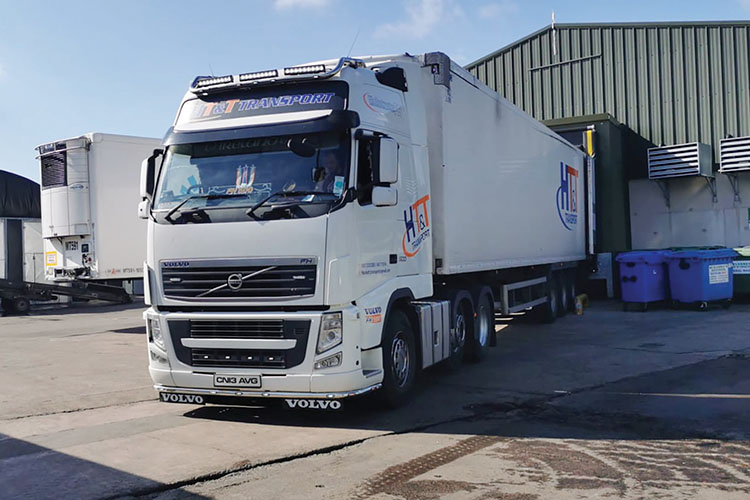 Based on the outskirts of Monaghan Town, HT&T Transport Ltd is a family run business which specialises in the transport of agricultural and horticultural bulk materials. Irish Trucker touched base with its Managing Director Noel Hackett recently to find out more about the company.
Despite the trials and tribulation of Covid and Brexit last year, business is booming these days at HT&T Transport Ltd and the plan for the Hackett Clan in Coolkill East, Co Monaghan is to keep things that way right through 2021.
Established in 2001, the company employs 10 full-time staff and is run by Father and Son, Noel and James Hackett with support from sister Niamh in Administration and Accounts.
HT&T Transport Ltd has its main Depot outside of Monaghan Town with smaller depots in Tyrone and South Armagh. Facilitating the smooth movement of Goods for the local and National Food, Power and construction Industries.
Irish Trucker caught up with Noel Hackett to learn all about the family run outfit – from its origins to the state of business today.
"The company started off just ourselves and a single tractor 20 years ago and today we have a great team of drivers and eight trucks in the fleet," he outlined.
"We're a family business and we've been working in mushrooms for the best part of four decades. My parents Margaret and James started a small mushroom farm here in the 80's which they developed into a thriving business. Growing up we all contributed one way or another and HT & T Transport Ltd grew from managing the transport needs of our own farm at the time and that of other farms locally."
Indeed, the business has seen steady growth over the past two decades with ups and downs along the way. In 2016 Brexit was a shock for both the mushroom and transport industries and in 2020, the Covid-19 pandemic had major implications on businesses throughout the country. For Noel, there was one glowing positive though in comparison to the economic recession of over a decade ago which had a telling effect on business. "The big thing we have found with the pandemic is that there has been an immediate response from local and national government," he said.
"Covid supports meant that we could keep most of our staff on here through the initial uncertain period. This provided a great stability and camaraderie compared to the division and competiveness of the recession years. We co-opted with other hauliers in 2020 to ensure we could meet our clients' needs and also to expand into other markets.
"The company's drivers are the mainstay of the business, they have been unwavering in their work ethic and willingness to roll with the punches of the last 12 months, the Hackett family are very grateful to them and how they represent the business.
"Overall, business has been good, and we are lucky to be part of various essential supply chains which has kept us on the roads and our drivers busy."
Operating with eight trucks, the HT&T Transport Ltd fleet provides services in Bulk Walking floor, Tipper Trailers, Refrigerated Transport and Curtainsider Groupage Deliveries.
At the end of 2020, there were two more Scania R440's and a Scania R500 added to the fleet as Noel explained:
"We deal with John Toal, at Toal Truck Services in Middletown when it comes to purchasing our trucks. He and many other local suppliers have been instrumental in our success."
So, two decades on from its inception, what has been the secret for HT&T Transport Ltd?
According to Noel, having a keen knowledge of and deep roots in the Horticultural industry has been a key element along the way.
"One of the largest clients that we work with here is a company I would have first started to work with 20 years ago," said the Managing Director.
"Coming from the mushroom industry I suppose helps us because we have first-hand experience of the tight schedule needed to maximise output on a mushroom farm.
"Any hold up has a knock-on effect. It's a very small window where efficiency is key. While expanding the business we try to bring the same insight to our agricultural, construction and groupage work."
In 2013, the HT&T erected a storage area at Cool East Kill to store bulk material and which has paid massive dividends for the company since.
"We built a holding facility eight years ago that is capable of storing 12,000 cubic metres, this allows us to tip loads when in high demand and haul materials at more suitable times." stated Noel. "It also helps us to unload and reload fast, all of which is economical for us and our clients.
"We have a great location here and we have many years' experience when it comes to the local horticultural industry. Understanding the pitfalls and needs of the industry itself through our own experience is something we try to utilize for our clients."
Looking towards the coming months, Noel does see challenges ahead with Brexit and being so close to the border between the Republic and the North.
However, it takes a lot to shake his confidence in the industry and that leaves him as optimistic as ever in spite of all the challenges out there at the minute.
"We're in Monaghan and, bar one, all major roads lead to the north," said the Farney County native." A vast majority of our customers produce for the UK market, so of course the possibility of a border is a concern for us going forward. However we are used to challenges and we are confident we can meet those challenges as they arise."
He concluded by saying: "Through all the current challenges I remain very optimistic for the future."
HT&T Transport Ltd
Cool Kill East,
Co Monaghan
H18 AV84
Tel: (047) 62666
Mob: 087 232 3283
Published in Irish Trucker & Light Commercials magazine, June/July 2021, Vol 24 No 4