Business booming at Doolan Commercial Repair Services 
04/08/2021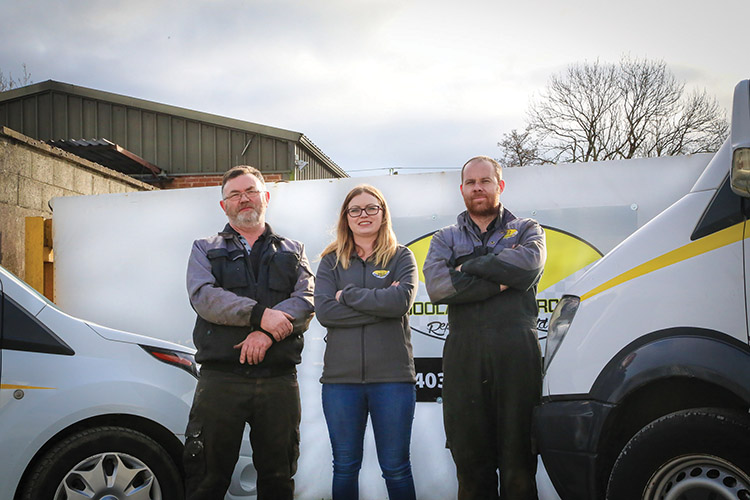 Operating from the heart of the Midlands, Doolan Commercial Repair Services in Athlone offers its customers a 24-hour breakdown service and so much more, as company directors Sarah Doolan and Roy McEvilly outlined to Irish Trucker recently.
These are busy times for Doolan Commercial Repair Services and the plan for the people running the show at Creggan Industrial Estate, Dublin Road, Athlone is to try and keep things that way right through 2021.
Specialising in commercial vehicle repairs and servicing throughout the Midlands, Doolan Commercial Repair Services also offers a 24-hour breakdown service, diagnostics, tail lift repairs and maintenance, trailer repairs and maintenance and CVRT inspections and repairs.
The company is run by partners Sarah Doolan and Roy McEvilly, who took over from Sarah's parents in 2016, and today the business remains very much family-orientated.
Irish Trucker touched base with both Sarah and Roy to learn all about the company – from its origins to the state of business today.
"We're over the company five years now and prior to that it was my parents' business for 25 years," outlined Sarah.
"I've been in this industry for 15 years now and at the minute we've three mechanics including Roy and I myself work in the office, we are currently looking to recruit an apprentice also.
"We're a family-orientated company, with myself, Roy and my father Paschal working here, and we also have a very strong bond with a lot of our customers and suppliers, we appreciate each and every one of them."
Over the years the Doolans have amassed a reputation for quality work, doing everything to make sure that their customers' vehicles will get back on the road.
Indeed, some of Doolan Commercial Repair Services' customers date back to a quarter of a century ago when Sarah's parents first set-up their business venture from Athlone.
Another huge plus to the company is the fact that its array of services sees it as a one-stop shop for many of those that walk through its doors in Creggan Industrial Estate.
"We do a lot of everything here, but I think a big thing with us is the 24-hour breakdown service," said Sarah.
"With the breakdown service we are certainly kept busy with customers such as An Post, Jones Oil, DAF Cork and Dan Ryan Truck Rental just to name a few."
Situated ideally in the central part of the country, the client base seemingly continues to grow for Doolan Commercial Repair Services.
This past year was a busy one for the company, according to Sarah, despite the obvious challenges facing businesses nationwide as a result of the Covid-19 pandemic.
Government lockdowns and further restrictions give cause for concern to most businesses, but it seems Doolan Commercial Repair Services have seldom been busier in these unprecedented times.
"It didn't really affect us," she said. "The first lockdown did cause some concern for us but as we had to provide services to essential customers this meant we were still as busy as always, it did mean some changes with regards to our working environments but we soon adapted.
"Basically, we've been flat out here since the middle of last year and, as things stand, we're in discussions about adding one or two more people to the team."
Roy McEvilly mirrored the comments of his partner and fellow director, outlining that business is flourishing at the moment for this family-run business.
"Business is booming in general. Right now, we're working on a lot of tail lift repairs and buses," he stated.
"As well as that, call outs at night time are endless for us at the moment."
So, what has been the secret to success after all these years?
Now, 25 years on from its inception, the Doolan family business looks to be thriving as much as ever.
Asked why she thinks the company's customers choose them first ahead of other competitors out there, Sarah responded:
"I've asked this question myself to customers and a lot of them say it's down to our availability and support.
"We have been servicing An Post for 25 years now and never let them down. We'll do everything we can to make sure that all of our customers' vehicles are back on the road avoiding delays for them.
"With us, there's no 'ah well, I'm busy'. We pride ourselves in always being there for our customers, it doesn't matter if they have one vehicle on the road or a fleet, they all get the same service."
It's an approach which has paid dividends for the Doolan clan in Athlone over the past quarter century, as the evidence today suggests.
Now, as Sarah and Roy revealed, they are in the process of putting another van on the road in order to keep up with customer demand.
"Right now, we have two vehicles on the road, we have just added the second vehicle to keep up with the high demand on breakdowns – so we have two vans, one large main breakdown van and another smaller van kitted for smaller repair jobs like tail lift repairs," said Sarah.
With the fleet growing and business booming, the future looks bright for Doolan Commercial Repair Services and don't be surprised if they add a couple more staff members over the next 12 months so as to cope with the demand from customers.
Looking towards the next couple of months, Sarah is as optimistic as ever about what's around the corner for her family's company as its strong relationship with clients continues.
"We just want to keep building and keep motoring on," she said.
"We'd like to think that we're very understandable and reasonable people and we understand what the customer needs.
"We have a great customer base and appreciate every single person that comes through that gate.
''We also have some great suppliers whose reliability and speed in service ensure we can continue to provide a great service to our customers.''
Great to hear.
Doolan Commercial Repair Services
Creggan Industrial Estate,
Dublin Rd,
Athlone,
Co Westmeath
Mobile: 087 340 3336

Published in Irish Trucker & Light Commercials magazine, June/July 2021, Vol 24 No 4