Bucking the trend
29/07/2021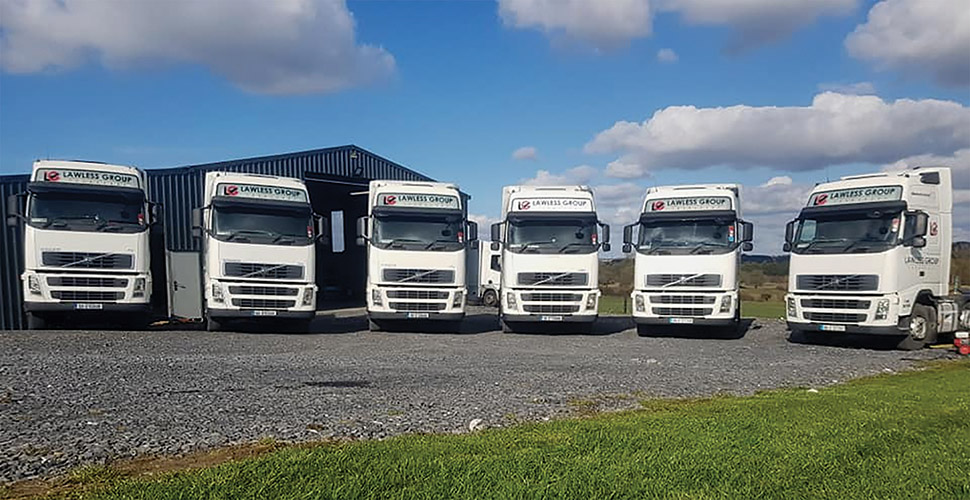 The haulage industry has been hit with many trials and tribulations in recent times and one of the latest issues is the fact that not many young people are forging careers in the sector.
The average age of a truck driver has risen dramatically over the course of the last ten years as there are very few young people pursuing this type of career or any line of work connected to the industry.
However, for this month's edition of Irish Trucker, we profile a young man who is 'bucking the trend' in the haulage industry as we speak to Lawless Group Transport Ltd managing director Shane Lawless.
So what's so special about Shane you might ask; well the fact that he runs his own haulage company that consists of 16 trucks is impressive enough, but what really sets him apart from the rest is the fact that he is 20 years of age, yes twenty, two.
Shane is probably the youngest haulier in the country and certainly the youngest with such an extensive fleet of trucks as he specialises in tipper work, curtainsiders, bulk and flat with an extensive range of trailers to carry out the work.
Based in Athlone, Co Westmeath, Lawless Group Transport Ltd is a company on the rise as Shane is determined to expand as much as possible and grow alongside his customers.
"My family run a quarry just outside Athlone and it has been going a good few years as my father Earl runs the business. We've always had our own trucks operating out of there, so I've taken over the trucks and last in August last year, I set up my own company and run a fleet of fourteen tractor units and two tippers. Just recently I've purchased two new Renaults and a Mercedes Actros," said Shane.
The young managing director is delighted with the way the business is going and he is confident it can grow even further over the coming years.
"Business is going well; we are doing a lot of work now and our customer base is growing all the time. We would be doing work all over Ireland as well as the U.K and mainland Europe. We are a general haulage company, and we feel that we provide an excellent service as the feedback we have received from our customers has been very positive. The aim is to grow alongside our customers, and we are confident that we can do that.
With such a wise head on young shoulders, Shane needs to be alert to the many trials and tribulations that affect the haulage industry in a normal year, but of course, 2020 has brought about its own issues.
"We have been kept busy despite the pandemic, but that is not to say we are taking all the necessary precautions to keep our employees and customers safe from Covid-19. This is something that no one has had to deal with before, so everyone is in the same situation.
"I suppose the other main issue now is Brexit and the fact that we did some U.K work means that we will probably be affected in some capacity, but we will just have to wait and see how that happens."
The impressive fleet in their white colours, sporting the company logo of LG (Lawless Group) is kept well very fresh and well maintained with Shane revealing that they keep their own breakdown van on the road for emergencies.
"Downtime is something that we try to avoid as much as possible. Of course, there are times when you can't avoid this and then it is essential to get the truck or trailer running again as soon as possible. All the trucks are either new or only a couple of years old, so that helps keep down on maintenance, but we do regular checks on them and if there is anything major wrong, they go back to the main dealer if they are still under warranty."
Shane employs nine in the business who all help make the day to day operations run smoothly and he admits that sourcing good reliable drivers is difficult.
"It's not easy finding drivers. The age profile of a truck driver has certainly increased, and it is hard to get them these days. I'm fortunate with the lads I have here at the moment, but we are always on the look out for good drivers. This is the one thing that might stop us from growing further."
Shane stated that driving is something that he has no interest in pursuing as he is more than happy to run the day to day operations from their headquarters in Athlone.
"I don't even hold a haulage licence and have no interest in getting one, I wouldn't even know where to start if I was put in a lorry, I'll leave that to the professionals and focus on the business side of the company. My aim is to expand as much as possible and I've no cap on the size of the fleet."
Contact Details:
Lawless Group Transport Ltd
Castlethompson,
Bealnamula,
Athlone,
Co. Roscommon
Mob: 083 367 9256

Published in Irish Trucker & Light Commercials magazine, April/May 2021, Vol 24 No 3