Brexit makes its mark
20/07/2021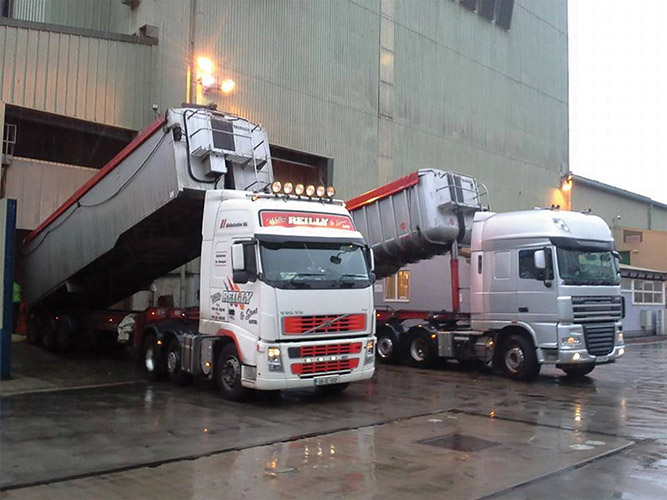 Brexit makes its mark
The haulage industry has always had issues to deal with whether it be the rising costs of insurance and diesel or changes to regulations, but the sector has been hit even harder in the last 12 months.
First, the pandemic hit and as we all know this has affected everyone in all walks of life, not just the transport sector, who to be fair have been able to keep working through these testing times.
However, for hauliers based here in Ireland and working in the U.K and mainland Europe, a new problem has arisen in the guise of Brexit.
The U.K's decision to leave the E.U has been a few years in the making, but since its introduction just before Christmas, a whole host of issues have arisen for haulage companies.
Custom declarations have caused massive delays for hauliers, and although loads are leaving the country, some trucks are returning with empty trailers, which as any trucker will tell you, is detrimental for business.
One haulage firm that has been affected by Brexit is Donegal based Walter Reilly & Sons Ltd who for many, many years have been specialising in bulk transport working both here in Ireland and the U.K.
Managing Director Ivor Reilly spoke to Irish Trucker about the cause for concerns that he has at the moment due to the introduction of Brexit.
"It has caused a lot of hassle so far. There are massive delays at the ports due to custom declarations. I had a truck delayed for 24hrs, but I've heard of guys that have had to wait days to get clearance and that is just not good enough," stated Ivor.
"Time is of the essence in this industry and we simply can't afford to be sitting around. There is also an issue with backloads as companies are not sending goods back over here at the moment, because they are unsure of the costs and delays involved.
"There is not much we can do about it, just hope that it can be sorted sooner rather than later. Even though Brexit was a long time coming, it was just thrown upon everyone in the finish and no one really knows what's going on as far as I can see."
The company has experienced many ups and downs over their 59 years in business, but they have come through every time and have gained more experience for doing so.
"My father Walter who is still involved today set up the business in 1962. At that time, he was transporting livestock and that was something we kept going up until the nineties. In 1985, we started doing bulk work and that is what we specialise in today.
"We haul meal mostly, but we would also transport wood pellets and stone. The meal comes out of Killybegs and the majority of our work would be to Scotland. We do a bit here in Ireland, but most would be across the Irish Sea, so we would be using the ferries a lot.
"We would book our own sailings generally, but on occasions where we have to, a booking agent would be used."
Ivor runs a fleet of seven trucks made up of DAF and Scania which is kept in pristine condition and upgraded on a regular basis.
"We would change regularly, the oldest truck we have is 2015 and the newest is '21. I would shop around for the best deal when buying trucks."
Ivor revealed that he is fortunate to have a reliable work force with many of the drivers there years, which means they are very experienced at what they do.
"I can count on the lads to get the job done, they are here years and they look after the trucks very well and they get on well with the customers. We would do some of the maintenance work ourselves, while a local guy Jeffrey Roleston does a good bit for us as well."
Various different licences or certs are required to cover hauliers in many different sectors and this is the case in the transportation of animal feeds. To carry out their duties, Walter Reilly & Sons Ltd had to join the Trade Assurance Scheme for Combinable Crops (TASCC).
TASCC was developed because farmers and end users wanted to be sure that crops of grain, oilseeds and pulses were treated responsibly once they left the farm. That includes wheat processed by flour millers and malting barley for the brewers and distillers in the drinks industry. It provides independent verification that the trade is meeting food safety laws.
The scheme is audited and certified by an independent certification body, in accordance with the internationally recognised standard EN45011. This means that the certification body is itself independently assessed every year to ensure that the standard is implemented and administered consistently and fairly.
TASCC is also recognised within the food industry as being essential to maintaining traceability of assured combinable crops after they have left the farm.
The Scheme is made up of a Scheme Manual and four codes of practice (Storage, Haulage, Merchants and Testing Facilities). The Storage Scheme is operated in a joint scheme with the Grain and Feed Trade Association (GAFTA) covering combinable crops and feed materials.
"We have been members of TASCC since it was first introduced. We are audited every year, and this entails all our records being checked and ensuring that there is full traceability on all goods that we handle. Our haulage licence must be in date, while it is important that there is no cross-contamination as in all the trucks and trailers must be washed down after every load and ensuring that different feeds, we carry don't get mixed," stated Ivor.
Despite the issues facing them at the moment, the company MD is happy with their workload and feels that they are providing an excellent service.
"Yeah look, we are busy alright. Like I said, it would be great if Brexit could be sorted, but we're happy with the direction and our customers seem to be happy, so that's the main thing."
Contact Details:
Walter Reilly & Sons Ltd
Cappry,
Ballybofey,
Donegal,
Mob: 086-2637973
Published in Irish Trucker & Light Commercials magazine, April/May 2021, Vol 24 No 3