Gold Standard for Clare Distribution Services
15/07/2021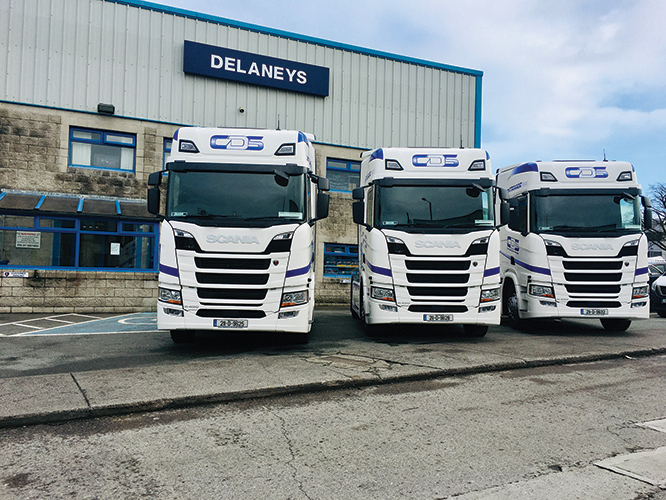 Since its inception in 1997, Clare Distribution Services has experienced sustained growth in the business and for many years now they have been regarded as the leading temperature-controlled distributors in Ireland.
Since we last met Clare Distribution Services in 2017, the landscape for all industries has changed dramatically. Now 10 months into the most unprecedented of times, we catch up with Mark Clare, MD to find out how they are getting on.
"The pandemic has definitely had an impact on the business, on the one hand, deliveries to the food services have dropped dramatically, but with all the online shopping that is going on in retail, we are busier in that sector."
Saying that, it's business as usual as a supplier of essential goods to all major retailers in Ireland.
Clare Distribution Services have also been working on their brand. To enhance that reputation, this Dublin based firm has achieved the Freight Transport Association's TruckSafe Gold Standard in recent times. FTA Ireland TruckSafe audits operational compliance in the areas of road safety, haulage operations, roadworthiness, working time and environmental efficiencies. This process demonstrates members' commitment to compliance and safety standards and also affords recognition for the company and team for the work being done to attain the highest possible compliance standards.
"We are delighted to achieve the Gold Standard and it really was a team effort to get this done," said Clare Distribution Services Managing Director Mark Clare.
"Achieving the TruckSafe Gold Standard is well deserved recognition of the ongoing efforts the entire team here at Clare Distribution Services has invested in safety over a number of years."
Clare Distribution Services have always been committed to producing the highest levels of service and aside from the FTA TruckSafe Gold Standard, they have obtained ISO 9001 Quality Standard and are BRC Compliant.
Their existing customers are pleased to have a company with such high standards transporting their goods, while for any potential new customers, they will not find anyone who provides such a standard of service.
One of the main driving forces behind the accreditation is Fleet Manager Julie Corcoran who explained to us that health and safety is paramount within the company.
"We would carry out a lot of in-house training to ensure all employees are up to date with any changes in H&S legislation. Employees are also encouraged to progress within the company, and we would have many drivers who are now supervisors and driver trainers, and the aim here is try to keep improving and be the best."
Mark interjected by stating that they have a very low turnover of staff as they do their best to keep everyone happy.
"We would have a number of people here years, some of the drivers would have started on the rigid trucks and moved on to the artics. We have driver trainers who would go out with any of the new drivers and show them the ropes.
"It is difficult to get reliable drivers so that is why we do our best to keep the lads we have. We're fortunate to have a good team here. Working in the haulage industry is not an attractive proposition for young people anymore, the cost of obtaining a licence is off-putting enough and it is a situation that needs to be addressed."
With bases in Dublin and Cork, the company has an extensive fleet of trucks and trailers to keep up with the demand. Upgrading of the fleet is on a continuous basis and January saw the arrival six new Volvo FH trucks, while three more Scanias were due in February.
"We have upgraded the fleet and as well as the new trucks, we took delivery of ten new Schmitz Cargobull trailers from Shaw Commercials," added Mark.
While, Mark and the team have plans for the future, the company MD admitted that they will not be making any drastic decisions in the near future.
"We have to wait for the opportunities to arise. We have a good team here and we are happy with the workload that we have, but that is not to say that we will be resting on our laurels anytime soon.
"We have taken our service to the next level by moving to dual temperature across the entire fleet. We have invested heavily in IT systems, Telematics and CCTV cameras enhancing and improving our day-to-day operations.
"When we started out in 1997, my one motto was to treat every customer as though they are our only customer and I would like to think that is still the case and runs through the whole team here"
Julie concluded by stating that there is a feel-good factor in the company and this is something that they actively work on.
"We have developed a newsletter within the company to keep all employees up to date on what's going on in. We have also launched a Wellbeing Initiative for 2021. This is kicking off with our 200,000 step challenge for February. It is important to keep our mind and body active. The aim is to get everyone moving and get some fresh air as we look into another month of restrictions. Although these are solo efforts, the feel is we are working as a team and pulling in the same direction."
Contact Details:
Clare Distribution Services
Unit B9,
Kingswood Business Park,
Lower Baldonnell Road,
Dublin 22,
D22 RW84
01 403 2727
CGI Foodpark,
Knockgriffin,
Midleton,
Co Cork,
P25 Y283
021 463 5270
Published in Irish Trucker & Light Commercials magazine, April/May 2021, Vol 24 No 3