Angretia take possession of stunning new DAF
13/07/2021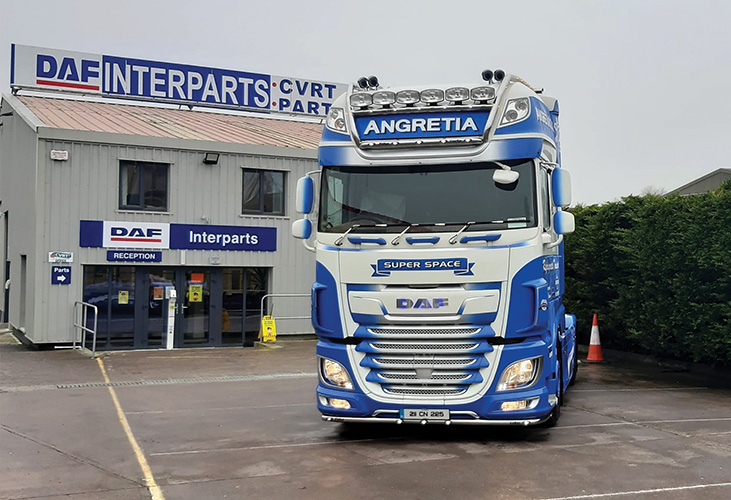 The New Year got off to a memorable start for industry leading Shercock, County Cavan based refrigerated haulage specialists Angretia Co. Ltd. when they took delivery of a magnificent brand new, highly spec'd DAF Super Space cab from Interparts Drumalee in mid-January. To mark the addition of this head-turning DAF XF 530 FTP 6x2 truck to the wonderful Angretia fleet, we touched base with managing director Martin Hughes for an update.
Since 1984, the exceptional family-run haulage business Angretia Co. Ltd. have been delivering the goods in style from their well-appointed headquarters on the outskirts of Shercock, County Cavan. Angretia are on the road seven days a week, covering the 32 counties, providing unrivalled refrigerated haulage services on behalf of renowned local firm Carton Bros, who produce the legendary Manor Farm chicken range.
To ensure the consistent delivery of outstanding service levels - with consignments invariably reaching their destination promptly, safely and in perfect condition - Angretia run a modern, fresh, immaculate and regularly-replenished fleet of trucks and trailers, which look fantastic and perform to optimal levels at all times. Client-focused and service-orientated, Angretia set the standards in refrigerated distribution nationwide and the acquisition of an eye-catching new DAF XF 530 Super Space cab at the start of 2021 represents a loud statement of intent.
"The new truck turned out really well," confirms MD Martin Hughes, who runs the business alongside his wife Madeline – daughter of founders Andy and Greta McCann. The 211-reg lorry has the distinction of being the sole DAF in the 23-strong Angretia fleet at present, joining forces with a score of stunning Scanias and two Volvos.
Why the decision to add a DAF to the fleet? "The DAF sales rep, Paul, lives in Carrickmacross and he was calling here asking us to try out the new DAFs and assuring me that they were a massive improvement on their previous models. I was ordering two new Scanias last summer but could only get one and Paul told me I could have the DAF in twelve weeks, so I decided to try one out.
"So far, we are thrilled with it. It is going to be interesting to see how it works out. We had DAFs here before and they broke our hearts, to be honest, but I'm confident this one will be a marked improvement as I've heard a lot of positive reports about how they have upped their game. If it works out as well as I am expecting it to, I'd say we could be adding more in the future."
The new lorry features enough features, specs, and extras to bring water to the eyes of any trucking aficionado. These include cab air suspension; translucent external sun visor; front air suspension axle; daytime running lights; integrated bumper-mounted fog lights; roof sky lighting; light fix roof-mounted bar with front white, amber and rear red lighting fitted with LED spot lamps; Kelsa slimline headboard & lighting system; Kelsa sun visor bar; and Kelsa LED bottom cab bar.
Also included is a rear cab surround parameter lighting kit; front grill DAF illuminated logo colour coded to livery; luxury leather air-suspended driver and passenger seats; refrigerator; DAF night lock; comfort mattress sleeping compartments; Bluetooth radio with Sat Nav; multifunction leather steering wheel; LED cab interior lightning system; eco fuel performance software for maximum fuel efficiency; adaptive cruise control, forward collision warning, advance emergency braking system and reverse warning.
The lorry comes with an Mx-13 engine 530 hp, twelve-speed traXon automated gearbox; twin rear LED lighting, twin roof air horns, electric glass roof skylight, Alcoa DuraBrite alloy wheels, DAF cab night locking system, 1025 litre fuel capacity, rear LED spots fitted to rear of cab, driver and passenger door window deflectors and a full DAF three-year factory warranty
The paintwork in Angretia's trademark blue and white was carried out by Tierney's Motors, Monaghan, while lighting accessories were supplied by DAF TRP stores. The rear cab surround parameter kit was supplied by DG Engineering, Dungannon and the side skirts by Steen Commercials, also in Dungannon.
The XF 530 certainly hit the ground running, clocking up 3,500km in its first five runs. "We put cameras and a tracker in, and she did five runs down to Cork and back in the first week – on the Thursday, Friday, Monday, Tuesday and Wednesday. You would not be long clocking up the kilometres! It is definitely turning a lot of heads and we are receiving a lot of texts and messages complimenting us on it. A nice new truck like that receives a lot of attention and it's good advertising for DAF too."
It is no exaggeration to say that Angretia pulled out all the stops to ensure that the new lorry looks as well as it performs. "To be fair, we normally spec them all very well because at Angretia it's one driver per truck and it's up to each driver to maintain their own vehicle. We like to give them a nice lorry that they can take pride in. If the owner shows an interest in the plant, then the driver will follow suit."
For the past year or so, haulage in Ireland has been changed dramatically by the coronavirus pandemic and subsequent restrictions. While it certainly has not been as adversely affected as many other sectors, there is no denying that things have changed utterly…
"We were exceptionally busy during the first lockdown in 2020 as there was big demand for Manor Farm products for barbecues, etc. I'd say we were up 20%," reflects Martin, whose father Jimmy also drove for Angretia for 23 years. "The drivers all bring their lunch boxes and flasks with them now because they don't want to be calling into any stops unnecessarily – it's more like the old days in that respect.
"When I started driving for Angretia, there were plenty of places to stop for food and there was no real need to bring lunch with you. I went out and did a few runs myself after Christmas, as a couple of our lads were off, and I noticed that a lot of premises aren't offering their facilities to drivers, which makes it very difficult for a man out doing hundreds of kilometres. The driver is out there doing a job and rest room facilities should be made available, they can be used in a hygienic manner. If anybody is ever on our premises and asks to use our toilets or facilities, I will let them use them. It seems wrong not to."
Generating employment for more than 20 drivers as well as office staff and two full-time workshop technicians, Angretia take immense pride in running a highly organised, efficient operation, always with the customer in mind. "What's in our trucks tonight is in the shops tomorrow," Martin continues. "The volume is still going out and we have to make sure that every consignment arrives on time. Poultry must be delivered on time with no delays, so we are fully geared towards making sure every truck is on time.
"That requires good people and good plant and you can't be delayed. Everything must be organised and scheduled, and you must be full time on the ball. My wife used to ask me how come I can hear a text coming in the middle of the night but cannot hear the child crying. I suppose your mind is always on the job.
"But I really enjoy it. It can be challenging but it is always nice to see the business grow and to stand back every Christmas and see what is parked up in the yard. The only night in the year when all our trucks are in the yard at the same time is Christmas Eve. That is when I get a chance to take a photo of them all together, but they would be away again at 3am on St Stephen's morning. It is good to be busy, though, as they are no good parked in the yard. They are on the road seven days a week and you could see them at any corner, anywhere in Ireland, day, or night.
"They always look good and, in fairness to the boys, they really look after them," the MD of Angretia Co. Ltd. concludes. "I supply the trucks, but they look after them like they are their own. They are always clean and fresh. In the food industry, you must instil cleanliness and that is very important both to ourselves and our client. Manor Farm is a wonderful customer to work for. They have shown serious dedication since the start of the pandemic – when the pressure came on, they really rose to the occasion."
Angretia Co. Ltd
Lecks,
Shercock,
County Cavan.
Tel: 042 9669398
Email: [email protected]
Web: www.angretiahaulage.ie
Published in Irish Trucker & Light Commercials magazine, April/May 2021, Vol 24 No 3