Offering an efficient, professional and value-for-money service
06/07/2021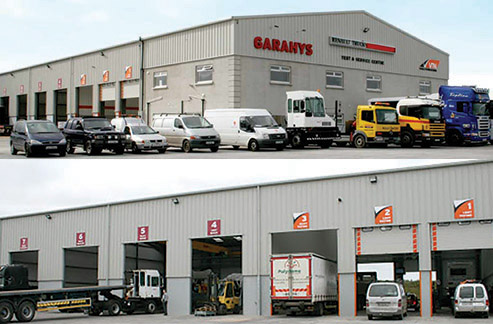 Operating over 50 years, Garahys Garage is one of the leading CVRT Test and Service & Repair Centres in the midlands region. Irish Trucker touched base with its workshop manager Dan Cussen recently to learn more about the Offaly-based company – from its origins to the current state of business.
These are busy times at Garahys Garage in Fortal, Birr, Co Offaly and the plan for all concerned with the company is to try and keep things that way through 2021.
Established by Thomas Garahy over half a century ago, this independent and family-run business has grown to provide a range of services to commercial vehicle owners from CVRT LCV Testing (Jeeps & Vans) and HCV Testing (Trucks & Buses), Services and Repair to its Parts Store.
Today, Garahys Garage is reputed to be a leading expert when it comes to Scania and Renault vehicles.
Irish Trucker caught up with Dan Cussen, who is the company's workshop manager, to hear all about a business with a glowing reputation and that has certainly stood the test of time.
"We've been established for about 55 years and right now we've 11 in total working here, nine in the garage and two in the office," Dan outlined.
"The last 12-months has been a bit of a strange year with the Covid-19 pandemic and government lockdown, but we're still busy here.
"In fact, we are actually a little under staffed at the minute."
Indeed, good staff can be hard to get in this particular line of work but Garahys Garage has managed to grow into the business it is today by having the right people in their team.
For the last 30 years or so, the company has been headed up by Kieran Garahy (Thomas's son) who trained as a tractor mechanic before getting into truck repairs.
The Offaly native hasn't looked back since, with his family's business now an award-winning company which is known for its excellent service all throughout the midlands.
Located on a two-acre site in Fortal, which is just outside Birr on the Clareen Road, the central location of Garahys Garage makes it easy to access from all parts of the country.
The company's state-of-the-art, purpose-built CVRT Test and Service Centre offers a range of services to commercial vehicle operators, from CVRT Testing to service, maintenance and repairs of Jeeps, Vans, Trucks and Buses.
A wide range of truck and trailer spares are also in stock in the garage. These include parts for the common test fails which allows it to offer a speedy turnaround time from fail to pass.
Among the genuine parts stocked at Garahys Garage are Scania, Volvo, SAF, BPW, Rubbolite, Mobil, VDO, Meritor, Bosch, Diesel Technics, Wabco, Haldex and Knorr-Bremse.
The testing bays at Garahys Garage are all fitted with the latest in computerised testing equipment which cater for all Commercial Vehicles from Vans, Light Trucks & 4x4s, to the Heaviest Trucks and Buses.
With advanced lifting and tool equipment and the latest in diagnostic technology, Garahys Garage offers an efficient, professional and value-for-money service.
So, what has been the secret over the past 55 years?
How has the company managed to continue to be a success story all these years since its inception back in the 1960s?
"I think a lot of it is to do with the service that we give our customers," said Dan.
"No matter what they need, they know that we can provide it for them and I think the quick turnaround is part of the reason why they choose us as well."
Garahy's service & repair garage allows them to work on the heaviest commercial vehicles, providing outstanding value for all of its customers.
The second-generation family business has a strong customer base that includes semi-state companies, road hauliers and nationwide bus companies.
They believe in delivering the highest standards of excellence to customers and adhere to strict guidelines laid out by the Road Safety Authority.
Garahys Garage is fully insured and all of its highly qualified team are trained to industry set standards.
It goes without saying that safety is – and always will be – the number one priority for the company.
Looking towards the coming months in a new year, Dan and the team in Fortal are hoping for more of the same when it comes to the rate of business.
"We just don't know what's going to happen between Covid and everything else," he stated plainly.
"Hopefully, we can just continue to keep going the way we've been going because, as I said, business is good at the moment.
"The hardest thing we find is to replace staff. We've lost four testers in the last year and it's hard to replace them, but we'll just have to get on with it and keep doing what we're doing."
So, whether it's the services of a CVRT Centre or a Service & Repair Garage you require, don't hesitate to give Garahys Garage a call today.
Its friendly staff will be more than happy to answer any questions you may have, before and after the test.
Customers can relax with a cup of tea or coffee in the waiting area while the test is being completed. Opening hours are 9am to 6pm Monday-Friday and 9am to 1pm on Saturdays.
Bookings are taken over the phone or online, with Garahy's endeavouring to accommodate their customers at a time that suits them.
Garahys Garage,
Fortal,
Birr,
Co Offaly
Telephone: 057 912 1366
Email: [email protected]
Web: www.garahys.ie
Published in Irish Trucker & Light Commercials magazine, April/May 2021, Vol 24 No 3