A new era for Engine & Truck (N.I) Ltd
30/06/2021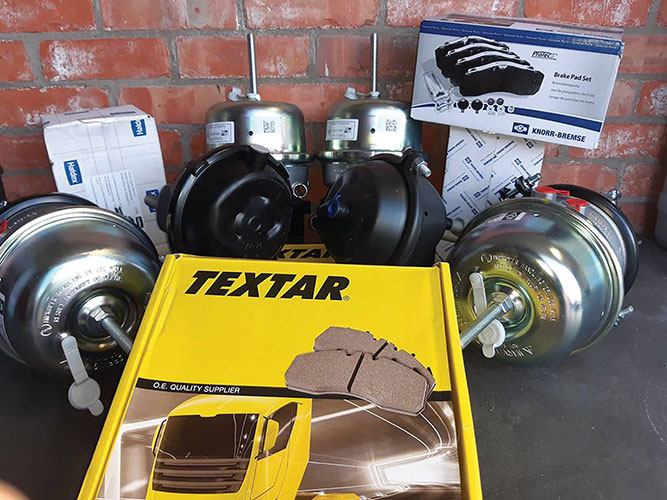 Over the last six decades, Engine & Truck (N.I) Ltd has proven to be a leader in their field of expertise which is supplying quality automotive, CV and engine parts to their long list of valued customers.
Included in their portfolio of sales are automotive components including engine, commercial vehicle, passenger car and light commercial, they have been trading in Northern Ireland as (Edmund's Walker) for over 60 years and as Engine and Truck (N.I) Ltd since 2002.
The company has seen a number of changes in management over the years and 2020 has seen the latest change as Michael Evans has taken over as Managing Director from Trevor Buchanan who retired this year.
Michael has big shoes to fill as Trevor has brought the company forward during his 18 years as MD, during which time the business has grown into Northern Ireland's number one parts dealer.
Engine & Truck (N.I) Ltd are renowned for supplying high quality engine parts at a competitive price. From industrial and marine to commercial and passenger car applications, they only use original equipment from (OE) manufacturers.
The customer base continues to grow to this day and the amount of repeat customers that they have is a testament to the service that they provide.
"The business has been built on repeat custom," stated Michael. "Some of the customers would be with us thirty and forty years, which is a remarkable situation in itself and it shows the good work that my predecessors including Trevor were doing."
Michael took up the role of MD at the start of the year having been with the company for the past few years and he admits that his start as the head of the business was a baptism of fire.
"I have been learning from Trevor over the past few years, but nothing prepared me for 2020. Covid struck, so it has been a steep learning curve for me to say the least."
Michael has already begun to make his own mark on the business as he looks to build for the future.
"We have stripped back the business to basics and are looking at ways of improving any area we feel that can be improved. The business is in a healthy state, but like everyone before me, the aim is to keep improving as much as possible."
Michael is keen to deal with his customers direct in order to offer the personal touch, while another area he is looking at is online sales.
"The sales avenue is certainly heading more towards online sales, so that is an area we are currently looking at. We are also looking at a bigger premises down the line as we look set to outgrow our current location in Belfast."
Engine & Truck (N.I) Ltd have an extensive customer base with both the public and private sector and they have Government accounts for the DRD Roads and DRD Water, Northern Ireland Fire & Rescue Service, Northern Ireland Ambulance Service and the Northern Ireland Department of Infrastructure.
The company's ability to service all of Northern Ireland on a same day, next day basis is certainly one of their strongest attributes.
"We know that the customers need their parts ASAP and it is our intention to get them out to them as quickly as possible. We stock all the leading brands and are competitively priced, which also helps us."
Of course, none of their success would be achieved without the hard work and dedication of an experienced team, many of who have been with the company for years.
"A lot of our staff would be on first name terms with the customers and the personal touch is appreciated by the customers I feel. We have added two new sales reps to the team as we look to expand the business."
Brexit is a situation that Michael is keeping a close eye on, but he states that all they can do for the moment is wait and see how it transpire.
"It is very much a waiting game for the time being and there is not a lot we can do. Our focus is on increasing our market share in Northern Ireland."
In the fast-moving industry of car and light commercial components first pick availability and delivery are paramount at Engine & Truck. From service parts like filters and oil to alternators and starter motors, they have the extensive knowledge and buying power to give their customers unrivalled service every time.
As part of an automotive buying group, Engine & Truck (N.I) Ltd have the capabilities of buying in bulk so to reduce the cost on the customer. A warehouse in Bradford stocks hundreds of thousands of parts meaning they can have any part needed in double quick time.
Michael concludes by stating: "I'm delighted with the direction that the business is going despite the issues we had to deal with early in the year. The pandemic saw us implement regulations and invest in hand sanitisers and PPE equipment. However, service is key for us and price is secondary, so if something needs to be done, it will be."
Contact Details:
Engine & Truck (N.I) Ltd
Unit 2 M2 Trade Centre
38 - 40 Duncrue Crescent
Belfast
BT3 9BW
Tel: 028 9077 1411
Fax: 028 90 77 5085
Email: [email protected]
Website: www.enginetruck.co.uk
Published in Irish Trucker & Light Commercials magazine, April/May 2021, Vol 24 No 3