Tipping along nicely
24/06/2021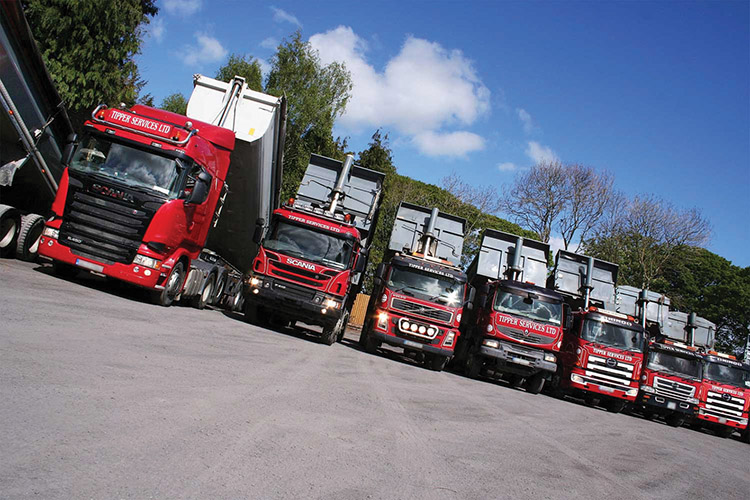 Synonymous with providing exceptional solutions to local authorities, utilities and main contractors alike, Tipper Services Ltd. have been delivering the goods across the capital and Leinster for half a century. We visited their Dublin 24 HQ and touched base with managing director Billy Donoghue to get an update on this outstanding, industry-leading family-run operation, which currently runs a stunning fleet of 19 trucks.
With an unrivalled track record for delivering high-quality construction materials for projects both large and small throughout Dublin and across the greater Leinster region, Tipper Services have established an unsurpassed reputation for excellence, invariably meeting if not exceeding customer expectations.
At the heart of this long-serving multifaceted operation – which specialises in sand & fully-certified stone, tarmacadam, plant hire, site clearance and hazardous waste disposal – is a magnificent fleet of articulated and rigid tipper trucks. Regular investment in maintaining and replenishing these superb vehicles results in a robust and aesthetically pleasing fleet, capable of getting every job done quickly, efficiently and professionally.
This has enabled Tipper Services to build lasting relationships with a who's who of customers in the construction, infrastructure and utilities sectors, including Dublin City Council and SIAC to name just a couple of the bigger ones. The relationship with Dublin City Council dates back to the early 1970s, when founders Willie and Vera Donoghue began supplying the local authority with materials for roadworks.
"We've had trucks with them ever since, providing a range of materials and services, including sand & gravel and bitumen patching," confirms their son Billy, who is now MD of the family business. "We also hire three-axle and four-axle tipper grabs to them and supply tippers to SIAC for hauling tar from their plant in Clondalkin to sites and customers nationwide."
Regular investment in the fleet ensures that Tipper Services' drivers and customers are happy. Considering how hard they work, the trucks always look resplendent. "We've purchased six or seven trucks in the past few years," Billy notes. "Obviously it's extremely important to have quality trucks on the road and to keep them maintained and clean.
"We have our own in-house workshop and wash facilities. Every driver washes his own vehicle at least once a week, sometimes more during the winter months. We operate a one truck, one driver policy and each driver is responsible for looking after his own."
Full-time employment is generated for a team of 16, as well as a couple of part-time workers, all of whom make a vital contribution to the success and longevity of Tipper Services. While 2020 presented obvious challenges, Billy is pleased to report that they remained busy for the most part:
"We had to stop on the Friday night of the first lockdown but we still had two or three trucks on the road supplying emergency services to Dublin City Council and Irish Water," Billy recalls. "We kept those contracts services and eventually the economy opened up again. We were exceptionally busy in the last six months of the year.
"All of the staff have been rigorously put through the relevant Covid training and are fully compliant with all the procedures. We all use wipes and sanitiser and have minimum contact, whilst sticking more rigidly than ever to one truck, one driver."
With the spectre of coronavirus still looming large over everyday life in Ireland, there remains a lot of uncertainty as to what kind of year 2021 might be, but Billy is hopeful that, with a bit of luck, Tipper Services could come through relatively unscathed… "It's very hard to predict what way things will turn out, but the demand for haulage is still there for the time being at least and money has been put forward for infrastructure, so it could be a busy year, hopefully."
Certainly, with an outstanding fleet, vastly experienced and qualified personnel and an abundance of enthusiasm, energy and motivation, Tipper Services have both the capacity and desire to continue delivering top-class products and services!
A trusted supplier of aggregates with decades of experience supplying large and small projects, all of Tipper Services' stone aggregates are fully certified, clean, hard, durable and capable of performing as required. These aggregates are produced by local long term suppliers.
Tipper Services are a trusted supplier of an extensive range of aggregates, be it gravel and shingle for drainage solutions, crushed stone for foundation work or sand and gravel for screeds, paving or mixes. They offer practical solutions and pride themselves on their longstanding and successful partnerships. Meanwhile, tarmac is delivered near and far in fully insulated, covered tipping bodies and articulated trailers.
Quality, cost effective topsoil is supplied to many landscaping, housing, sports ground, construction and school projects, while Tipper Services also hold all appropriate waste collection permits for waste disposal and site excavation and are licensed hazardous waste hauliers. They provide a Leinster-wide tipper and grab hire service for all types of muck away, site clearance, site excavation and site waste disposal, including all inert and non-hazardous material. They are at the cutting edge of best practice in the construction industry and streamline waste to be recycled in the most efficient way, actively diverting it away from landfill wherever possible.
Tipper Services focus on providing optimal, added-value solutions for customers using innovation and a wealth of practical experience. They have earned an enviable reputation as a quality service provider and also for solving difficult product supply problems.
The can-do attitude and work ethic instilled in the family business by founder Willie Donoghue over 50 years ago remains very much in evidence today and Billy is proud to reveal that his dad still takes an active interest in the business and hoe the market is. There's a great interest there and he can provide a lot of insight. This is what he has done all his life – he built the business up and has serious experience; he's a big influence and still provides plenty of guidance."
Tipper Services Ltd.,
Thornfield House,
Mount Seskin Road,
Tallaght,
Dublin 24.
Tel: 01 4513154
Mobile: 087 6777990
Fax: 01 4624859
Email: [email protected]
Web: tipperservices.ie
Published in Irish Trucker & Light Commercials magazine, April/May 2021, Vol 24 No 3