Delivering your promise
22/06/2021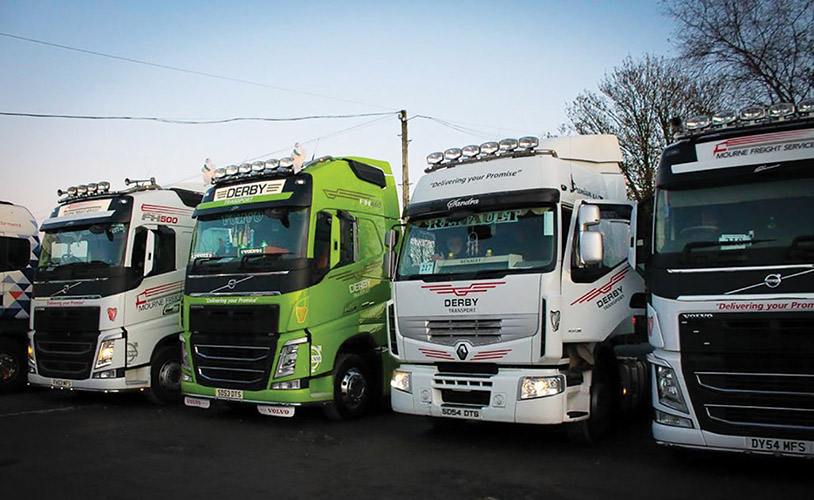 Based in Newry, Co Down, Mourne Freight Services is a family-run business which was established in 2011 and has continually developed strong customer relationships. Irish Trucker touched base with Pearse Derby to learn all about what is a thriving company at the present time.
Since 'Day One', the company motto at Mourne Freight Services has been "We deliver your promise", and the best part of a decade on it remains as true as ever to its word.
From its base at 4 Killean School Road in Newry, the business is made up of two sections – Mourne Freight Services and Derby Transport Ltd
'MFS' was started with one rigid truck and grew over the space of six years into a medium sized transport company in a measured and sustained way through customer focus.
It has developed strong customer relationships by continually looking for cost effective and sustainable transport and logistics package for its customers. The company has achieved this by investment in people, fleet and warehousing, storage and distribution facilities.
Derby Transport Ltd was established in 2016 and its Managing Director Ashlinn Derby is sister of Mourne Freight Services MD Pearse Derby.
The siblings operate contracts between them thus utilising warehouse and other facilities to sustainably grow both companies and service all their clients and between them can share the benefits and stability off larger companies in the transport company.
Pearse Derby explained all about the family business when Irish Trucker spoke to the Mourne County native recently.
"Mourne Freight Services is established since 2014 and right now there's 40 staff in the company," explained Pearse
"We do nationwide pallets and parcel courier and the fleet would consist of 15 rigids, 15 40-footers and three-and-a-half tonne Luton vans.
"It's family a business and my Father would have been in the business for 25 years. My grandfather Sam worked on the continent in the seventies before that.
"When my Father was closing up I decided trucks were for me and as you would say the rest is history."
Today, Mourne Freight Services offers its clients the same door to door service whether it be for a full or part load.
The company has hubs in Newry and Dublin which sees them strategically placed so as freight passes through seamlessly and quickly, arriving at the end destination in perfect condition.
Its transport model is based around services not price and its customers are constantly at the forefront of business plans.
Mourne Freight Services teams are fully trained so as the company can ensure to deliver on its promise, which is giving customers a trouble-free movement of goods wherever you are in Ireland.
The transport business itself has been strong over the past year or so, according to Pearse bar one significant bump in the road lately which he labels as a "major problem".
"The pandemic didn't affect us at all but bloody Brexit has," he stated.
"Nobody's getting anything in no matter what anyone says. It's a waiting game and nobody knows what way it's going to go. Cost will rise, unfortunately.
"During the first lockdown back in March, business was actually increasing for us. But this Brexit is the major problem at the moment."
Out from transport, Mourne Freight Services also offers an excellent warehousing service to its clients.
At the company depo in Newry, it provides customers with both indoor and outdoor storage solutions. Its yard and warehouses are fully insured and bonded with 24/7 surveillance.
They offer customers short-term and long-term storage and also have small and large areas for any amount of storage you may have.
So, what has been the secret to success for Mourne Freight Services these past six to seven years?
According Pearse MD, a man who learned his trade with his Father: "As Dad would say 'earning trust amongst clients in this business is paramount'.
"The company motto is 'we deliver your promise'," said Pearse
"There'd want to be something seriously wrong if we didn't make a delivery for a client. We keep all the vehicles fresh and the companies we started out with are all increasing business.
"We don't take on drivers on a whim unless we guarantee them work. When a driver starts with us, they stay with us because it's a family approach we take here.
"We pay our drivers well and there's never any complaints."
Having top of the range trucks on the road certainly helps too and Mourne Freight Services has never shied away from investing in the best machinery when it comes to providing its services.
Right now, there are two Version 4 Volvo FHs that are on the road for Derby Transport and four of them in the fleet at Mourne Freight Services.
The entire fleet between Newry and Dunshaughlin is made up of Volvos and Scania trucks and you can be sure there'll be more additions to it in the year ahead.
Looking towards the coming months, Pearse himself hopes that the company can meet its biggest challenges head on, as it has done in past years and came through successfully.
"Hopefully, this Covid pandemic all levels out that the Brexit problems will level out as well," he said.
"In saying that, I would actually feel that 2021 is going to be a tougher year than 2020 due to Brexit coming in.
"It's certainly a challenging time, but hopefully we can get through it and continue to work with our customers here."
Mourne Freight Services
4 Killeen School Road,
Newry,
Co. Down
Tel: 0044 (28) 30848779 (Head office)
Tel: 00353(1)8150202 (Dunshaughlin office)
E-mail: [email protected]
Published in Irish Trucker & Light Commercials magazine, April/May 2021, Vol 24 No 3