Western Express delivers every time
22/06/2021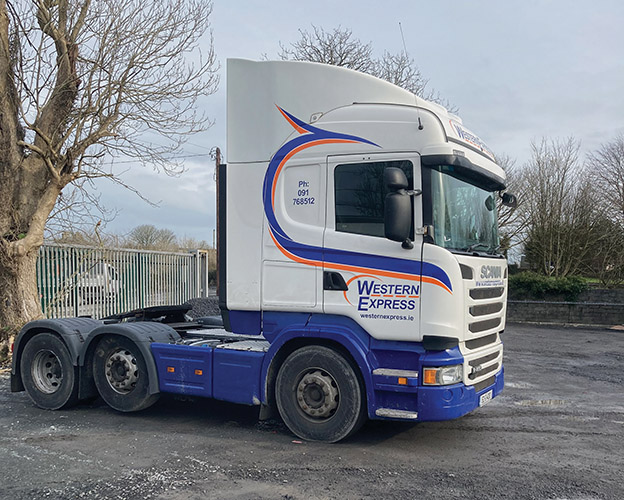 Providing next-day delivery of parcels, pallets and full loads throughout Ireland, Western Express is a fast-growing courier business based in Galway. Proprietor Thomas Keane explains more.
Established in March 2018, Western Express has grown to employ 18 staff and runs a fleet of 16 vehicles, including six artics. It offers a reliable, cost-effective and friendly service which is backed up by the latest computer technology and online track and trace facilities. This makes Western Express the courier of choice for businesses of all sizes.
The Roscam-based company provides a next-day delivery service throughout Ireland catering for deliveries from an envelope to a pallet and full load service. Boasting a large customer-base in Galway and Clare, Western Express always delivers on time, every time.
"We pride ourselves on our top-class and reliable service," explains Thomas, who has over 20 years' experience in the courier business.
"Our aim has always been to provide a reliable, flexible and efficient transport and logistics service to our customers. We specialise in parcels, pallets and full loads in our local area as well as offering a next-day nationwide service. We're always on the move and do five runs daily to Dublin where we collect and deliver goods and pallets to the distribution hubs of PRL Logistics, Primeline Logistics and Ace Express."
Since March 1 last, Western Express has been providing a same-day delivery collection service Galway-Dublin-Galway for domestic and commercial businesses. Its van leaves Dublin daily at 12.30pm and delivers to businesses along the route in Athlone, Ballinasloe, Loughrea, Athenry, Oranmore and Galway city. "We cater for garages, shops, medical, hardware and much more," he says.
To carry out its workload, Western Express has an impressive fleet of vehicles, ranging from Mercedes Sprinter and Volkswagen Crafter vans to Scania and MAN artics. All of the vehicles are serviced and maintained on a regular basis by Athenry Truck Centre to ensure there is no such thing as downtime. Thomas sources his many of his vehicles through Athenry Truck Centre and Forde Commercials.
They also bear eye-catching blue and white livery, and are fitted with a Kinesis tracking system. With a unique range of products to suit every business, from self-installed telematics devices to single or fully integrated cameras, fuel card integration, driver and incident alerts, or a simple-to-use highly configurable platform, Kinesis gives users the tools and insights to gain more control over their fleets and how they are driven.
Western Express' depot is strategically located on the edge of Galway city and is within easy reach of all major routes, including the M6. The 15,000 sq. ft. premises in Roscam is fully secure, boasting CCTV and electric gates.
Thomas is grateful for the support he has received from customers in his catchment area of Galway and Clare.
"I'd like to take this opportunity to thank our customers for supporting us and helping us to help. It has taken a while and a lot of hard work to build up the customer-base we have today. It didn't happen overnight and the courier sector is very competitive. We have a wide and varied range of customers, from households and shops to hospitals and businesses. We are the main courier for Dunnes Stores in Galway and Clare, delivering all types of food products to their stores in the two counties," he says.
The affable managing director also pays tribute to his staff for the vital role they have played in the company's success to date.
"They have been brilliant," he enthuses.
"We work well as a team and the drivers are the ones that are out there representing us on a daily basis. They enjoy a good rapport with the customers and that's very important."
Western Express also enjoys an excellent working relationship with PRL Logistics, Primeline Logistics and Ace Express. Based in Greenogue Business Park, Rathcoole, PRL Logistics specialise in providing route to market solutions from multi-temperature warehousing, multi-temperature distribution and in-market field sales services. PRL has in excess of 420,000 sq. ft. of warehousing with over 47,000 pallet locations, and ships approximately 57 million cases with a sales value of €950 million per annum.
Primeline Logistics is part of the Primeline Group which is the largest Irish independent provider of logistics, sales and marketing services to homegrown and international brands and retailers across the Irish and UK markets. The Ashbourne-headquartered company has over 30 years' experience working closely with brand owners and decision makers, leading to long-term relationships with businesses throughout Ireland and the UK.
Ace Express is a leading family-owned freight and logistics company with two bases in north Co. Dublin. It is an expert at moving palletised and specialist freight to and from anywhere in Ireland and worldwide by road, sea and air, providing tailored logistics solutions supported by award-winning people and processes. Ace Express is proud to be the only freight-forwarding company to be awarded the Deloitte 'Ireland's Best Managed Company' accolade for 12 years in-a-row, which is testament to its culture of continuous improvement and excellence in customer service.
While the COVID-19 pandemic made for an exceptionally busy 2020 for Western Express, Brexit is threatening to slow things down this year.
"We were very busy coming up to Christmas, twice as busy as last Christmas I would say," Thomas reveals.
"But we've had a quiet January thanks to Brexit. It has caused a lot of uncertainty and for that reason we have no plans to expand at the moment. However, we will continue to work 24/7 and provide the fastest and most reliable delivery service in the West of Ireland."
Western Express
Rosshill,
Roscam,
Co. Galway.
Telephone: 091 768512 / 087 9367724
Email: [email protected]
Web: www.westernexpress.ie (Currently under construction)
Published in Irish Trucker & Light Commercials magazine, April/May 2021, Vol 24 No 3