PLR Repairs keen to "keep growing"
15/06/2021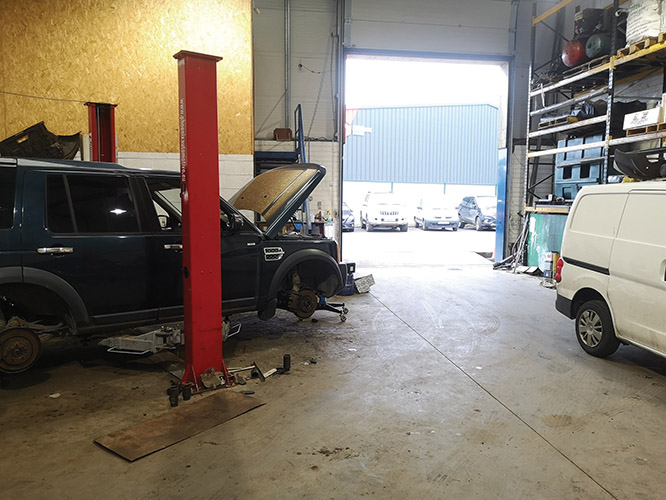 Based in Naas, Co Kildare, PLR Repairs is a service and repair centre catering for all vehicle needs by providing a professional service to its customers. Irish Trucker caught up with its owner and founder Pádraic Reilly to learn all about the company – from its origins to the state of business today.
A commitment to excellence over the past 14 years has led to PLR Repairs becoming one of the service and repair leaders in both Kildare and the Greater Dublin areas.
Based in Ladytown Business Park, Newhall in Naas, Co Kildare, the company is run by its founder Pádraic Reilly and operates with three full-time staff.
It provides professional servicing, repairs and diagnostics for its customers, whether it be a commercial or private vehicle and has earned a glowing reputation for its work down through the years.
Irish Trucker touched base with Pádraic in the early part of 2021 to hear about the ins and outs of the company which, like so many businesses, has had its ups and downs over the past 12 months as a result of the Covid-19 pandemic.
"Basically, we do maintenance service, repairs, all the heavys and all the lights," outlined Pádraic.
"At 16 years of age, I served my time and did my work in industrial water pumps. I also worked on trucks and went and started driving trucks for a business then around Ireland, England and bits of the continent.
"In 2007, I went back into focusing on mobile repairs and, thankfully, haven't looked back since."
The experience of working with transport companies has certainly aided Pádraic in his business and next year his company will be marking a decade-and-a-half in existence.
Back when he started up in 2007, things were very different as Ireland was entering into an economic downturn from which it would take years to recover.
It made it difficult to get off the ground as a business, but PLR Repairs managed to persevere through and build its customer base nonetheless.
"We would have started in the recession and it was definitely tough to get through," said Pádraic.
"I just kept at it and built it up from there and since that time we've given up the breakdowns really. We'd only do a small number of breakdowns now compared to back then."
Indeed, the company today leads the way as a premier service and repair centre catering for all vehicle needs by delivering a first class service to customers.
PLR Repairs understands that its customers' vehicles are an important and necessary part of everyday life and, therefore, it is vital that quality service and repairs are carried out to maximise the efficiency and reliability of the vehicle.
Since 'Day One', attention to detail has always been paramount to Pádraic and his team, keeping customers updated on the specific needs of their vehicles and advising customers of their future vehicle care needs is what they do best.
This past year has had its challenges, particularly after the Irish government announced a Level 5 lockdown three months into 2020 in an attempt to stop the spread of Covid-19 nationwide.
"In 2020, we definitely saw a bit of a downturn due to Covid," stated Pádraic. "We started off the year quite busy but come March I would have been on my own for a couple of months during the lockdown because I had essential work.
"We do a lot of work for Kildare County Council and Eir here as well, so there was essential work there during the lockdown months."
It seems PLR Repairs holds quite the reputation for excellent work amongst its clients. So, what has the secret to success been down through the years?
"I think it's because they're happy with the service they're getting from us here and know that we're very reliable," said Pádraic.
"I still have two small vans on the road but, as I said before the mobile repairs/breakdown service isn't there as much from us as before and there's two real reasons for that.
"The first issue is insurance and the second is the danger of it. You have people on mobile phones driving and when you're on the side of a road or on a motorway, there's a danger there.
"There's been a lot of cases in the UK with people getting hit and different accidents, so we've decided to scale back on it."
As the focus remains on service and repair, PLR Repairs uses specially trained technicians that will attend to your car using the very latest diagnostic equipment to keep it tuned to perfection.
The company's commitment to use quality parts and accessories means there is no better way to protect the integrity of your vehicle and its resale value.
Looking towards the coming months, Pádraic is keen to keep growing his business and hopes that the situation with Covid-19 will improve for everyone's overall benefit.
"The hope is to keep going and keep growing the way we have been as well," he said.
"Nobody really knows what this (pandemic) is going to bring and this year is going to be very challenging between Covid and Brexit as well.
"Hopefully we can stay busy though in 2021 and there's no reason I can see why we shouldn't."
PLR Repairs
Unit W10H,
Ladytown Business Park,
Newhall,
Naas,
Co Kildare.
Tel: 045 409 107
E-mail: [email protected]
Published in Irish Trucker & Light Commercials magazine, April/May 2021, Vol 24 No 3