Leonard Group's fantastic fleet getting bigger and better
10/06/2021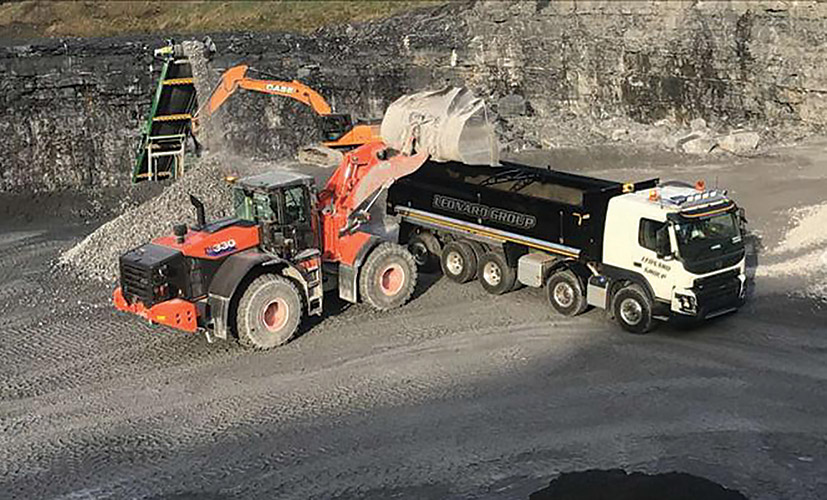 Providing a vast range of services from the supply of quarry stone, screened top soil, haulage services and muck shifting to ground works and civil engineering using their own Plant, Machinery and Heavy Haulage, Leonard Group based in Claregalway, Co. Galway are a family run business fronted by brothers Gearoid and Michael Leonard who are always on top of their game. We visited their base in Knockdoe and interrupted Gearoid's busy schedule to find out more about this ever expanding, industry-leading, family-run operation.
The genesis of the business goes back to 1968 when Gearoid and Michael's Uncle Tim bought his first truck along with a second Uncle Paraic getting involved in haulage in 1988. Two decades later, in 2008, the siblings purchased their first lorry – a Hino – and a Hitachi 60 with great encouragement and support from their father Ger and late Uncle Paraic to whom the brothers feel they owe much of their success.
"We followed in our Uncles' footsteps, really. We've had lorries around us all our lives and I suppose it was natural we'd go down this road ourselves," says Gearoid. "We were brought up on a dairy farm which has instilled our great interest in machinery and our business has been built up in yard where the farm is based, the old dairy has actually been converted into our office space."
It's a labour of love in many ways as the Leonards are extremely passionate and enthusiastic about their fleet… "We have our own workshop and a full-time mechanic making sure that everything is in top condition at all times."
As a multifaceted business offering a wide range of services to the construction and haulage sectors, Leonard Group prides itself on operating a large diverse fleet of trucks, including tippers, artics and low-loaders, they also have a modern range of excavators from 3t to 35t along with equipment for the quarry business including Crushers, Screeners and Loading shovels.
The lads constantly invest to ensure they have fresh, up-to-date Plant & Equipment. Recently, for example, they took delivery of a selection of heavy-duty machinery from TBF Thompson including a new Hitachi Loader, a pair of McCloskey J45 Crushers, McCloskey R155 High Energy Screener and TS4080 Stacker not to mention before Christmas they took delivery of a new CAT 313FL and a CAT 313GC which was first of this spec in Ireland from Finning CAT and a new 8.2 Schmitz Tipping Trailer from Casey Trailers in Kildare.
Meanwhile, 2021 also got off to an exciting start with the purchase of a new 10 Wheeler Volvo FMX Tipper (10x4, 460 HP, 33 Tonne Construction Suspension rear Boggie; 11.5 tonne drive axles x 2; with 10 tonne steered Tag; 51 Tonne Design Weight. Fitzgerald insulated tipping body) from local business Des Murphy Commercials and also a new Volvo FH Globetrotter Cab, 6x4, 540HP , 80 tonne double drive Tag Lift with IShift, ultra low crawler gears & Retarder is due to arrive.
"In our line of work it's vital to have as many high-quality trucks as possible because when a customer rings - and it could be at short notice - you have to have lorries ready to do the work," Gearoid notes. "You could get a call for a job that requires 5-10 lorries which need to be available immediately, so you need a large, fresh fleet of your own as well as good working relationships with dependable subbies."
As well as generating regular work for subcontractors, Leonard Group directly employs an experienced in-house team of 25 including professional drivers, professional machine operators, a mechanic, construction professionals and office staff. "We employ only the best construction professionals, tradesmen and plant operators and we encourage our staff to upskill and participate in further training". On speaking to staff members in the yard they say that they are happy working for the lads and everything they require is never an issue.
"We provide a crushing service from a quarry we operate in Kilchreest, outside Loughrea and we have a Waste facility for C&D Waste outside Athenry," Gearoid continues. "Landfills for muck shifting are fairly scarce and that's an extra service we decide to offer, which is proving popular."
As well as serving the construction sector, Leonard Group also work for farmers across Galway and surrounding counties, erecting farm buildings. Leonard Group provide a full be-spoke service from start to finish, including preparation of the site and all of the concrete and steel work in relation to this. They also provide a fencing service and have a range of tree and hedge cutting equipment. They have a dedicated certified staff member who brings 20 years plus experience to this sector.
The inception of Leonard Group coincided with the onset of a severe recession. After proceeding cautiously for a few years, Gearoid and Michael went back into trucks and plant in a big way from 2015 and started to expand their fleet and business again. They've been enjoying steady, exponential growth since and – between plant and heavy haulage – currently run a fleet of eight 8 Wheel tippers, three 10 Wheel tippers, four Artics and an array of excavators and quarry equipment.
While there are six Scania tippers in the fleet at present alongside four Renaults purchased from Clover Truck & Plant in Liverpool who have always provided the brothers with good reliable machinery in the past, the two most recent purchases have been Volvo and Gearoid says the switch towards the Volvo marque could continue going forward if the words of Des Murphy come through as promised – that the Volvo service, production and fuel efficiency won't be beaten.
Regarding some of the larger recent projects, Leonard Group have been involved in, he reveals: "We are currently providing a service to Fox Contracts for the Ballinderreen to Kinvara Road Realignment Scheme, Kilcawley Construction for the ESB Substation in Galway, Monami for their Social Housing Project in Rahoon, John Fordham Construction, John Madden & Sons. We also provided trucks for Clare Civils Ltd for the Maam Cross Road project and we have worked in the past on some Glenman/Rebuilding Ireland Social Housing Schemes and on the Sligo-Boyle Realignment Project where we provided eight lorries to Roadbridge. Harrington's Concrete have been an invaluable contact over the years, we have provided a haulage service for them when required and they have been our main supplier of materials for Construction projects."
Whilst Twenty-twenty was a busy year for Leonard Group and the signs are encouraging that they will continue to move forward at pace in the coming months, and years all the while honing their business to provide a better service in their sector… they suffered two close family bereavements which made them pause to reflect on their past.
"We began trading from a quarry in January where the new McCloskey Crushers and Screener are being operated from. Before they acquired their own Crushers, Gary McTigue in Tuam was contracted in to provide the crushing services and remains onsite crushing specialised chip stone allowing us provide a wider range of stone product to our customers. Last year was a good year and we are confident about 2021. We'll see how the new Volvos work out and then take it from there.
"Between our own lorries and subbies, there is a lot going on all of the time," Gearoid concludes. "Today, for example, the full fleet are contracted out to various jobs hauling stone, muck etc. with the addition of six others hired in. It's always busy and, as I said earlier, you have to be ready to spring into action as soon as the phone rings."
With such a strong work ethic, knowledge and a lifetime of experience behind them along with parents Ger and Catherine always available where required whether with words of encouragement or a warm meal in a busy day, the brothers are sure to succeed in whatever they decide to do.
Leonard Group,
Knockdoe,
Claregalway,
County Galway.
Tel: 087 6900812/085 1603908
Published in Irish Trucker & Light Commercials magazine, April/May 2021, Vol 24 No 3