All makes of truck and trailer parts… in double-quick time
08/06/2021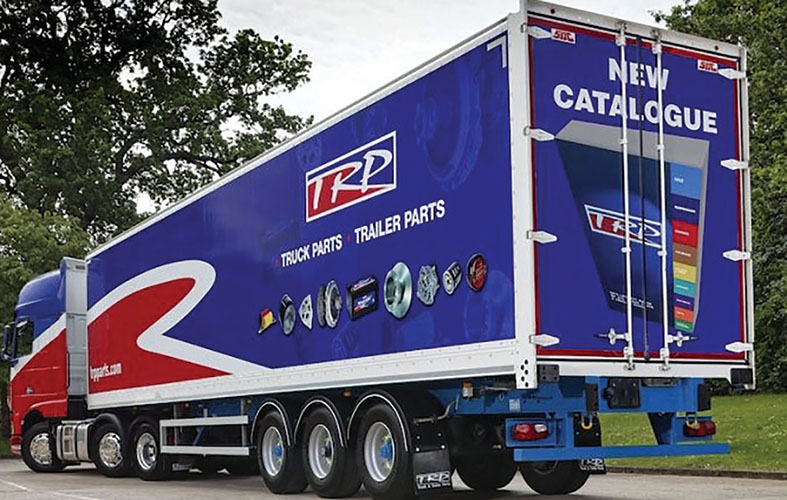 TRP Limerick is one of Ireland's leading commercial vehicle parts suppliers. We dropped into their premises on the Ballysimon Road in Limerick and spoke to Henry Roe about their exceptional range of products and services.
Between DAF and TRP (the all-makes parts supplier), TRP Limerick provides an extensive range of competitively priced parts for all makes of trucks, trailers, buses and coaches. They are staffed by a dedicated and highly experienced team, who possess an impressive depth of technical expertise and product knowledge.
TRP Limerick's store is conveniently located on the Ballysimon Road, just minutes off the M7 motorway. They also offer a free delivery service across all the surrounding counties. As part of the DAF Distributors Ireland Ltd network, TRP Limerick has access to over 20,000 parts lines. They use the latest technology to provide a fast and efficient parts selection, driven by the vehicle's chassis number. Downtime costs money, which is why, when it comes to parts, rapid availability is everything.
DAF genuine parts offer maximum lifespan and performance, reliability, a full DAF warranty and minimum operational costs. DAF owners will have noticed that the engine in a DAF bears the name PACCAR; TRP Limerick stocks a complete range of engine-related parts dedicated to PACCAR engines. They can supply engine parts, differential parts and exchange gearboxes for all makes of vehicle. They also stock a large range of genuine ZF gearbox parts along with Bosch starters and alternators for popular makes.
When it comes to sourcing and distributing truck and trailer parts, who should know better than a market leading truck manufacturer? As well as owning the DAF brand, PACCAR also owns the TRP brand that isupplies consumables and parts for all other makes, trailers, bus and light commercial vehicles. DAF and TRP-branded products are designed to meet the highest PACCAR quality standards. Developed and distributed by DAF Trucks, the TRP Trailer and All Makes Parts and Workshop Consumables range offers the widest possible choice. Each product featured in the TRP range is carefully selected from quality manufacturers with world-beating reputations, so DAF can confidently offer warranty on all parts, knowing that operators can expect the reliability and efficiency they need.
Henry Roe, who has been a key member of the Limerick team since 2014, explaining the background to TRP Limerick, says: "Our business is part of the OHM / DAF Group based in Dublin with 3 TRP locations and with other TRP locations at Letterkenny and at the recently refurbished Kilkenny City location. Originally, we traded as DAF Sales Limerick on the Ennis Road for 10 years from 2005 onwards and then moved to these premises on the Ballysimon Road, where we have a staff of four – Keith Murray, Adam Carroll, Carol Culleton, who looks after admin, and I. As I live in Laois and Keith lives in Offaly, we can offer a free evening daily delivery service anywhere in between. We also travel out to the Limerick county area most days and can drop in North Kerry and parts of Clare as well."
Due to the high quality of the products and service provided, the company benefits from a large volume of repeat custom: "We initially had reps out on the road building up our customer-base and we now receive a lot of repeat orders from existing customers, while also actively adding on new customers all the time," Henry continues.
"We can guarantee a 24-hour turnaround on any part that's not in stock and a same-day delivery service across the Mid-West / West Midlands. This is a customer-focused sector and we place a huge emphasis on customer service, with unrivalled parts back-up and technical service.
"Both Keith and Adam have years of experience with Keith coming from a mechanical background working with a fleet of Scania trucks and trailers, while I have past experience working as a technician on DAF trucks. With this knowledge, we can better provide customers with advice on which parts they need and any relevant information needed to complete the repair.
"Our winning formula is that we know the product and can help diagnose the problem. We can identify the right part, source and supply it. We have access to all the relevant data needed and are ready and willing to help out in any way possible.
"We work hard with people to deliver value for their money because at the end of the day if they are making money, we are making money, too. We offer genuine parts with full DAF and TRP back-up and also a rapid turnaround as we can have parts here from Holland or the UK within 24 hours.
"New products are added to the line every week and the full catalogue can be viewed on the TRP Parts website, www.trpstore.ie"
Henry goes on to explain how TRP Limerick has taken all the necessary precautions to safeguard the health and safety of customers since the coronavirus outbreak. As an essential and vital service to the haulage industry, they remained open during the two nationwide lockdowns this year.
"While we are taking every practical precaution to help stop the spread of the virus, our services have been largely unaffected by COVID-19. We've kept our supply chain open and haven't stopped working since last Christmas. We would like to take this opportunity to thank our customers for their continued support and loyalty throughout the pandemic and at all other times," he concludes.
TRP Limerick,
Unit 53,
Eastlink Business Park,
Ballysimon Road,
Limerick.
Telephone: 061 578902 / 578903
Mobile: 087 6309973
Web: www.trpstore.ie
Published in Irish Trucker & Light Commercials magazine, February/March 2021, Vol 24 No 2