A family affair at Mick Barry Transport
03/06/2021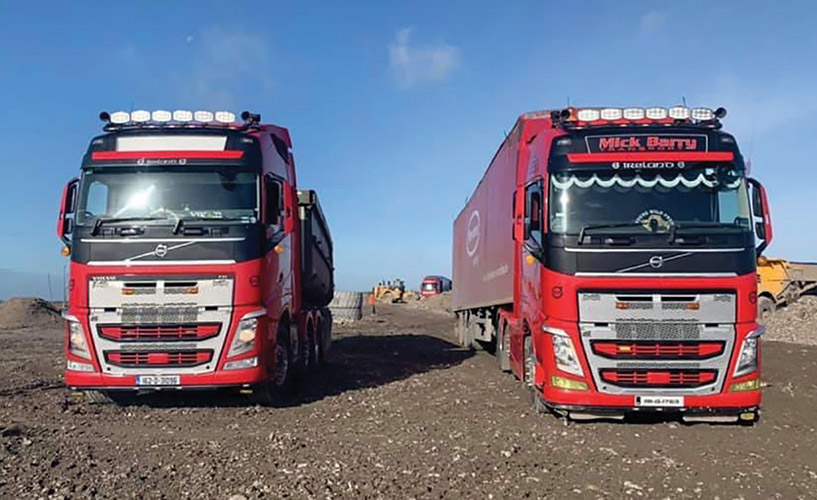 Since the mid-1990s, Mick Barry Transport has been supplying their services to the haulage industry and given their length of time in business, it's fair to say that the business has been a success.
Operated by Mick Barry and his son Mick Jnr, this Dublin based family run business carries out the majority of their workload for Thornton's Recycling who are one of Ireland's recycling companies; supplying their services to the people and businesses of this country since 1979.
Mick Jnr spoke to Irish Trucker for this month's edition and told us about the services that they provide and he also told us of the pride that they have in their fleet.
The company's trucks are made up of Volvo, Renault, Man and Iveco, all of which are relatively new, with two new Volvo tractor units added this year.
"We would take great pride in the fleet that we have, nothing is over five years old. We have two tractor units as well as two roll ons and a skip truck. The majority of our work would be for Thornton's. My father has been working with them for the past 23 years, but we have other customers as well and we do some continental work also," said Mick Jnr.
In October, Mick Barry Transport took delivery of a new Volvo FH 6x2. This truck was given the full Irish Commercials Bodyshop treatment with a custom paint job as well as additional rear lenses, tipping gear with walking floor, alloys with super singles, double burners, and a Kelsa Bar with six spots and two air horns. Along with the other FH purchased earlier in the year, it is turning heads when seen on the road.
"We have been delighted with the two Volvos so far. To keep up with the demand for our services, it was important to add to the fleet and that is what we have done."
Not only have they been adding to their truck fleet, but a new trailer has also been purchased from TC Trailers as they took delivery of a new Stas 130c.yd Moving floor trailer, which has an eleven millimetre overlap cargo-floor, rear door Scraphoof secure system, SAF CD axles and it comes with a five-year on/off road warranty.
Mick revealed that they have been kept busy all year, despite the current pandemic that has ground the majority of the country to a halt.
"We have been fortunate to have been kept busy throughout the early part of the lockdown. We were kept going all through, our trailers which are mainly curtainsiders, walk-in-floors and tippers allow us to provide a wide range of services which meant that we had enough work to keep us going.
"We have a very good customer base and all our clients are growing all the time, so the aim is to grow alongside them. We have been doing some airport work of late as well as the continental work."
Mick Barry Transport employs six people and one issue that Mick has with the industry at the moment is the shortage of reliable drivers that are out there.
"It is hard to get good reliable drivers alright. We are fortunate with the few lads that are here, most of who have been with us a good few years, but we can't expand too much because of the lack of drivers that are out there.
"Driving is a profession that not many young people are taking up, it is not as an attractive job as some, while the price of insurance is also a turn off for many. I think most hauliers are in a similar position, so it is probably something that needs to be look at."
The haulage industry is not only competitive, but there are so many overheads to contend with that every decision has to be made with the utmost caution.
"You certainly can't be jumping into decisions without giving them any thought. All over heads in this industry are a lot of money, but you have to be willing to take a chance also. Like I said, we have a good customer base and that does make all the difference."
Mick admits that they are lucky to be involved with a company like Thornton's who have been a leader in their field of expertise for many years.
"They are a very good company to work for. We would keep the trucks we use for them at their base in Clondalkin and they would do the maintenance on those trucks."
Mick is pleased with the direction of the business and the aim is to continue to grow as their customers grow in the coming years.
"Yeah, we are very busy, and the work is there to be done. We know what our customers expect from us and we provide a good service and the aim is to build on that and develop as they grow."
Contact Details:
Mick Barry Transport
38 Cookstown Industrial Estate,
Dublin
Phone: (01) 286 7271

Published in Irish Trucker & Light Commercials magazine, February/March 2021, Vol 24 No 2