Barry's Brake Skimming offers a multitude of benefits
27/05/2021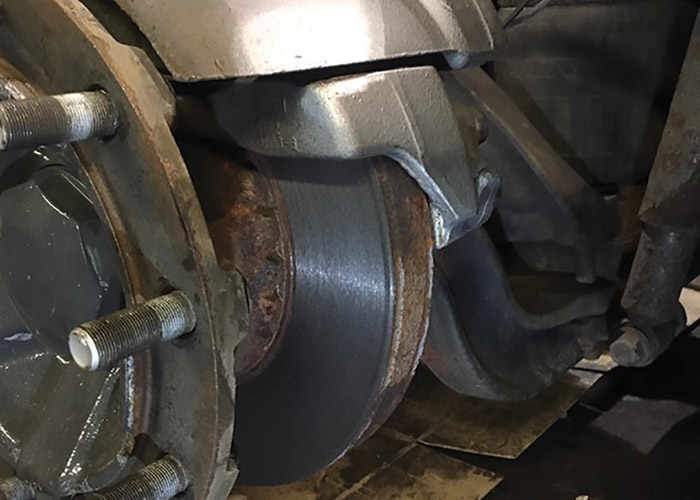 Providing an unbeatable mobile HGV brake disc skimming service to hauliers north and south of the border, Barry's Brake Skimming (BBS) has the capacity to improve disc brake performance whilst also offering customers significant financial and downtime savings. We travelled to Dungannon, County Tyrone and met founder / proprietor Barry Thorne to find out more about this exceptional operation.
Improving brake disc performance doesn't have to cost an arm and a leg. Offering convenient and cost-effective mobile HGV brake disc skimming solutions, Barry's Brake Skimming can completely restore disc brakes on the axle, without removing callipers.
Catering for all commercial vehicles from a 7.5-tonne LGV to a 200-tonne crane, BBS invariably achieves outstanding results with the minimum of downtime – and at a fraction of the cost and inconvenience of replacing the discs. Providing a fully mobile service, Barry Thorne visits hauliers' and commercial garage premises all over Ireland and offers exceptional levels of professionalism and customer service, keeping downtime and labour costs to an absolute minimum whilst fully renewing the brake disc surface and improving performance.
Utilising a special brake disc lathe, which is designed to cater for any axle on any make or model of truck or commercial vehicle, the Clare man guarantees fast, effective and value-for-money brake disc resurfacing solutions which bring a multitude of benefits, including improved braking performance, increased safety, the elimination of squeaks and squeals, lower servicing bills and reduced downtime and waste compared to replacing discs.
"It's not just about the price of the new brake disc but more about the trouble and downtime of fitting them, which can be a serious inconvenience" Barry reveals. "I could have a pair of axles skimmed and back on the road good as new in an hour and a half whereas if you replace the discs you could easily run into a full day's downtime; in a worst case scenario, you could even end up putting on a new hub at a cost of €500-600 because the hub can get damaged during removal. With skimming, the mechanical fitting of the disc is eliminated as the callipers do not need to be removed.
"I provide a 24/7 service island-wide and the discs can be skimmed in the owner's yard any time the truck is off the road. I can work at night or on weekends at a time when the truck would be parked up anyway. With skimming as opposed to replacing discs, you are generally looking at a two-hour turnaround as opposed to an entire day. There are a lot of savings to be made in terms of time and money, while the resurfaced brake disc will perform like a new one."
While discs that have gone below the minimum recommended thickness cannot be skimmed, in the majority of cases where normal usage applies, brake skimming can be deployed to quickly and fully restore disc surfaces back to their factory setting. "I've actually had a number of men who asked me to come and take a look but warned me that their discs were almost definitely scrap and that I wouldn't be able to do anything with them. You should see the surprise on their faces when we get the discs restored back to their original condition!"
Fitted directly onto the hub with the brake calliper remaining in place, the lathe effortlessly removes all rust, dirt and grooves from the disc. "I'd have a disc fully skimmed in 45 minutes and generally do one axle at a time," Barry notes. "I've done anything from a 7.5tonne truck up to a six-axle, 200-tonne crane and everything in between – tractor units, trailers, rigids, low loaders, you name it."
In keeping with the quality and practicality of the service provided, Barry's Brake Skimming benefits from a steady flow of repeat business, from owner operators to haulage companies and government departments such as NI Water, DFL Roads and local authorities in both Fermanagh and Cavan.
From a Mitsubishi Canter to a HGV or a large piece of plant, services are provided at a fraction of the cost and inconvenience of replacing discs… "We did a six-axle crane and when you factor in everything – cost, downtime, labour – it was done at about a quarter of the price," Barry points out. "We skimmed all six axles in a day and a half, where it would have taken a week to change the discs. If you look at the repair bill and the savings in downtime, the job was done to the highest standard at a fraction of the cost."
Having worked with trucks for two decades, Barry established Barry's Brake Skimming in 2016 and the business has since gone from strength to strength. "We can restore the discs to their full efficiency, quickly and without taking off the callipers. Where the disc has failed the DOE, provided it is thick enough, I can bring is back as good as new on any truck. All we have to do is take the wheel off and take out the pads, so it is a relatively straightforward process."
Barry's mobile unit is available around the clock and he will usually be on site within 24 hours. The service is provided island-wide and he has skimmed HGV discs from Belfast to Waterford, Cork to Dublin and everywhere in between. "If he wants, the owner can have other work done on the truck while I'm skimming the discs, to further reduce downtime," he concludes.
"Business is growing all the time, through both word of mouth and repeat work, although there was a reduction in turnover last year due to Covid, as a lot of testing was postponed north and south. Things are still uncertain in that regard but hopefully we'll see the economy opening up again sooner rather than later."
With margins tighter than ever across the transport sector, there has never been a better time to give Barry's Brake Skimming a call!
Barry's Brake Skimming,
Dungannon,
County Tyrone.
Tel: 0(044)77 88 247152
Email: [email protected]
Published in Irish Trucker & Light Commercials magazine, February/March 2021, Vol 24 No 2