R Barkley & Sons founder has left a wonderful legacy
25/05/2021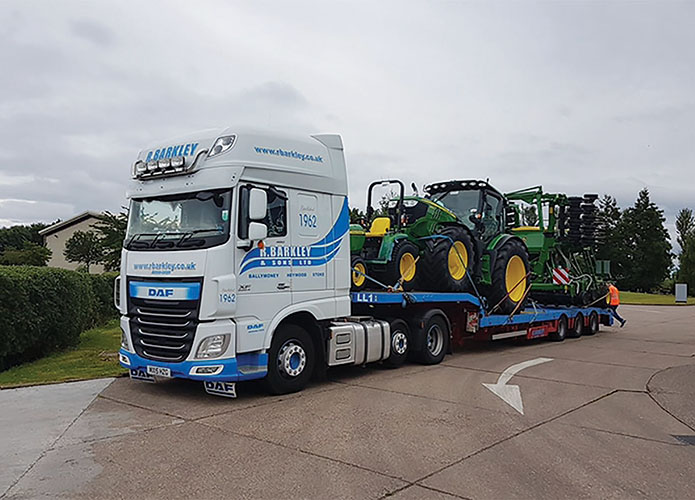 Twenty-twenty was a poignant year in the illustrious history of industry-leading County Antrim headquartered haulage company R Barkley & Sons Ltd. as Richard Barkley, who founded the family-run business in 1962, sadly passed away in April. However, as Richard's grandson Colin points out, Richard has left a proud legacy behind him as R Barkley & Sons is firmly established as one of Northern Ireland's premier transportation operations, providing a comprehensive range of unrivalled haulage solutions all over Ireland and the UK.
Running 50 fantastic trucks and up to 100 trailers (including curtainsiders, low loaders and flatbeds) whilst generating direct employment for a crew of 90, R Barkley & Sons Ltd. is a highly-respected and ultra-efficient third-generation haulage contractor.
The genesis of the business goes back to 1962, when the late Richard Barkley from Ballymoney in Antrim invested in his first lorry. Some 58 years later, with additional depots in Stoke and Heywood, the company is fronted by Richard's sons Brian and Kenneth and boasts a stellar reputation across this island and mainland UK for delivering professional, prompt and dependable customer-focussed services.
Brian's son, Colin Barkley, who serves as Transport Manager, says he owes a lot to his grandfather, whose vision, hard work and perseverance were instrumental in growing R Barkley & Sons into the successful business it is today: "It's all down to him, really. He started the company and grew it through hard work and reinvestment before passing it on to the next generation.
"My grandfather was a very mellow and modest man for somebody with such a big company and one of his great qualities was how he always keep his feet on the ground no matter how big the company got. He had no airs or graces about him and he was also a very cautious and prudent man. Any business decision he took was carefully considered and that has resulted in a very strong and viable business.
"He took a chance all those years ago to buy his first truck when he had no real guarantee of work. He had to borrow what was a considerable amount of money at the time to fund that truck and it was touch and go in the early days because the company he was working for in the beginning closed down. Instead of giving up, he became even more determined and went out and got himself more work and built the business up gradually year on year. He has certainly left us a great legacy and we want to honour him by protecting that legacy and continuing to provide the best services possible so that we can hopefully pass the business on to future generations."
In October, R Barkley & Sons boosted their immaculate, striking, instantly-recognisable blue-and-white fleet with the addition of two stunning new DAF trucks acquired from nearby TBF Thompson. A heavyweight in the XF model range, the FTPXF530 Super Space is packed full of features to boost efficiency on the road: innovative MX-13 engine, extended Eco Mode, Stabilink rear axle suspension, lightweight steel chassis and improved Driver Information Panel. Inside and out, the XF530 has everything drivers need for a safe, smooth journey.
Ten new trailers have also been added this year and the company's personable Transport Manager admits that constant investment in fleet replenishment is a prerequisite to offering the superb service levels for which R Barkley & Sons are renowned: "The new trucks are a great job and of course you have to add a few new pieces every now and again," Colin notes.
The truck fleet comprises DAFs exclusively and Colin reveals that the quality of the marque coupled with the outstanding service provided locally by TBF Thompson makes this a no-brainer: "We stick with DAF due to a mixture of driver comfort and value for what you are getting … and of course reliability and economy. It's a mixture of all of those things.
"What's good with DAF is that as it's such a popular lorry people know exactly what they are getting. They are known for quality and performance. Drivers are hard to come by these days and if you can provide them with a really good lorry then they are very happy. When you get a happy driver who takes pride in what he is driving, that's an excellent starting point.
"At the end of the day, we are handing our drivers something that is worth a lot of money, so there is a lot of responsibility on them and we are also showing great faith in them. We have a one-man, one-truck policy here so each driver has his own lorry and has to keep it right, treat it like it's his own and make us aware immediately if there are any issues. Down through the years, DAFs have been a great asset to us – they are extremely reliable and fuel-wise they are as good as any truck on the road."
Marking 20 years as a limited company in 2020, R Barkley & Sons provide a complete general haulage service including machinery, plant & tractors, specialist haulage and groupage / pallet distribution. They also offer onsite warehousing at all three depots. "If it fits on a trailer, we will deliver it – anything from a toilet roll to a John Deere tractor," Colin quips.
Although it's been a challenging and volatile year due to the restrictions introduced in response to the coronavirus outbreak, business at R Barkley & Sons is brisk. "We're very busy with all that's going on and it hasn't affected us too much," says Colin. "We had a quiet enough summer due to the first lockdown but now we're as busy as ever we've been."
As well as his father Brian and uncle Kenneth, who are directors, Colin is joined in the family business by his brother Christopher (Workshop Manager) and cousins Gareth (Groupage Manager) and Tina Barkley (Accounts Manager). What's it like working as Transport Manager with responsibility for such a large fleet? Has modern technology made the task easier than it might have been a decade ago?
"I don't think it ever gets easy, to be fair, but you try to keep it moving as best you can. We work hard and are very professional and we really keep on top of things. You will have smooth days but sometimes there will be problems and that's what we are here for – to deal with those.
"We have a good workforce behind us and everybody is here to do their best. That's our ethos. If you aren't in it for the company, then you aren't here. You would hope that everybody has the best interests of the company at heart as your reputation is everything and performance is crucial. It's all about providing a service. If you can provide that and keep growing, your customers can see that you are providing it and they will be prepared to pay a premium for that service. Haulage is no longer just about getting from A to B; it's about providing a service and that includes everything that goes on in between. You have to be prepared to give a good service and to go that extra mile.
"Transport is very fast nowadays and people want their goods delivered quicker and sooner than ever before. It's all about fine lines and thinking on your feet and making very quick decisions. Problems will present themselves but you have to face them, deal with them and move on – as in any business or walk of life. You have to be able to deal with things and move on. Even with the whole Covid-19 thing, it closed a lot of doors for us but we adapted and other doors opened and we moved on."
The can-do spirit of founder Richard Barkley is still very much in evidence at R Barkley & Sons and one gets the distinct impression that his legacy will be built upon with passion, enthusiasm and professionalism for years, nay decades to come!
R Barkley & Sons Ltd.,
14 Landhead Road,
Ballymoney,
County Antrim,
BT53 7HD.
Tel: 028 2766 3301
Fax: 028 2766 5286
Web: rbarkley.net
Published in Irish Trucker & Light Commercials magazine, February/March 2021, Vol 24 No 2