Gmac Haulage Ltd continue to deliver
13/05/2021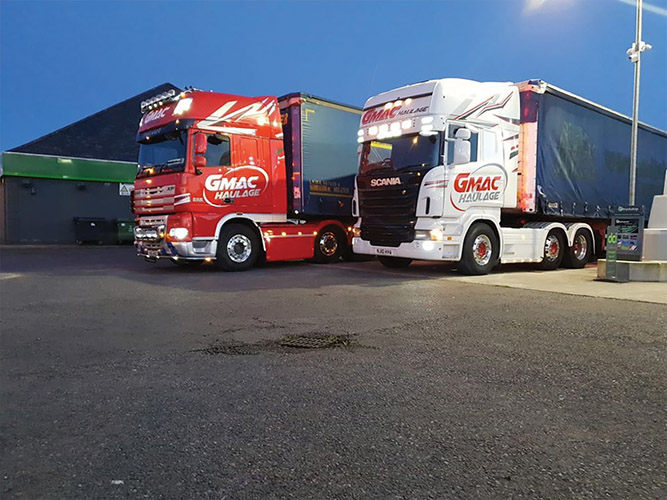 The haulage industry is arguably the most competitive business to be involved as margins between success and failure are a very fine line.
There are so many issues to deal with on a daily basis that every decision has to be made with the utmost caution.
Efficiency is one of the greatest assets to obtain when running a successful haulage company. There are so many daily issues to contend with that everything has to run smoothly.
The time constraints within the industry are massive, but the more experienced haulage firms have the knowledge and know-how to deal with all eventualities.
Donegal based Gmac Haulage Ltd have been providing an excellent general haulage service which sees them focus mainly on container work for the past six years and for this month's edition of Irish Trucker, we profile the company headquartered in Letterkenny and who have a depot in Ashbourne, Co Meath.
"We have 15 drivers here and they are experienced at what they do. It gives us great peace of mind knowing that they can off on a job and there will be no issues with them. They look after the trucks very well too and that is an important part of the job. There are 25 employed in total, many of who are with the company a number of years at this stage," stated Transport Manager Marty Gallagher.
The business was formed by Shaun Gallagher in 2013 and it has gone from strength to strength during the intervening years.
"A lot of the customers would be giving us their business for many years now and we're grateful for that. It is up to us to ensure that they maintain happy with that service and try to improve on it if we can."
"Quality is key to the success of any business. If you are not producing a quality service then the customer will take their business elsewhere, it's as simple as that, so for us, the focus is always on quality.
"We've always tried to keep the overheads down and we've managed to grow every year. As I said, we are fortunate with the customer base that we have. We are there to provide them with the best service possible and once we continue to do that then we should be ok.
"There are many overheads to contend with and tax is the biggest issue at the moment. The fuel rebate has helped a little, but every decision with regards the business has to be taken with the utmost care.
"We are there for the customer and anything they need done, we will do it to the best of our abilities. We have always prided ourselves on getting the job done on time."
Gmac Haulage Ltd operates a fleet of 20 trucks, with 15 of those on the road every day. Comprising of mainly Scania and Volvo trucks, Marty revealed that the fleet has got its own look in the last 12 months or so.
"We started branding the trucks last year. Our colours are red, white and silver. This is a major investment for us, but it is also a good form of advertising as well. We have our own mechanics in our purpose-built workshop and the trucks are kept in excellent condition. The fleet is upgraded on a regular basis and Shaun would shop around for the best deal possible."
As we all know, there are many issues to contend with in the haulage industry, but 2020 has saw two new 'threats' emerge as Covid-19 and Brexit have become concerns.
"With regards to Covid-19, we follow all the guidelines that have been put in place and the safety of our employees and our customers are paramount.
"We have concerns over Brexit as we have customers both north and south of the border. Like everyone else, we are unsure of what will happen, but it could be difficult if borders are put in place and there are tariffs to pay. It is just a case of waiting to see what happens."
Given today's rapidly changing market place, the service level required and the expectations of the clients, there is an ever present need for solid communication, understanding and flexibility. These three areas in particular form the foundation of the core operating principles at the company.
On that basis they believe that they can offer their customers a superior quality of service that is customised to meet the customers' needs, and at the same time prove to be financially attractive.
"It is all about the customer at the end of the day and once they are happy then we must be doing something right. Looking to the future, the aim will be keep them happy and grow as they grow.
"I would also like to thank all our customers for their continued support over the years. We are very fortunate to be working alongside such reputable businesses and hope to continue to do so for many years to come."
Contact Details:
Gmac Haulage Ltd
Drumany Lodge
Drumany,
Letterkenny,
County Donegal.
Published in Irish Trucker & Light Commercials magazine, February/March 2021, Vol 24 No 2