Affordable, bespoke skirts with a lifetime guarantee
11/05/2021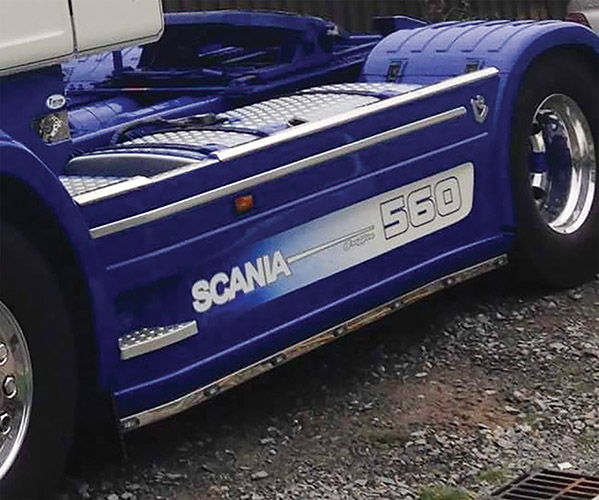 CC Commercial Skirts is Ireland's premier independent designer, manufacturer and fitter of side skirts and wind kits for all makes and models of trucks. We popped into the company's well-appointed Coalisland, County Tyrone HQ and touched base with founder / proprietor Gerard McCourt to get an update on this self-made, industry-leading enterprise.
Offering bespoke solutions tailored to customers' exact requirements, Gerard McCourt and CC Commercial Skirts deliver unrivalled products and service levels to truckers not just in Ireland and the UK but literally from all over the world.
As a highly skilled designer and manufacturer of a comprehensive range of side skirts and wind kits for all trucks – providing customised, professional and value-added services - Gerard's services are understandably in big demand at home and abroad. As word has spread about the quality of the customised solutions provided, CC Commercial Skirts has grown from strength to strength, benefiting from a steady flow of repeat business as well as new enquiries on the back of positive referrals.
"We provide a service that you don't really get anywhere else, with a lot of the work tailored to suit the customer's exact requirements," Gerard notes. "We're flat out and the phone never stops ringing. People like to get a personal service and we do bespoke, customised jobs for literally any make and model of truck or trailer. It's a worldwide service now as we have customers from all over Ireland, the UK, Holland, Germany and even as far away as Sydney, Australia."
Considering the volatile and uncertain year that's been in it, what with the massive double whammy of Brexit and the coronavirus pandemic, being incredibly busy is certainly not a bad complaint! "Indeed, it's a nice position to be in and I really appreciate the loyalty from truckers all over the world," the amiable Tyrone fitter notes.
"The encouraging thing is that when I take on a customer, I never seem to lose them. Going back to when I started with Dennisons in Ballyclare, Dungannon and Coleraine, everybody has stuck with me and it has just snowballed through word of mouth. I've never had to advertise. I keep picking up new customers and the way I look at it is that, if I continue to provide high quality products and a professional service, then every new customer is a potential repeat customer down the line."
CC Commercial Skirts is proving to be the first port of call for fashion-conscious operators, with their bespoke skirts for both trucks and trailers regularly turning heads and picking up major awards on the truck show circuit.
Gerard's inherent professionalism and skill is matched only by his flexibility, which is second to none in that he can work on any truck or trailer, with all work fully approved and endorsed by main dealers and an unlimited, lifetime warranty completing the package. As well as designing, manufacturing and fitting the side skirts– be it for a Scania, Volvo or Mercedes, etc., - CC Commercial Skirts also work with main dealers all over Europe and further afield, manufacturing skirts in Coalisland and shipping them abroad. The lifetime guarantee on all products affords customers complete peace of mind.
Combining the strongest and most suitable materials with unbeatable, precise, workmanship, Gerard and the team at CC Commercial Skirts are masters of their craft and have honed their skills down to a fine art. A third-generation fitter, Gerard McCourt owes a lot to his highly-skilled father, 'Wee Henry', who was a brilliant boat builder, like his own father before him.
"My father kept me right. He was a great boat builder, who got them to perform brilliantly and move fast. He got me going and taught me everything I know. I have a couple of lads with me here now as well and they are all tuned into my way of thinking, so things are working out really well."
The business plan going forward is to continue to look after customers: "It's all about providing a good service at a fair price," says Gerard. "I don't believe in trying to use the business as a get rich scheme. We'd all love to get rich but my attitude is that slowly, steady wins the race. My products are very affordable and customers are always happy. Under the terms of the lifetime guarantee, if anything goes wrong with any of the products I will happily fix them free of charge.
"Coming from a boat building background has enabled me to offer a more bespoke service, which again I have Dad to thank for. We have a high quality product and luckily we were ahead of the game in that I was the first to do tailored, bespoke skirts and also the first to do sprayed skirts for trucks and trailers. People have tried to copy and imitate them but you need to know why holes are in particular places and have a complete understanding of the design and the thought process behind it.
"So the end result is that nobody can match our products. It's a case of often copied but never equalled. When I design and manufacture a bespoke skirt, you can't just come along and copy it pound for pound and assume it's going to fit another truck. For example, I might put in braces so there is the option of adding a light bar and I know exactly why brackets are of a particular measurement – there's a lot of copying going on but the product won't be much use without that knowledge of why things are the way they are."
CC Commercial Skirts commands a place at the forefront of the market – locally, nationally and internationally – and the signs are encouraging that the business will continue to thrive: "I believe we'll remain popular as nobody else between here and Holland is providing this service," Gerard concludes. "We actually do a lot of Dutch-style stuff, which started with one Dutch customer and expanded through word of mouth.
"We'll keep providing the best possible service at a competitive price and I'll keep myself up to date with new trucks as there are new things popping up all the time and you have to be aware of them. The business is going well. A lot of people say to me that I'm gifted but, to be honest, I have to stress again that it was my father's expertise that was crucial in getting CC Commercial Skirts off the ground. If it wasn't for him, I wouldn't be at this – there's no doubt about that."
For that, truckers all over the world owe Henry McCourt a huge debt of gratitude!
CC Commercial Skirts,
Derrylaughan Road,
Coalisland,
County Tyrone.
Tel: 0044 7900 852011
Email: [email protected]
Published in Irish Trucker & Light Commercials magazine, February/March 2021, Vol 24 No 2