Cork's general haulage specialists
06/05/2021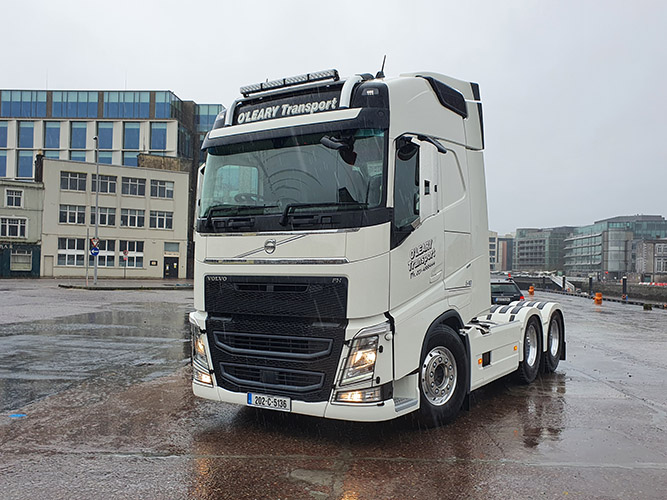 Based in Ballygarvan, Co Cork, O'Leary Transport is a long-established family business which provides a wide range of general haulage, specialising in haulage all throughout Europe. Irish Trucker touched base with Managing Director Denis O'Leary recently to learn all about the company.
O'Leary Transport works all across Ireland and the UK in providing general haulage services.
Operating with 10 trucks and 24 trailers in its fleet, the company works out of its yard in Tivoli Port giving it easy access to all of its main clients.
The blue and white corporate colours that make up the O'Leary Transport logo have become a familiar sight around the roads from Co Cork to all over Europe over the past four decades.
Irish Trucker caught up with Denis O'Leary recently to find out all about business at the moment, the challenges the Covid-19 pandemic has brought these past few months and the latest addition to the fleet down in Ballygarvan.
"At present, we have 14 staff in total and 10 trucks and 24 trailers," Denis outlined.
"They vary from curtain siders to low loaders, recently we've added a 202 Volvo from McCarthy Commercials.
"We received it here on October 12th, so we've only had it a couple of weeks and it's been excellent so far."
The truck was specifically ordered to have the 540 horsepower, double axle drive down in Ballygarvan in time for the winter months and since it has hit the road, O'Leary Transport's newest member of the fleet has lived up to expectations.
With a new year now just around the corner, it would be no surprise to see one or two more additions being made to the fleet again over the next 12 months. However, due to the uncertainty 2021 brings, the plan to expand will be put on hold.
2020 also marked a significant year for the company in the early part as it saw O'Leary Transport become OLT Haulage Ltd.
The new title for the company was adopted back in February, however Denis points out that the firm is still referred to as O'Leary Transport.
Working in many areas, such as shipping containers, agricultural contracts and transport of machinery, helps to keep the company busy.
At present, they're quite busy in Tivoli Port, something which they are grateful for according to the company's owner and founder.
"Next week could be quiet but, right now, we're busy and it seems its ups and downs every fortnight or so," he said.
The company was able to work through and come out the other end of the government lockdown this past spring.
"Thankfully, we worked through those weeks during the lockdown and there was a significant demand that followed for many weeks after it was lifted."
O'Leary Transport has many long-time clients that it works alongside and the list continues to grow.
The company's varied fleet means that they can always provide the most logical and cost-effective solution for a client.
Their low loaders are ideal for transporting heavy machinery, both plant and agricultural, while the skelly siders down in Tivoli Port are perfect for sliders and the tippers are the perfect solution for transporting agricultural feed.
So, what is it that has O'Leary Transport's clients choosing them first ahead of other competitors?
For Denis, confidence in his business has been the key to its longevity.
"I'd say the reliability and the confidence of the load being delivered on time and being delivered safely for them," he said.
"I think the fact that we go out of our way to help and provide a service for them on demand is part of the reason why they choose us ahead of other competitors out there."
O'Leary Transport is a member of the Irish Road Haulage Association and also adheres to the TASSC code of Practice for the haulage of animal feed and combinable crops.
They can arrange collection and delivery from farms, mills, docks, ships and stores locally and throughout Ireland and the UK.
Looking ahead to the coming months, Denis is keen for things to stay at a "steady flow" in these uncertain and unprecedented times
"We continue to upgrade our equipment and keep up with the standards and regulations for the RSA," said O'Leary Transport's Managing Director.
"For the future, we're hoping to keep the trucks at the number we have them at right now and just keep it at a steady flow.
"With this Covid pandemic, we are taking it week by week and operating business at a month to month rate, planning a month ahead and not two or three months ahead, considering the reality that another lockdown is possible around the corner."
With haulage services which are completely tailored to suit the client, O'Leary Transport remains one of the leading haulage specialists and transport companies in the south of Ireland.
It's an industry which has plenty of competition in it, according to Denis, who is keen to meet and conquer the challenges that 2021 might bring.
"There's a lot of competition out there and we're just trying to keep costs down.
"January could turn out to be tough with all businesses but we have to remain positive and try and keep things going through each season," the Co Cork native concluded.
O'Leary Transport
Ballygarvan,
Co Cork.
087 979 1073
021 488 8444
021 488 8225
[email protected]
Published in Irish Trucker & Light Commercials magazine, February/March 2021, Vol 24 No 2