A transport company you can rely on
04/05/2021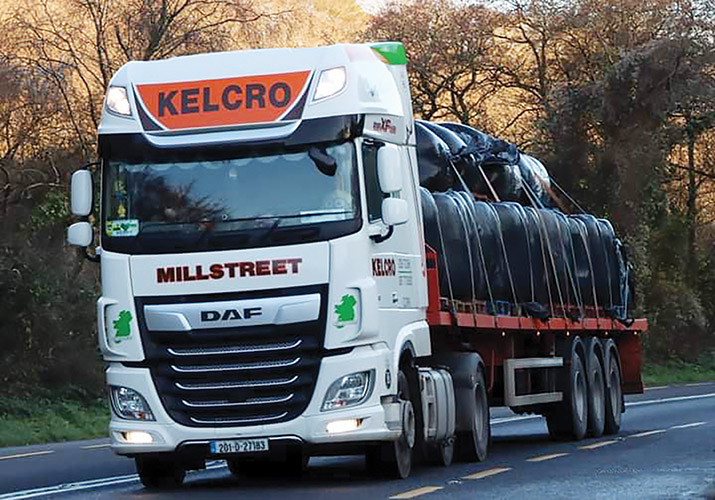 Kelcro Transport Cork Ltd is a leading general haulage contractor based in Millstreet, Co. Cork which has stood the test of time. The family-run business transports a wide range of goods across Ireland safely and on time.
Kelcro Transport has the expertise and experience in haulage and logistics to get the job done right every time. The company offers tailor-made solutions for its clients and prides itself on its professional, reliable, friendly and value-for-money service. It operates a modern fleet of trucks and trailers, and employs a highly-skilled and motivated team of drivers who are committed to providing customers with a first-class service.
The company has come a long way since it was established in August 1977 by Donny Kelleher and Sean Cronin (hence the name Kelcro) as a one-truck operation drawing milk, powder, cheese and butter to Dublin and Cork for Kerry Co-Op. Nowadays, Donny's son Shane and wife Kathleen are also involved in the business which has built up a large and loyal customer-base over the years. Kelcro runs 11 trucks, which are a mix of DAF, Volvo, Iveco and Renault, along with 20 curtain side and flatbed trailers.
The fleet is maintained and upgraded on a regular basis to ensure there is no such thing as downtime. Maintenance is carried out in-house as well as by local mechanic Jimmy O'Connor. One of the company's greatest assets is its people. It employs 14 staff who work as a team and ensure the business runs smoothly.
"Our growth and longevity can be attributed to our fantastic staff, the quality of our service, and our ability to deliver on time, every time," Shane Kelleher explains.
"We enjoy an excellent relationship with our customers who are number one in our eyes. We don't let anyone down and are always willing to go the extra mile for them. As a family business, we offer a personal service which you just don't get with bigger haulage firms. Most of our business is secured through word of mouth and recommendations. We have great customers who use our services time and time again."
The north Co. Cork haulier has gained an enviable reputation by building strong, trusting and long-lasting relationships with clients such as Mid-Cork Pallets & Packaging, GP Wood, WoodClear, Rola-Trac and Mark Eire. Based in Clondrohid, Mid-Cork Pallets is a leading manufacturer of pallets, crates and boxes. A licensed Euro-Pallet manufacturer, the company also supplies a wide range of packaging products such as corrugated cartons, single, plastic and aluminium pallets, containers and pallet collars.
GP Wood is a merger of the Grainger and Palfab Groups. With plants in Enniskeane and Lissarda, GP Wood has established itself as one of Ireland's largest and most advanced / diverse timber operations. The company has state-of-the-art facilities for kiln drying, machining and timber treatment.
WoodClear provides commercial clients nationwide with a professional and cost-effective waste wood collection and waste wood recycling services. The Dublin-based firm recycles and reuses 100% of the wood it collects, making it an environmentally responsible waste wood disposal solution.
Rola-Trac of Newmarket, Co. Cork – which supplies floor rental, portable floors, safety flooring, concert flooring, temporary flooring, exhibit flooring and ground protection – also avails of Kelcro's services. Unfortunately, COVID-19 has had a major impact on its business this year, but no doubt Rola-Trac will bounce back strongly in 2021.
Operating out of Macroom, Mark Eire is an international leader in climate control, specialising in air heating, radiant heating, ventilation and recirculation equipment, HVAC systems and bending machines.
"While we're general haulage contractors, most of our work is centred around transporting pallets and timber. We have a lot of experience in this area," Shane continues.
As an essential service provider, it was business as usual for Kelcro Transport during the lockdowns caused by the coronavirus outbreak. "Most of our customers continued to operate as normal, so we weren't too badly affected, thank God. It has been a challenging year nevertheless and next year could be equally as challenging depending on what way the Brexit talks go. Brexit is causing a lot of uncertainty in the industry."
Even after 43 years, Kelcro continues to strive for improvement. It is an innovative, forward-thinking company that has no intention of resting on its laurels. From its depot in Millstreet – which famously hosted the Eurovision Song Contest in 1993 – it aims not only to serve its customers with commitment and professionalism, but also to conduct its business in a way where standards and expectations are always exceeded.
A long-established family business with a proud history of transporting goods, Kelcro offers competitive rates, exceptional customer service and boasts a superb record of meeting its customers' requirements. Let Kelcro take care of your general haulage and distribution needs, while you concentrate on your business.
Kelcro Transport would like to take this opportunity to thank its customers and suppliers for their continued support, and its staff for their hard work, dedication and skill.
Kelcro Transport Cork Ltd
Dromnahilla,
Millstreet,
Co. Cork.
Telephone: 029 70296 / 087 7730837
Published in Irish Trucker & Light Commercials magazine, February/March 2021, Vol 24 No 2