Testing times
27/04/2021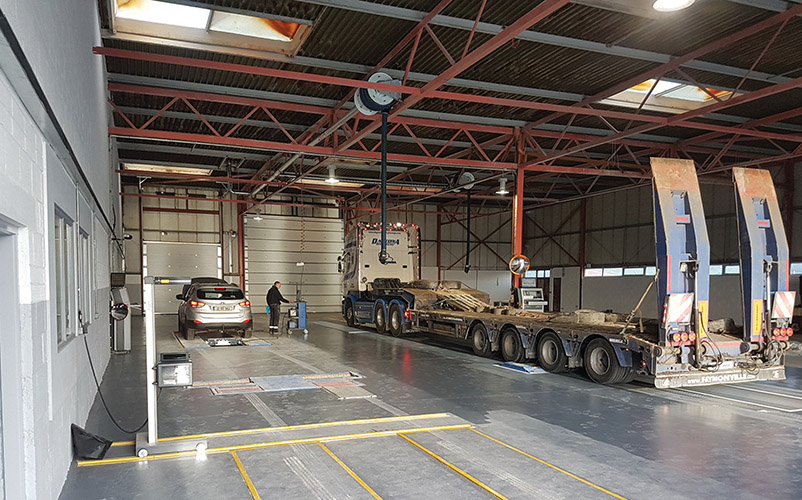 There is no doubt that 2020 has been a testing time for all businesses in this country, as the Covid-19 Pandemic has had an impact and just about everyone in the country.
CVRT test centres were no different as they faced uncertainty during the lockdown, but thankfully, they are up and running again as they face into clearing the backlog of trucks that need testing.
The Government gave a three-month extension on any test that was due to be done during the lockdown and now the test centres are busy playing catch up.
For this month's edition of Irish Trucker, we spoke to Mark McNeely who owns TMC Commercial Garage Ltd, one of Ireland's newest CVRT centres, having first opened its doors in 2017.
Little did Mark or anyone else for that matter realise that just three years into business, they would be faced with a pandemic, which literally brought the country to a halt.
Mark revealed to us that there was a lot of uncertainty when they would get back up and running, but once they did, business has been brisk.
"We were closed from March 29th until May 18th, which was almost two months, but compared to businesses in other industries, it wasn't too bad, but at the time, we weren't sure when we would be reopening," stated Mark.
"Since, we have come back, we have been very busy. We were playing catch up with a lot of the work early on as trucks due a test at the start of the lockdown were given a three-month extension. Many of our customers wanted the vehicles tested straight away, while others were willing to wait, but I think we kept everyone happy."
The state of the art facility caters for light and heavy commercials and the family run business long association with the haulage industry helps them know what the customer wants and their services include commercial vehicle roadworthiness testing (CVRT) for HGVs and LCVs, pre-tests, test preparation, seatbelt certificates, tachograph calibration and vehicle plating as well as mechanical repairs and servicing.
The decision to open a test centre three years ago has certainly paid off for the McNeely family as their customer base has grown considerably since its opening.
"Our customer base is continuing to grow. I think the fact that we offer practically a one-stop shop in repairs, maintenance and testing appeals to our customers."
As for the catchment area covered, most of the trade comes from truck, van and bus operators in Donegal alongside a steady influx of business from neighbouring counties. "It's mostly Donegal, Sligo and Leitrim, a lot of local business," says Mark. "There are a good few garages in Ballyshannon and they are all coming here and we've had customers from as far away as Gweedore and also Leitrim.
"Even though, we are only open three years, we are continuously investing in the business and have added new equipment and technology since we opened."
TMC Commercial Garage Ltd operate a two-lane test centre, one for HGVs and one for light commercials as Mark revealed that have added a second lift for light commercials.
"We put in a second lift for the light commercials to help us deal with the workload and we will continue to invest where needed down the line and we are currently looking at putting in a second HGV test lane."
A friendly, professional, affordable, no-nonsense service is provided, promptly and with a minimum of fuss. The comfortable, spacious facilities at TMC Commercial Vehicle Test Centre are excellent, with no stone left unturned in ensuring that both vehicles and their owners are looked after during the course of their stay.
"We know that our customers want their vehicles back on the road as quickly as possible, so we try to get through the work as efficiently and as quick as we can."
The Company is run and directed by the McNeely family namely Tom McNeely, and his sons Mark and Colin, while Mark's wife Rebecca looks after the administration.
Mark is hoping that we avoid a second lockdown like the first as he feels that it could be detrimental to a lot of businesses.
"We definitely don't want to go into another lockdown. The business is still in its infancy and we would only see it as a setback if we were to close the doors again for another period of time."
As well as being a viable commercial entity providing outstanding levels of service and benefiting from a steady flow of repeat business as well as positive referrals through word of mouth, as an added bonus, the commercial vehicle test centre in Ballyshannon is also contributing in no small way to maximising road safety standards in the north west and beyond by ensuring that vehicles are 100% roadworthy and compliant.
"There are four testers here who carry out their work to the best of their abilities. We are all highly trained and go on refresher courses annually to ensure that we are up to date with any changes in the regulations or legislation with regards to testing."
Contact Details
TMC Commercial Garage Ltd.,
Ballyshannon Business Park,
Portnason,
Ballyshannon,
County Donegal.
Tel: 071 9822704
Email: [email protected]
Published in Irish Trucker & Light Commercials magazine, February/March 2021, Vol 24 No 2