McVitty's pride and joy
20/04/2021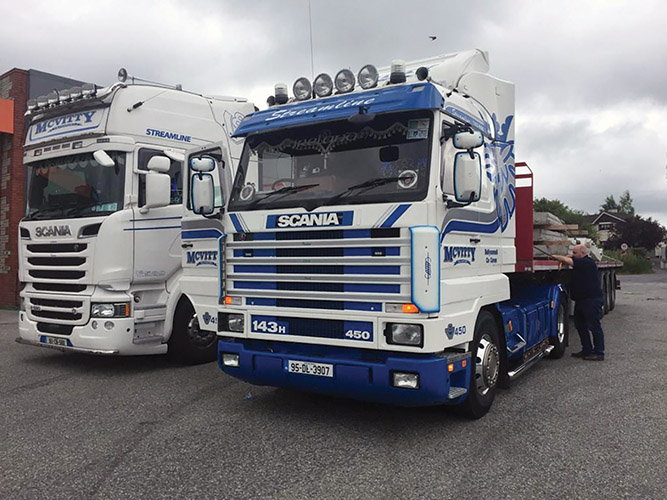 Any haulier will tell you that their fleet are their pride and joy. Great care is taken with every truck regardless of age and to this end McVitty Transport are no different.
Operating an impressive fleet of Renault and Scania trucks which the majority of are less than four or five years old and complete with the company's own livery, the McVitty fleet certainly stands out.
Two years ago, four brand new Renaults T480 6x2s were purchased from Setanta Vehicles Sales in Dublin to add to the fleet of six Scanias.
One of the Scanias is a 24-year-old 143 450, which is the pride and joy of the company as Hugh McVitty explains to this month's edition of Irish Trucker.
"The old Scania works every day, it is not just here as a vintage model. I drive it all the time, I wouldn't want to drive any of the newer ones. It's still going as good as the day we got it and I do bring it around to the truck shows and hopefully we can be doing that sometime soon again," said Hugh.
All the trucks are well looked after with the ones still under warranty going back to the main dealer for maintenance, while we would do a lot of the smaller jobs ourselves.
"The 143 is minded like a child, but it has given us very little trouble over the years and it proves what a reliable truck that Scania are."
The family-run operation employs 14 staff (12 drivers) and carries out its own maintenance and repair work at its workshop. The premises also boasts an office, a large yard and warehousing facilities. It's fair to say McVitty Transport has come a long way since Peter McVitty and his wife Susan set it up in April 1988 after local company Boxmore Plastics decided to privatise its haulage business.
"We would still have some of the same customers that we had when my father and mother set up the business 32 years ago. We have a good business relationship with all our customers and that has stood to us down through the years."
From their headquarters in Ballyconnell, McVitty Transport operate a wide range of trailers to help provide their services as a general haulage company.
The family-run operation employs 14 staff (12 drivers) and carries out its own maintenance and repair work at its workshop. The premises also boasts an office, a large yard and warehousing facilities.
"We have three good customers in Boxmore, Ballytherm and Woodford Timber Products. You couldn't ask for three better customers to work for. They provide a lot of employment in the Cavan area and are keeping us busy with deliveries all over Ireland."
Despite the current pandemic that has the nation in a vice-like grip, McVitty Transport are kept busy supplying their services to their customers and Hugh is confident that can continue.
"We were quiet during the early stages of the first lockdown, and we had to cut down on the drivers, but we have taken them back on now and the dairy work that we do kept us going through the first phase."
Hugh admits that they are delighted with the drivers that they have on their books at the minute, some of who are with the company many years now.
Through their many years of business, the team at McVitty Transport have built up a great rapport with their customers.
"We would have a great relationship with anyone we are dealing with. The drivers are familiar with the customers and vice versa, while the guys in the various businesses would have a great relationship with all our drivers.
"We are fortunate to have some very experienced drivers here, lads who know their jobs inside out and look after the trucks as if they were own.
"Sourcing new drivers has become a bit of an issue, it is hard to get good reliable drivers these days. It is an aging profession and there are not many young lads taking up driving trucks as an occupation. For starters, it is impossible to get them insured. Insurance want lads to have experience, but sure how are they supposed to get the experience, if you can't insure them, it doesn't make sense. The days is coming though that there will be a massive shortage of drivers in the country, if the situation is not addressed soon."
Hugh revealed that his father and mother are still involved in the business and that the aim for the future was to ensure that their clients were happy with the service that they provide.
"Business is going well and hopefully, we can grow alongside our customers. We would be happy with the workload that we have on at the moment. Every decision we make has to be made with the utmost caution, especially in these times when no one really knows what the future holds."
Contact Details:
McVitty Transport Ltd
Mullinacre,
Ballyconnell,
Co. Cavan.
Telephone: 049 9526645
Mobile: 087 9198420
Published in Irish Trucker & Light Commercials magazine, February/March 2021, Vol 24 No 2