Passing the test of time
15/04/2021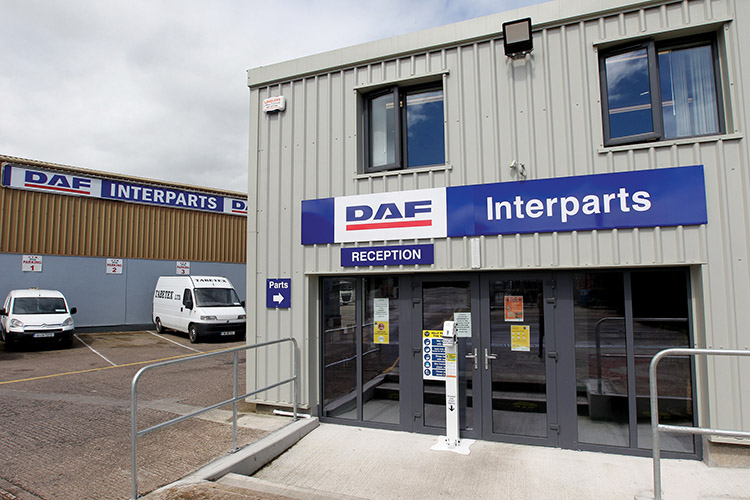 Firmly established as one of the premier CVRT test centres in the greater Cavan / Monaghan region, Interparts Drumalee Ltd. – located in comprehensively-upgraded facilities on the Dublin Road on the outskirts of Cavan town - also offers its customers an expansive range of other services including trucks sales, parts for all makes and models of commercial vehicles, servicing, repairs, tachograph fitting, breakdown recovery, speed limiter and vehicle plating. We touched base with Financial Controller Donal McAdam for an update.
Founded by former Ballinamore, Drumalee and Leitrim county footballer Joe Gormley in 1984, Interparts Drumalee Ltd. has been serving the needs of commercial vehicles owners and operators across County Cavan and beyond for coming up on four decades, delivering an exhaustive list of products and services to meet their every need.
As well as being a main DAF dealer and aftersales outlet, Interparts is a leading CVRT / ADR test centre, with a crew of five testers included in their experienced 40-strong team. Meanwhile, their parts department stocks a vast selection of parts for all makes and models of trucks, trailers, light goods vehicles, vans and cars – all ready for next-day delivery nationwide.
While Interparts Drumalee boasts a proud history, it is on the future that their gaze is firmly fixed, as an investment of almost €300,000 in a new parts department and office / Cvrt and Service reception area – which opened in March, 2020 – readily testifies.
As the one-stop shop for all commercial vehicle testing, sales, parts, servicing and repairs solutions, Interparts Drumalee Ltd. is going from strength to strength under the watchful eye of proprietor Joe Gormley and general manager Robbie Malone. Even though 2020 was a challenging year due to the coronavirus pandemic, business has remained brisk at the popular Dublin Road CVRT test centre, which goes out of its way to accommodate light and heavy commercial vehicle owners resulting in a steady flow of vehicles six days per week, not just from Cavan but also surrounding counties.
"The testing has been going full belt and we are very busy, thankfully," notes Financial Controller Donal McAdam, who has been part of the Interparts team for more than 20 years. "We had to close down at end of March until the middle of May due to the restrictions but we are back now and we've enjoyed a very busy year."
One of the biggest and busiest NSAI-approved CVRT test centres in Cavan / Monaghan, with a huge throughput from up to a dozen surrounding counties, Interparts Drumalee provides keen and convenient testing services to a large number of loyal customers, from local hauliers and owner-drivers to garages and motor mechanics.
The secret behind the success and popularity of the testing arm of the business is not rocket science – according to Donal, it all comes down to customer service: "We offer a testing service that suits our customers and fits in around their busy schedules," the Drumhowan man notes. "To this end, the test centre is open late until 9pm on Tuesday, Wednesday and Thursday nights and also for a half day on Saturdays, from 10am until 1pm. Customer service is vitally important. We build lasting relationships with customers and our staff are all well-known and experienced. We're almost 40 years in business now and we have built up a very good reputation in the industry not just for testing but for a full range of services."
Indeed, any time a customer brings a commercial vehicle to Interparts Drumalee, they can rest assured that they are dealing with industry professionals who know trucks, vans and trailers inside-out! "We provide a professional, knowledgeable service and our testers – who work in a modern and fully-equipped testing environment - are vastly-experienced and fully-qualified," Donal continues. "The test centre also feeds off the fact that, as a main DAF dealer and aftersales agent, we have an authorised DAF workshop and can carry out all necessary servicing or repairs on any commercial vehicle, while we also stock parts for all makes and models. So we have everything here to meet our customers' needs."
The substantial investment in upgrading facilities early in 2020, culminating in a spacious new parts building as well as a complete revamp of the reception area – meaning parts, CVRT and service customers are afforded a warm and comfortable welcome – represents a statement of intent from this long-serving but progressive business. "It's all geared ultimately towards ensuring a more comfortable experience for our customers," Donal confirms, adding that the upgrades don't end there…
"We're also just after launching a new website before Christmas, which will enable customers to purchase parts or book in for the CVRT test or a service online. We offer next-day delivery nationwide for parts for all makes and models of commercial vehicles, using our own fleet of vans for deliveries in surrounding counties and up as far as Dublin, while tried and trusted couriers look after the deliveries further afield."
The multifaceted, all-encompassing business has been further enhanced by the launch of a fully-stocked new exhaust centre, catering for all makes and models. In conjunction with the workshop's trained technicians, parts department manager Gabriel Fitzsimons makes sure that exhausts are professionally sourced and fitted.
Embracing the very latest IT and diagnostic computer systems, Interparts Drumalee are perfectly positioned to provide a complete commercial vehicle care service.
As the main DAF dealer for the North East and a partner within the DAF network nationally and
internationally, Interparts supplies new DAF trucks from the XF, CF & LF ranges on request and can offer both contract hire and R&M contracts. They also carry a fantastic range of high-quality used commercials.
Their state-of the-art parts department and warehouse stocks over 30,000 items and is a one stop shop for all HGV, LGV, truck, trailer, van and car parts needs. In addition to DAF, they also supply TRP parts - a quality brand supported by DAF suitable for all makes and models of trucks and trailers including DAF, Scania, Volvo, MAN, Mercedes, Dennis, Iveco, Renault, Hino, RoR, Bpw, Saf, Daimler Chrysler, etc. Interparts only stock and supply trusted brands to cater for their cabin, engine, braking, driveline, airbrake, electrical, exhaust and consumable products ranges and all parts come with a twelve-month manufacturer warranty.
"To be fair, we are very busy in all aspects of the business," Donal concludes. "It's been a tough year with Covid-19, which struck just after we'd opened the new upgraded parts department and reception area, but we are more than holding our own and we look forward to continuing to serve the many needs of commercial vehicle owners in the months and years to come."
Interparts Drumalee Ltd.,
Dublin Road,
Pollamore Far,
Pullamore,
County Cavan,
H12 Y8N1
Tel: 049 433 1777
Email: [email protected]
Web: www.interparts.ie
Published in Irish Trucker & Light Commercials magazine, February/March 2021, Vol 24 No 2