McBride Transport celebrates 25 years
13/04/2021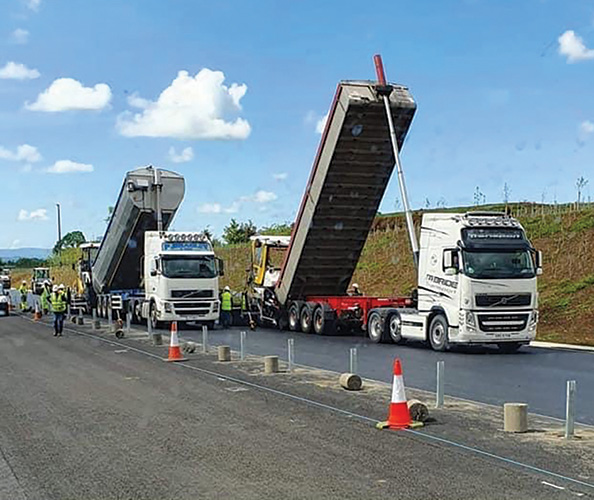 Operating a quarter of a century, McBride Transport in Cookstown, Co Tyrone are general hauliers that cover all types lorry hire work for their customers. Irish Trucker caught up with Brendan McBride recently to learn more about what is a thriving business at the present time.
Business is good these days at McBride Transport and the plan up in Cookstown is to keep things that way right through to 2021.
Set-up by Francis McBride in 1995, the company is run today by Francis and son Brendan and operates from its base at 37 Corvanaghan Road.
The business itself works in all types of lorry hire, tar and muck haulage, flat bed, curtain-sider, low loader and flat bed with crane, with all sizes from rigids to units.
Irish Trucker touched base with Brendan McBride to find out all about the company – from its origins to the state of business at the moment.
"The company was founded by my father, Francis McBride, in 1995," Brendan explained.
"We would cover everything really and at the minute we're drawing a lot of tarmac"
Operating with eight Volvo trucks in the fleet, McBride Transport is as busy as ever at the present time even in spite of these challenging and unprecedented times.
The Covid-19 pandemic gripped every business in Ireland in 2020 and, as a result, McBride Transport's trucks were off the road for a period of weeks during the Spring as lockdown came into effect.
Since lockdown was lifted, the company have been 'flat out' keeping up with the high demand from customers.
In fact, they were even busy prior to the entire pandemic and now it seems normal service has resumed business-wise at least.
"It's been very busy here now the last couple of months," said Brendan.
"Actually, you could say that we've been busy here these last five or six years and hopefully that will continue for us again going into 2021."
Going on current form, McBride Transport's trucks look set to be busy on the roads for the months ahead.
The business operates with an entire Volvo fleet and right now tipper haulage and low loader work is what occupies most of their time up in Cookstown.
Brendan explained that the company is concentrating on a lot of work in and out of local quarries at the present time.
"There are eight trucks altogether in the fleet and right now we have seven of them on the road," he said.
"The eight wheelers do a lot of the muck shifting for me and right now quarry work is a lot of what we do.
"Hopefully, that'll continue for us going forward and you never know we could add another truck down the line."
Another truck would undoubtedly mean another Volvo, as Brendan doesn't stray too far away from the trusted brand.
Asked why he tends to choose Volvo ahead of other brands out there, Brendan responded plainly:
"We buy them in Dennison Commercials and I suppose we've just always found them a good truck.
"They're a great machine and they're reliable, so you can't go wrong with them. There's also the fact that there's the same bits and pieces with a lot of them which helps with the upkeeping of them."
The McBride Transport fleet is superbly maintained and can often be seen hitting the road in pristine condition once they leave the yard at Corvanaghan Road.
However, it takes more than just excellent trucks to stay on the road for 25 years.
Over the years the company has grown a reputation for providing its customers with a top-class service, as well as a wide range of different services.
It goes a long way towards explaining the reasons behind the longevity of McBride Transport, having originally been established by Francis McBride back in 1995.
"I'd like to think that the company's success and the reason our customers choose us ahead of other is because we provide them with a good service every time," said Brendan.
"A lot of our customers here are with us there the last 10 or 15 years. Some even more than that and I think that says a lot about the service we've given them down through the years."
Looking towards the months ahead, Brendan is keen for things to keep going the way they've been going.
With so many things up in the air at the present time between the Covid-19 pandemic and Brexit, Brendan remains optimistic going forward.
"We'll just be hoping for more of the same," he stated.
"We've been busy a couple of years now and we would certainly like to see that continuing next year. Right now, we're busy with the tipper haulage, sand and gravel, so if those things can stay busy for us, we'll be happy enough."
Here's hoping.
McBride Transport
37 Corvanaghan Road,
809 Cookstown,
Co Tyrone
Mobile: +44 7955 356484
Published in Irish Trucker & Light Commercials magazine, February/March 2021, Vol 24 No 2