Kerry Truck Services stronger than ever
06/04/2021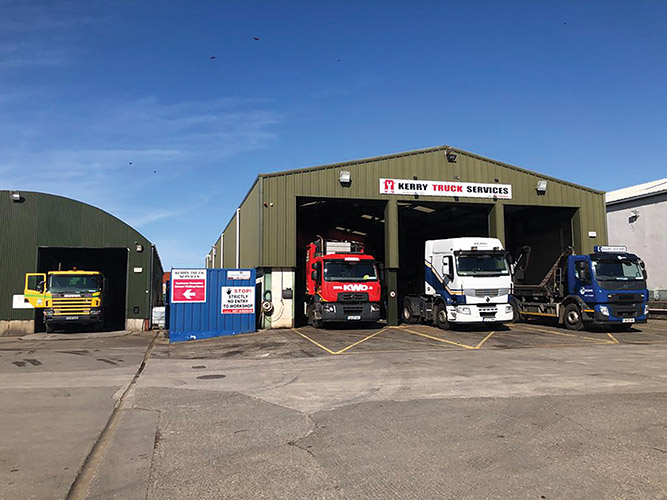 "The COVID-19 pandemic presented unprecedented challenges of social distancing in our industry," said owner Jason Cotter. "As we all cope with the impact of COVID 19, the health and safety of our employees and our clients remains forefront."
Throughout the crisis, Kerry Truck Services have remained open (as per classification as essential business) and have continued to meet the needs of their customers. Thanks to the dedication and commitment of the team, they have continued to provide maintenance and repair, supporting their clients in delivering essential services in transportation, logistics and public works, during this crisis.
Kerry Truck Services continues to operate, whilst ensuring the HSE public health guidelines are adhered to by both staff and customers when in the workshop. "We take the public health guidelines very seriously and are very proud to support our customers in providing critical services and supports during this challenging time," says Sonja Mullins, Office Manager, who has taken over from the recently retired Harry McCann.
Indeed, Kerry Truck Services have developed a reputation over the years for providing an excellent service to its ever-increasing customer base. With over 20 years' experience behind them, their services continue to grow as they look after all necessary maintenance and repairs to your vehicle or trailer at their state-of-the-art workshop.
Investment has been key to the success of the business and owner Jason Cotter has stood by that philosophy during his time in business.
"We are continuously investing in the business and in recent times, we have purchased a new scissors lift and taken a second unit, which adds another bay for us. We can also provide an in-house painting and bodywork repair as well as valeting service for trucks, cars and buses, so you could call it a one stop shop for all your needs," said Jason.
"Investing is important, it improves productivity and with our increasing workload we will continue to add new equipment and technologies like our customer portal on Assetminder which allows clients access to all their truck information like DOE certs, inspection and brake test reports as well as an individual DOE and 13 week inspection planner."
Opening hours are from 9am to 6pm Monday to Friday and 9am to 1pm on Saturdays, with a 24-hour breakdown and recovery service. The parts department carries a vast range of genuine spare parts for all the leading truck brands, including Renault, Scania, Volvo, DAF, Mercedes and Mitsubishi. They stock braking equipment from WABCO, Haldex and Knorr Bremse along with airbags, air valves and everything else. In the unlikely event of them not having a particular part in stock, they can have it for the customer within 24 hours.
From their premises in Farranfore, Co Kerry, the experienced team at Kerry Truck Services have the knowledge and understanding to deal with any issue that comes their way.
"We work on a wide range of trucks and trailers for many years and by doing so, we have gained a lot of experience; so regardless of the problem, we will get it sorted with know-how and our full range of diagnostics as we cater for heavy and light commercials."
Their location between Tralee and Killarney allows for the company to have a big catchment area which Jason revealed is getting bigger all the time.
"Our customer base is continuously growing. Obviously we have a lot of repeat custom and we find that word of mouth is probably our best form of advertisement. Our customers are growing, and we are growing with them and hopefully that will continue. They are happy with the level of service that we provide, and it is our job to maintain and improve those standards.
"We understand the need to get the work done as quickly and efficiently as possible, downtime is something that all our customers want to avoid, so we strive make the turnaround time as short as possible."
With six mechanics and a wide array of services, Kerry Truck Services can get through a huge workload.
"We pride ourselves on being able to offer our customers a professional, reliable, quick, cost-effective and personal service. We have a great team of mechanics here, including myself and two apprentices who along with our office manager Sonja, provide our customers with a service that is second to none."
The five-bay, two-pit workshop features an AHS Varioflex roller brake tester which can carry out brake tests on all heavy and light commercial vehicles. It also boasts a side-slip tester, shaker plate system and all the latest diagnostics and software. The garage has also invested in column lifts to improve efficiency.
Jason is pleased with the direction of the business and he feels that he has a good team in place to bring the company forward in the future.
"It was difficult for a while to get good staff, but I'm fortunate to have a very good team now. We need mechanics to cover all areas as we cater for a diverse range of trucks and the lads here are well capable of doing that. As I stated, our customer base is continuously growing and the aim is to grow with them."
The garage works closely with the Kerry Group's 3,500 milk suppliers in the South-West of Ireland.
"We've become proficient in maintaining and repairing pumps, hydraulics and metering equipment for milk tankers by working for Kerry Co-Op and Lee Strand over the past 20 years. We deal directly with the drivers who provide the milk collection services on their behalf and we maintain the fleets of Christy Lucey Transport, Kerry County Council and Refuse & Recycling companies like KWD Recycling and Higgins Waste & Recycling as well as the oil tankers of Corrib Oil. All our customers, regardless of their size, are guaranteed 100% service.
"Fortunately, we are in a strong position because of our excellent client base and a very committed team who work with me. As a business, we are making the necessary and required changes to ensure the safety and welfare of our staff and our clients. We would like to take this opportunity to thank all our clients for their continued support and hope they and their families stay safe and well during this unprecedented time."
Contact Details:
Kerry Truck Services
Unit 2, John Doyle Business Park,
Scart Cross,
Farranfore,
Co. Kerry.
Telephone: 066 9763634
Mobile: 087 6486648
Email: [email protected]
Published in Irish Trucker & Light Commercials magazine, February/March 2021, Vol 24 No 2