The one-stop shop for all spare parts
30/03/2021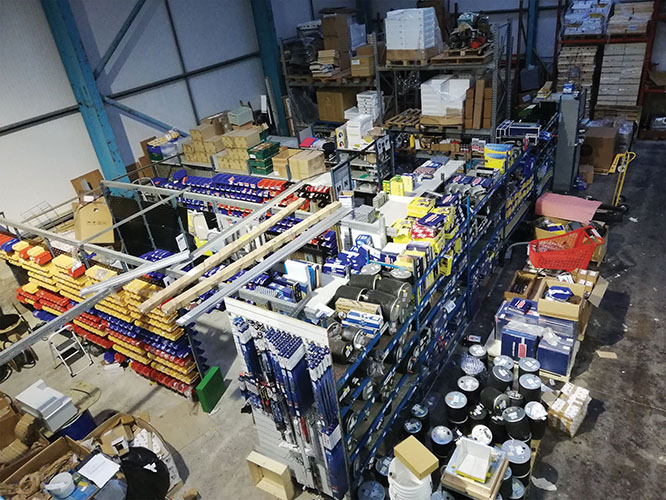 Stocking a comprehensive range of spare parts for all makes and models of trucks, trailers, coaches, cars, tractors and agri machinery, Carrolls Truck Parts provide an unrivalled service to vehicle owners nationwide. We dropped into their premises at Funshog, just outside Ardee in County Louth, to discuss the ongoing success of this exceptional family-run business with father-and-son team Jim and Jamie Carroll.
Suppliers of components for all commercial, automotive and agricultural applications, Carrolls Truck Parts continue to go from strength to strength on the back of providing quality products and a friendly service at competitive prices. The County Louth based business stocks an ever-expanding range of products and is experiencing an unprecedented period of growth due to its growing list of satisfied customers.
Benefiting from both repeat trade and a steady stream of new business through positive referrals, Carrolls Truck Parts' stellar reputation for excellence is spreading both near and far, with a next-day delivery service offered. "We have our own fleet to handle local deliveries, while we use couriers to get parts out to customers nationwide as quickly as possible," notes Jamie Carroll, who runs the family business alongside his father, Jim.
The genesis of Carrolls Truck Parts goes back almost half a century to 1972, when Jim started out initially as an agricultural machinery dealer. Spotting a niche in the market, he began sourcing and stocking quality truck parts in 2012 and has never looked back.
"We've been in business as Carrolls Truck Parts for eight years," Jim confirms. "Before that, I did agri equipment – sales and service – but we now concentrate on stocking and supplying a full range of parts for trucks, buses, trailers, tractors and agri machinery as well as car parts. I sold tractors and agri machinery for 35 years, but it's parts only now."
Serving garages, fleet owners and private motorists alike, Carrolls Truck Parts stock literally thousands of spares in their spacious warehouse, conveniently located at Funshog, off the N2 south of Ardee. Typically, orders are taken over the phone and will go out for delivery within 24 hours.
One of the challenges facing any commercial spare parts specialist is to try to offer discerning vehicle owners - who are themselves intent on keeping both downtime and overheads to a minimum - the optimal balance between high quality and affordable prices. "You definitely have to strike the right balance and we try to be as competitive on everything as we possibly can be," Jim confirms. "The bottom line is that if you aren't competitive, you won't do any business."
Boasting a wealth of experience gained over decades of looking after customers and their vehicles, Carrolls Truck Parts import an exhaustive range of brand-new, OEM-quality parts for all makes of trucks – Scania, Volvo, Iveco, Renault, MAN, Isuzu, DAF, etc.
"We have a vast stock here on site and, once a customer orders something, will have the components out on the road early the following morning," says Jim. "Say for example an order comes in at 12 noon, then we will have it packed up by 5pm and our courier will get it out for the next morning. So it's a very good, speedy service and nobody, from truck drivers to farmers, wants any downtime, which is why we go out of our way to provide as efficient a service as we can."
Jamie adds: "We have two vans on the road ourselves as well a small Isuzu truck, for local deliveries, within a 30-40km radius, which we can get out very quickly. The warehouse is 130ft x 100ft, covering two storeys and, with new parts coming in all the time, we will generally have whatever the customer needs.
"There are orders of parts arriving in every day and large pallets come in twice a week. There are always new items coming in as well as replacements or restocks, so the range is growing all the time and we have more and more on the shelves with each passing week. Even though it's a fairly large warehouse, we are slowly running out of space and we might have to extend inside the next five years if the current rate of growth continues."
In the best tradition of a typical family business, Carrolls Truck Parts provide outstanding service levels with a personal and transparent touch. "Jamie manages the business, while my grandson Glenn is also involved and Brigid Carroll looks after the accounts. Sean Samson is also an important member of the team," says Jim.
Like the majority of businesses, Carrolls Truck Parts were adversely affected by the lockdown in March and April. "We closed down completely for three or four weeks, but we then started working on making the business Covid-compliant. We set up a counter inside the main door with screens, so that customers can safely come inside if they wish. We have adapted and things are going well.
"I'm very happy with the business and it's getting bigger and busier every year," Jim states. "We're quite fortunate in that we don't really need to advertise. Although Sean does be out on the road doing cold calls, a lot of it comes through word of mouth."
"It's still predominantly a local service but we do offer nationwide deliveries and that aspect of the business is growing all the time," reveals Jamie. "Our main area of business seems to be moving out further every month. Like, you could do business in Navan and that customer might recommend you to somebody in Mullingar and then you pick up more customers in both those towns and your reputation then goes a little further on the back of that. It's moving out all the time and we get calls from all over Ireland – from Dublin to Cork to Galway."
The versatility of the business is a key strength, as the Carrolls cater for a number of different markets from agri to trucks to coaches and also provide a motor factors service for good measure. With business on the up and orders increasing by the week, the future looks good, although Jamie admits there's never any room for complacency:
"We're going to concentrate on keeping out standards up," he concludes. "We'll keep providing the best parts and service at the best possible price. If we can do that, we won't go far wrong."
Carrolls Truck Parts,
Funshog,
Ardee,
County Louth.
Tel: 041 6853533
Email: [email protected]
Published in Irish Trucker & Light Commercials magazine, Jan 2021, Vol 24 No 1