Tony Boylan Transport is still going strong
24/03/2021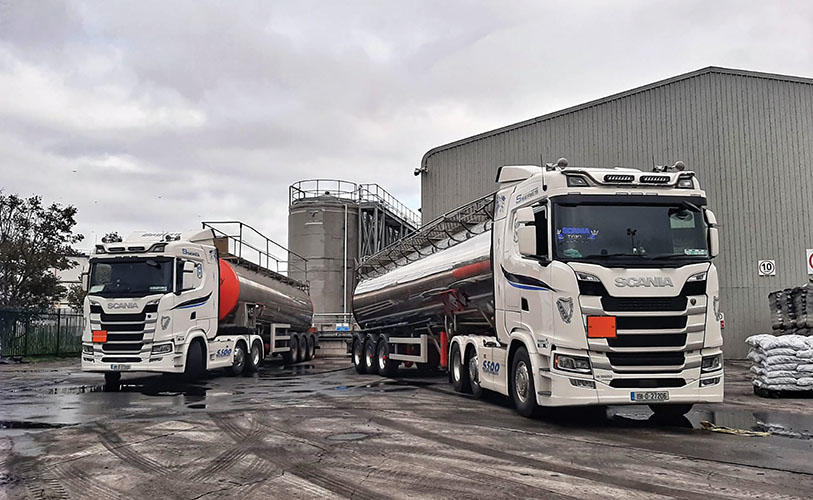 This January, Tony Boylan Transport celebrates its 20th anniversary and for any business in the haulage industry to reach such a milestone is a great achievement.
There is no doubt that the haulage industry is one of the toughest sectors to survive in, the overheads are huge, the time constraints are demanding, while rates can be volatile.
However, for some, it is a way of life and that is the case for the Boylan family who have been immersed in trucks all their lives.
In 20 years of business, Tony Boylan has seen it all, adding a pandemic to the list of tribulations to beset the country during that period.
Tony has passed the reins of the day to day running of the business to his son David, but the founder of the company is still heavily involved in the industry as he is now passing his experience on to fellow truck drivers.
"My father is qualified as a CPC trainer. Before, he set up the business in 2001, he was working on the continent for many years, so he has a vast amount of experience, which he is now passing on to other drivers," said David.
Tony Boylan Transport has a core base of customers that have been with them for many years and focusing on the transportation of food stuffs and liquid sees them work for many of the country's top producers and manufacturers.
David admitted to Irish Trucker that 2020 has been a strange year to say the least due to the pandemic, but stressed that they were continuing to supply the level of service that their customers have become accustomed too.
"We slowed down a bit during May. There was so much uncertainty there at the time. Since then though, we have been very busy. We adhere to strict rules especially when hauling food stuffs and liquids. The trucks need to be sanitised after every delivery and we invested in a sanitising machine for that.
"Our customers are all very busy, so that means we are busy also. The work still has to be done, it's just that we have had to adjust slightly with the new regulations in place, which have resulted in us investing more in this area to ensure the safety of our employees and customers."
One of the main reasons for Tony Boylan Transport's success over the years has been the employees. David stressed that they are fortunate to have such reliable and experienced drivers.
"Some of the drivers would be here years, there are 16 employed in total and everyone knows their role inside out. The drivers take great care of the trucks and they are on first name terms with the customers, without them, we wouldn't have had the success we had."
David did reveal though, that there is a concern throughout the industry about the shortage of drivers entering the profession.
"It is not easy to source experienced drivers these days. It is definitely an ageing profession as there are not many young people looking at driving lorries as a career. And those, who are interested are finding in impossible to get insurance. It is certainly something that needs to be looked at in the near future or we could be faced with a driver shortage crisis down the line."
Tony Boylan Transport has always been synonymous with Scania trucks and that has never changed over the 20 years in business.
"The fleet is kept fresh and we would upgrade on a regular basis, our oldest working truck is 141, while the majority of the ten trucks we have are either 171, 181 or 191. It is essential to avoid as much downtime as possible and keeping the fleet this new means we can also cut down on unnecessary breakdowns."
The Ashbourne, Co Meath based company run a fleet of 28 trailers, 26 of which have come from Dennison Trailers and David admits they are delighted with the service they get.
"We've been dealing with Dennison's for our trailers and Delaney Commercials in Naas for our trucks for many years now and the service that both give are second to none, whenever there is an issue, which is seldom, they both are willing to help."
David stated that the aim was to expand the business when the time was right and hopefully grow as their customer grows even in these uncertain times.
"Definitely going forward, we would like the grow the business more and we feel that the work is there to do so. At the moment, we are looking at adding a new truck to the fleet, but we have to approach every decision with an air of caution due to Covid-19. Hopefully, we don't go into another full lockdown, I don't think we will, but there could be further restrictions put in place, which could affect us, we just have to wait and see.
"However, the main focus will be to ensure that our customers continue to be happy with the service. We are always looking at ways to improve it and going forward we are confident that we can."
Contact Details:
Tony Boylan Transport Ltd
Primatestown
Killbrew
Ashbourne
Co Meath
Tel: 01 8354048
Published in Irish Trucker & Light Commercials magazine, Jan 2021, Vol 24 No 1