DDL: delivering the goods for 20 years
22/03/2021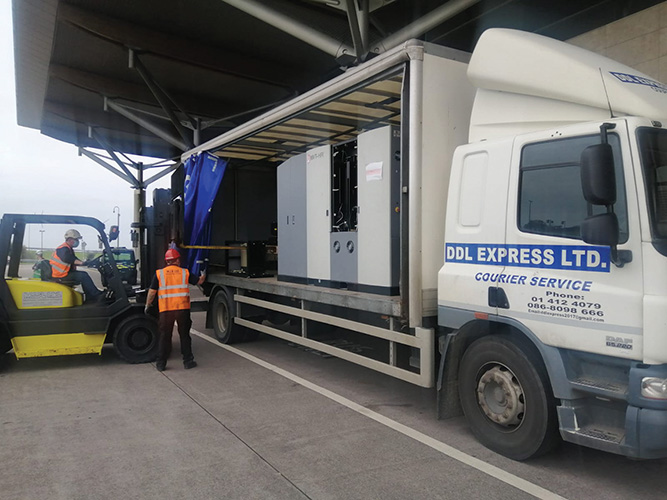 Providing unrivalled courier / delivery services throughout the greater Dublin area, DDL Express is an exceptional family-run company that has gone from strength to strength since its inception at the start of the millennium. We sat down with founder / managing director John Daly to find out more about the full range of high-quality services provided by this outstanding, industry-leading operation.
Renowned for consistently delivering prompt and professional solutions, DDL Express has forged a stellar reputation as one of the capital's premier transportation companies. With a fleet of 19 immaculately-maintained and -presented vehicles on the road, from small vans up to flatbeds, curtainsiders and trucks ranging from 7.5 to 18 tonnes, all fitted with GPS tracking, DDL is West Dublin's fastest-growing courier company, providing a flexible and all-compassing range of delivery services throughout Dublin and surrounding counties.
The quality and dependability of the services consistently provided – including same-day, express, specialised, nationwide and out-of-hours deliveries; part-load or full-load – has enabled DDL to develop lasting, long-term relationships with up to 55 regular customers, including prestigious partners like Newbridge Silverware, Irish Pipeline, DID Electrical, Fitzpatrick & Henry and Lyreco, to mention just a select handful.
The family business – fronted by MD John Daly, whose brother Charlie is sales manager – has grown exponentially down through the years, nay decades, and was enjoying a phase of sustained expansion before the Irish economy was knocked sideways by the novel coronavirus outbreak and resulting lockdown and restrictions. "We're expanding all the time," John notes. "Naturally, we were down a bit with the Covid, but we're gradually taking the lads back on and getting back closer to where we were at the start of the year. Demand fell for some of the products we were delivering – such as the Nespresso coffee range, which we deliver all over Dublin for Lyreco – and we're still down about 30% at the moment, but it has been a difficult time for everyone and we're gradually building it back up again."
The Daly family are synonymous with the transportation sector. Following in the footsteps of his father Charlie, John has been involved in trucks all his life, going right back to when he was a teenager… "My Dad was a trucker – he worked for almost 3o years in Arnotts and then worked for McArthur Steel - and all my brothers are involved in trucking, too," he confirms. "I left school at 15 and went straight into work – I'm 48 now and have been involved in transport and logistics all my life. Myself and my brothers used to argue over who'd go with my father in the back of the truck during the summer holidays when he went on trips down the country. There were no Sat Nav or mobile phones back then. I can remember him stopping at phone boxes at the side of the road to make phone calls … things have changed a lot since then. There have been big advancements and we've all had to educate ourselves accordingly and move with the times to offer the best service possible."
John is 100% focussed on ensuring that every drop is completed promptly and professionally, to customers' exact specification. To guarantee absolute customer satisfaction, the staff wear uniforms, are courteous and polite, and the vehicles are liveried and tracked.
"These are all important considerations if you want to show that you are professional in what you're doing. At the end of the day, we do it right. Branding is very important and we took the step of putting our name on all the trucks and vans two years ago. The uniforms create a good impression and tracking of the vehicles provides customers with peace of mind. With the touch of a button and a quick glance at the screen, we know where every vehicle is in real time.
"In this game, you really are only as good as your last delivery and this is something that you have to keep in the forefront of your mind at all times. You simply cannot let your standards drop, even for a second. I have a superb team alongside me. I have all local lads working for me and they have all been with me long-term. You have to look after them and in turn they will look after you and stay with you, which is important for providing a consistent service. They know the routes like the back of their hands at this stage.
"My wife, Niamh, helps out in the office, looking after emails and phone calls and getting in the money. She is very much the backbone of the company and I genuinely wouldn't be here without her.
"I've been with Lyreco for over 15 years and that would be typical of the relationships I've build up with other companies. They have stayed with me. You'll have the odd exception where somebody will leave over price but generally they will learn and come back again as there's no substitute for a quality service, on time with no damage and no delays. We pride ourselves on giving a quality service at a fair price. All the lads know what they are doing and we divide out the drops to make sure everything is manageable and that nobody is overworked. The maximum anyone would have to do in a day is ten or twelve drops at most and I never ask anybody to do something I wouldn't do myself. We must be doing something right because we have a large base of loyal customers and we're picking up new work all the time, without ever having had to advertise."
Nothing could have prepared John for the disruption that the Covid-19 pandemic caused. From mid-March, the viability of many Irish companies was severely tested… "I was down 55% at one point and was on my own for four weeks, which was terrible," he reflects. "Slowly but surely we are getting back. This is a tough game and profit margins are tight so you need to be close to full capacity.
"You have lads depending on you, and I do my best for all of them. I have good lads working here. The brother, Charlie, is great and Noel and Wayne are two others I'm very close to. Noel is ex-army and is the transport manager. He had brought discipline to the company and has the lads checking the trucks and vans, keeping them clean, wearing uniforms and ID badges … that has all gone a long way towards creating a professional impression, which we then back up with our services.
"Charlie has a great personality and all of our customers love to deal with him. He is always there ready to step in to my shoes and take over when I need him to and I always include him when decisions have to be made as I value his input. Honestly, without Charlie's help, DDL Express would not be where it is today.
"To be honest, I take a wage out of it every week and nothing else – the rest is invested back into the business. And I'd be very hands-on … I could be up at 4am and then into the yard to see all the lads off before heading out on deliveries myself. You have to keep on top of it because there are so many overheads with diesel, insurance, parts, etc. that the margins are very tight.
"All the vehicles are owned and paid for and that certainly stood to us when the going got tough. Of course, you have to maintain the fleet as well. You have to do it right, there's no two ways about it – the last thing you want is a truck breaking down."
Going forward, John hopes to get a franchise going and to expand into warehousing and distribution. "That's the plan," he concludes. "We were in the second year of a five-year plan, building towards that, when the Covid hit, but we're back on track now and I'm hoping to get to that within the next two years."
DDL Express Ltd.,
Hazel Hatch Road,
Newcastle,
County Dublin.
Tel: 01 4124079
Mobile: 086 8098666
Web: ddlexpress.ie
Published in Irish Trucker & Light Commercials magazine, Jan 2021, Vol 24 No 1