Newry's general haulage specialists 
18/03/2021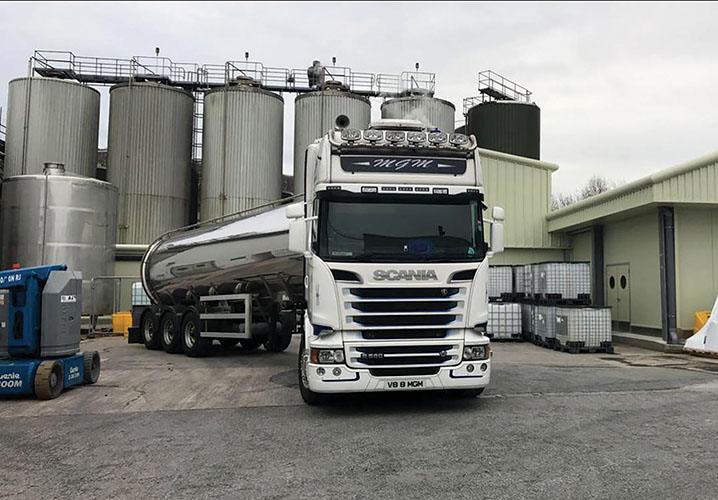 Based in Newry, Co Down, MGM Logistics Ltd provides its customers with general haulage at all levels. Irish Trucker visited the Mourne based firm to learn about the business.
Operating with 14 trucks on the road, MGM Logistics Ltd specialises in general haulage and refrigerated transport "at all levels" and right now, business is flourishing up in Newry, Co Down.
The company has been established since 2015 and currently employs 15 full-time staff from its base at Unit 1A, Sandy Road.
Recent times have seen MGM Logistics Ltd adding two new Scania R450s to its impressive fleet.
"We do general haulage at all levels from refrigerated trucks to flat trailers," explained Marty McEvoy.
"The majority of our work is flat steel trailers. We'd have over 30 flat trailers here and the majority are extenders."
The company has grown year on year since 2015 to the point where it now operates with double figures on the road. That's a far cry from when the company first started out.
"My father drove trucks all of his life and I suppose that's how I got into it," he outlined.
The company started with one truck and grew from there. One became two trucks and then into three, now MGM Logistics have 14 altogether on the road.
MGM Logistics Ltd's fleet is made up of 12 arctic trucks and two rigids, with an array of flat trailers and extenders to go with them.
In recent times, the company has added two brand new Scania R450s to the fleet, which have been running superbly on the roads ever since.
Known for its excellent service and quality of work, MGM Logistics Ltd invests in top class machinery to ensure the delivery of top class work.
Scania has always been the first-choice brand when it comes to trucks and will continue to be going forward.
"We go with Scania because I suppose I've always driven them down through the years and find them a great truck," said Marty.
"We buy them off A & M Commercials and over the last five years we've never had any trouble with them as a truck. They're one of the best trucks you can buy and we find them efficient and very reliable."
Customers could very well say the same about MGM Logistics Ltd as a general haulage business.
The Newry-based company has had a quick rise in the space of five short years even though it was tough getting off the ground at the very start.
The success of the venture is down to the effort of all the team involved, with ten drivers involved now all playing a crucial role in the business.
It's fair to say that business is booming at the present time though and it looks like staying that way heading into 2021, despite some of the challenges out there for businesses at the moment.
"We're extremely busy right now and are back and forth to the UK a lot.
"We cover all over Ireland and all aspects of the UK. Thankfully, lockdown didn't affect us too badly and hopefully things will continue to stay busy for us here going forward."
Should the busy trend continue than MGM Logistics are likely to take on more drivers in the coming months.
It has indeed been a rapid rise for the company over these past five years, so what has been the secret to success?
Having versatile drivers in his staff team have played a key part to the growth and success of the business to date.
"We would get a lot of repeat business from customers here," said Marty.
"I would say they choose us first because all of our drivers here are very versatile when it comes to flat trailers.
"From moving fridges to anything else really, we're very versatile here and we always try and adhere to the customers' requirements.
"If we are dealing with a customer during a job, we're doing that job with that customer's hat on and always looking at it from their point of view."
Looking towards the coming months, all at MGM Logistics are keen for business to keep going the way it has been as of late.
MGM Logistics Ltd's trucks have been 'flat out' on the roads these past couple of months and now there are two more to add to the fleet.
While he is mindful of the challenges Brexit, and even Covid-19, might bring his company, Marty remains optimistic as ever about the future.
"We're just going to keep going," he said.
"We'll just have to see how Brexit goes for us and everyone else. Yesterday things changed again with it and I'd rather deal in the facts than try and guess what's going to happen with it.
"We can only try and hope for the best."
For all your needs in general haulage, don't hesitate to contact MGM Logistics Ltd in Newry today.
MGM Logistics Ltd
Unit 1a,
Sandy Rd,
Newry,
Co Down
BT34 2LB
Phone: 075 574 42544
Published in Irish Trucker & Light Commercials magazine, Jan 2021, Vol 24 No 1