Excellence personified at KC Commercials
16/03/2021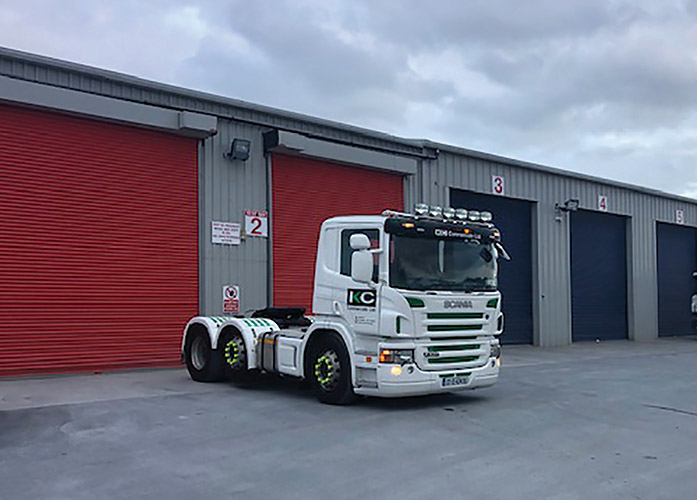 The term 'leader in their field of expertise' does be labelled upon a lot of business from time to time, but when it comes to KC Commercials, never has a truer word been spoken.
Simply put, KC Commercials provide an unrivalled service to some of the country's biggest companies and to find out how they have managed to get to that position, Irish Trucker spoke to General Manager Jimmy Monks.
KC Commercials offer a comprehensive maintenance and repair service to commercial vehicle operators and specialising in the ADR sector, and the company has the ability to adapt to the ever-changing market as regulations and legislation change frequently.
This Dublin based firm, which is headquartered in Kinsealy and has a depot in Dublin Port where most of their customers are based, are basically a one-stop shop for any business involved in the ADR sector.
The company can be split into three divisions; truck and trailer maintenance and repairs; tank testing and engineering & fabrication.
With accreditation from the IPIA (Irish Petroleum Industry Association), KC Commercials carry out both safe load pass and tank testing at their state of the art facilities in Kinsealy. Also located at the five-acre site is a fully equipped workshop with four bays, while they also have a CVRT test lane the exact same as test centres, which is used for the pre-CVRT test.
"There has been massive investment in the business over the years, particularly in the last few where a 'Centre of Excellence' has been developed which includes and ADR bay, and state of the art fall arrest system for working at height and diagnostic technology which replicates that of a port facility loading gantry," said Jimmy.
When it comes to diagnostics, what the team at KC Commercials don't know is not worth knowing. They do everything in regards to ADR and they are the only company on this island that has accreditation both north and south of the border.
"We can carry out work throughout the 32 counties and we are the only company in the country that can do so."
There is no doubt that this is a forward thinking company and Jimmy praises owners Brendan Kealy and Robert Cray (now deceased) for their foresight to drive the business forward."
"There has always been a massive emphasis on training and they have gone above and beyond in that regard as some of the staff are the most qualified in their areas in the country. The training would cover all areas of the business from management right down to the skilled workers and office staff, everyone is encouraged to grow within the company.
"Our Welders are coded to standard BS EN 9606 for stainless, aluminium and mild steel with additional PED approvals.
"The compliance side of a business is sometimes neglected, but that is not the case here and it is managed very well. We have a software management system in place which assists the transport manager and others to make sure the business runs as smoothly as possible."
With such a focus on the employees, it is no surprise to learn that KC Commercials have a small turnover of staff, something that the company strive to achieve.
"A lot of the people here would have many years' service and the aim is always to encourage them to stay. A lot of training goes into each employee and it is great for the company to benefit from that. Without the staff we have, the company wouldn't be where it is today, simple as that and they are greatly appreciated for all the efforts they have put in."
KC commercials refurbish equipment on vehicles and to avoid any downtime to their customers, they offer courtesy vehicles for the duration that their vehicle is in the garage.
Jimmy revealed that the feedback from their customers has been very encouraging to say the least as it has nothing but positive.
"Our customers are very happy with the service that we provide, but that is not to say we can rest on our laurels and we are always looking at ways of improving the business."
As stated, KC opened a new depot in Dublin Port which is managed by Brendan's son Simon. "The facility in the Port made sense as the majority of our customers like Reynolds Logistics and Stobart are based in there, so we can look after all of them as quickly as possible.
As approved operators for pressure testing tanks, KC also provide leak-proof testing and thorough examinations on vehicles.
"An intermediate test should be carried out every three years after the tanker is put into service. All testing in this facility is carried out to standard EN 12972 by highly trained and qualified technicians.Uniquely , the test facility at KC Commercials(trading as Tank Safe Solutions) monitors all pressure test values remotely with data logging equipment and records same to cloud based systems.As part of our ever improving philosophy, we are currently testing digital CCTV systems for internal monitoring of the tankers thus reducing the requirement for "confined space working "of staff and digitally recording all information for records purposes.
There is no doubt that KC Commercials is a company that is driven to succeed and a lot of the success achieved has occurred since Jimmy joined the team a few years back as his experience and knowledge of the industry have been hugely beneficial to them, although he modestly deflects the praise away from himself.
"This a team effort, there is no getting away from that and everyone plays their part. It is easy putting the ideas forward, but to bring them fruition needs everyone working together and we are fortunate to have a team that is keen drive the business forward."
Contact Details:
KC Commercials
1 Posie Row,
Kinsealy,
Dublin 17
Phone: (01) 846 2777
Published in Irish Trucker & Light Commercials magazine, Jan 2021, Vol 24 No 1