DGC Motors - the Scania specialists
11/03/2021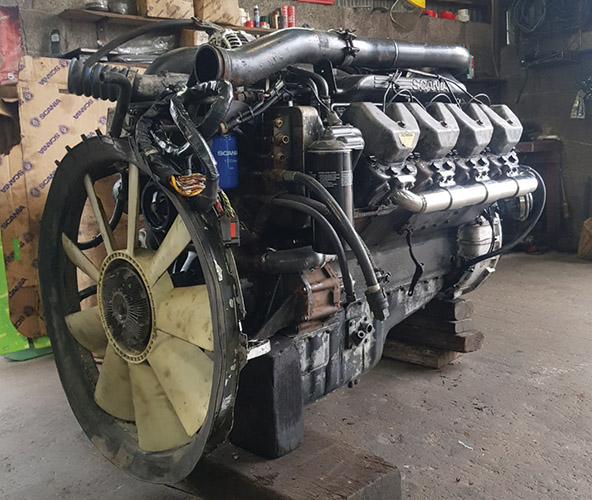 Scania has developed a reputation for manufacturing a reliable and trustworthy truck that is very popular amongst Irish hauliers. This reputation has been built over many years.
Scanias are popular due to their reliability and simplicity compared to other manufacturers. Scanias also offer a lot of chassis variation; 2, 3, 4, or 5 axles, front and rear steering.
The Swedish truck manufacturer build trucks that build businesses. It's not just about performance, reliability and economy: it's about Scania's knowledge of your business. By getting to know you, they can tailor-make a package of services that can help increase the client's profitability dramatically.
Of course, hauliers need mechanics or technicians to look after their fleet and ensure that downtime is kept to a minimum, so they look to experienced people to carry out the necessary work.
When it comes to Scania, one firm that has developed a massive reputation for specialising in the maintenance, service and repair of Scania trucks is Monaghan based DGC Motors Ltd.
Owned and operated by father and son Gerard and Darren Courtney, the company which is located in Inniskeen has been operation for the past 12 years.
Gerard looks after the plant hire machinery that is brought in, while Darren who served his time with McElvaney Motors, Ireland's leading Scania dealer.
Through this, he has gathered a wealth of experience when it comes to working with Scania trucks, with his reputation growing all the time.
Darren's brothers Barry and Adam Judge are also part of the team and it was the latter that spoke to Irish Trucker about the services that they provide.
The company's experience, combined with its cutting edge technology, state-of-the-art equipment, variety of services and highly skilled employees make it a pioneer within the industry.
"We offer services such as commercial truck and trailer repairs, servicing, diagnostics and we stock a wide range of genuine parts including Scania DPF filters for both V8 and 6 cylinder engines," said Adam.
"Darren has developed a reputation for being a Scania specialists and there would be customers coming from all over Ireland to us here in Monaghan.
"He knows Scania inside out and we would have one customer who brings his trucks all the way up from Kilkenny to us, while we have another in Mayo.
"The guy in Kilkenny had an issue with a truck which he brought to a few places, but they couldn't solve the problem, but Darren did, and he has been bringing his trucks here ever since."
Ninety percent of DGC Motor Ltd's work would be with Scania, but they would cater for other makes as well as Adam revealed that they were kept busy.
"We would be very busy all the time, the customer base is growing all the time. The majority of our customers would be around Monaghan, but like I said earlier, we would have customers all over the country."
The family run business has not been afraid to invest as recent times have seen the workshop being extended as well as new equipment being brought in.
"The lads are always investing in the business and I think they realise that they need to in order to keep up with the demand for their services. We have a van on the road and do emergency call outs for the customers."
The Covid-19 pandemic has affected all our lives and businesses are no different as Adam revealed that they have put all the necessary procedures in place to ensure their own and their customers' safety.
"We were closed for a few weeks during the first lockdown, but the lads invested in ensuring the premises met the necessary regulations."
There is no doubt that DGC Motors Ltd is a company with a bright future, they know what they are about as do their customers who show great trust in them to get the job done as quickly and efficiently as possible without reducing the high standards that they have earned a reputation for producing.
"Darren is just 31 years of age and already he has a great reputation when it comes to maintaining Scania trucks. I think the aim is to expand the business further down the line. The customer base is growing all the time and the aim is to ensure they are all satisfied with the services that we provide here."
Nothing beats experience when it comes to business and providing a service to customers. The longer a company are operating the more experience they gain and when a customer knows that they are dealing with someone that has many years' behind them in their field of expertise, they feel that bit more at ease than they would if it was someone that has not been in business as long. To this end, you will not get a better service than that at DGC Motors Ltd, especially when it comes to Scania issues, there are few than can solve problems quicker than Darren and his team.
Contact Details:
DGC Motors Ltd,
Kednaminsha,
Inniskeen,
Co. Monaghan
Mob: 086-1528812
Published in Irish Trucker & Light Commercials magazine, Jan 2021, Vol 24 No 1