Revolve Ireland - the heavy vehicle specialists
09/03/2021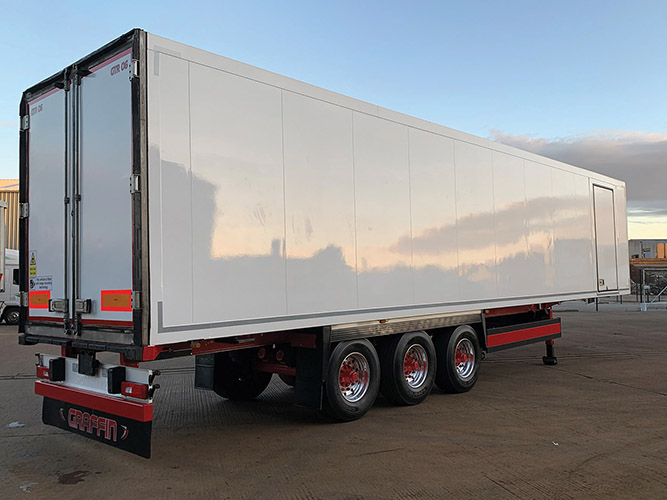 Formed in February 2019 by brothers Barry and Desi McErlean, Revolve Ireland LTD has already established itself as a leading heavy vehicle specialist in the Mid-Ulster region.
Specialising in trailer repair, heavy vehicle refurbishment, shot blasting and painting as well as trailer checks and PSV preparation, the fledgling family-run business has hit the ground running thanks to its quality, reliable, clean, friendly and value-for-money service. The Magherafelt-based operation employs 14 staff and boasts a growing client-base which includes the likes of AT&T Rentals in Newtownabbey, PRH Construction in Ballymena, BMC Engineering in Bellaghy, NR Trucks in Dungannon, SDC Trailers in Antrim, Loughdoo Aggregates & Concrete in Cookstown, McCormick International Transport in Craigavon and MFL Plant Machinery in Maghera.
With almost 50 years' experience between them working in the engineering industry, Barry and Desi McErlean possess a wealth of knowledge which enables them to provide their customers with a service of the highest quality.
"It's been a case of so far, so good," Barry says.
"We took a chance by deciding to go out on our own and thankfully haven't looked back since. We've earned an enviable reputation in a short space of time and have been gradually building up our list of clients through word of mouth and recommendations from satisfied customers. We've got tremendous support from hauliers, construction companies and farmers in the area.
"Both of us worked in SDC Trailers where I was the chassis shop manager and Desi was on the road carrying out repairs to piping, wiring and brakes, and also fixing ABS faults. SDC was a great place for us to learn our trade. The experience we got there has stood us in good stead."
Images on its Facebook page of immaculately refurbished low loaders, beavertail trailers, scrap metal trailers, dump trailers, flatbed trailers, tipper trailers, refrigerated units, onsite containers, loaders and even JCBs highlight the quality of Revolve Ireland LTD's work. The company's experienced engineers can carry out both minor and major trailer repairs, and can fully refurbish your vehicle to include manufacturing and modifications, shot blasting and painting. Revolve's dedicated team can also make over your vehicle to specific customer requirements. In addition, the heavy vehicle specialist can carry out routine Safety Inspections in line with your company's transport requirements along with preparing vehicles for PSV.
"All our work is carried out in-house. No job is too big or too small," Barry continues.
"While we mainly do trailer repairs and truck refurbishments, we've also branched into cab and chassis rebuilds. We're now a one stop shop for all your heavy vehicle needs. There aren't too many jobs that we can't do. We can do everything from bodybuilding to wiring repair. Repairing and refurbishing Manitou loaders has become something of a speciality for us."
The painting is carried out by Oliver McErlean, who is a brother of Barry and Desi's. When it comes to respraying, airbrushing and full blast and paint jobs, there are few better than Oliver who can even change the colour of your truck or trailer if you so wish.
Quality workmanship, customer satisfaction and value-for-money are the cornerstones of the Co. Derry-based company as Barry explains: "We do a really good job and we're price competitive. We take great pride in our work and can repair or refurbish any size of trailer or truck. We're starting to get a lot of repeat business which is always a good sign.
"As a family business, we're always available to take a call from our customers and to deal with any queries they may have. The customer is king as far as we're concerned."
Revolve Ireland LTD's location beside the A31 route and in the heart of Mid-Ulster makes it highly accessible for customers from all over the province. Workshop opening hours are from 7am to 5pm Monday to Friday, and from 7am to 1pm on Saturdays.
The company plans to expand in the coming years but, for now, Barry is happy with where it's at.
"We've come a long way in less than two years. It's all about getting your name out there and giving a good service. I would like to take this opportunity to thank our customers for their support. It is very much appreciated," he concludes.
Revolve Ireland LTD
Ronan Valley Business Park
58 Ballyronan Road,
Magherafelt, BT45 6EW
Telephone: 028 79634652
Email: [email protected]
Published in Irish Trucker & Light Commercials magazine, Jan 2021, Vol 24 No 1