Survival of the fitter
02/03/2021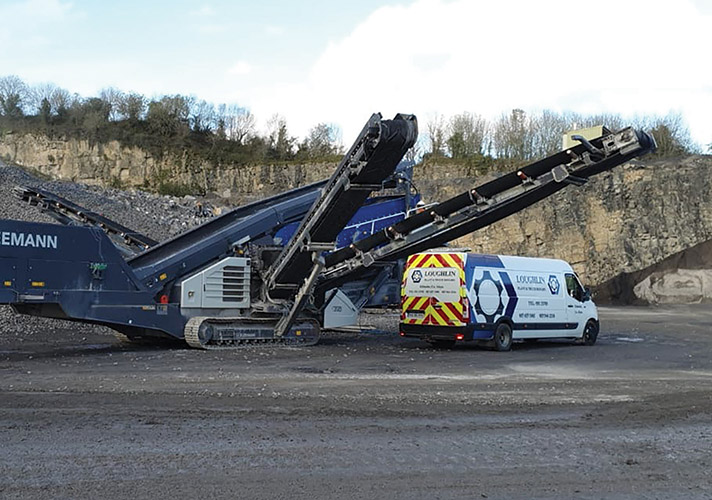 Regardless of what technological advancements are made, there will always be strong demand for skilled vehicle, plant and machinery fitters – and Enda Loughlin is one of the best in the business! From its base in Kilmaine, County Mayo, Loughlin Plant & Truck Repairs provides unrivalled diagnostic and repair services to operators all over Ireland. Building Ireland met up with company founder Enda to discuss the full range of services provided across an array of sectors and the growing popularity of the business.
Specialising in all aspects of commercial, agricultural and plant machinery, Loughlin Plant & Truck Repairs has over the past 13 years and counting earned a stellar reputation as one of Ireland's premier vehicle breakdown, diagnostic and repair experts.
With two mobile units on the road, the Mayo-headquartered company provides a comprehensive range of solutions to vehicle, plant and machinery owners nationwide, including everything from breakdown and recovery to diagnostics, servicing and preventative maintenance, covering engines, transmissions, hydraulics, wiring, electrics and welding.
Founder / proprietor Enda Loughlin is a vastly-experienced and highly-skilled fitter who works extensively for the quarrying, civil engineering and haulage industries, repairing and servicing crushers, diggers, tar machines, road planers, dump trucks, tippers, trucks, trailers, agri machinery, etc.
In keeping with the nature of the work – with customers invariably unable to bring their trucks or plant to him – mobile, on-site diagnostics and breakdown repairs account for the majority of services provided. Indeed, as the Loughlin Plant & Truck Repairs workshop in Kilmaine was destroyed in a fire earlier this year, all work is currently carried out on site. Going forward, Enda's plan is to construct an even bigger workshop, which will enable him to provide his customers with the best-possible services on offer, be it mobile or in his own garage.
"I've been in business since 2007," notes the Mayo man, reflecting on the genesis of Loughlin Plant & Truck Repairs. "Although we're based here in Kilmaine in Mayo, we work all over Ireland. No two days are the same and you never know where you're going to be called to.
"I was in Galway earlier on today and was in Limerick earlier in the week. Recently, we've been called out to Naas, Dublin, Enniscorthy, Drogheda, Cavan, Monaghan, Sligo … literally, it could be anywhere in the country. We're always on call and make it our priority to get out to our customers as quickly as possible and to get their machinery back up and running, professionally and with the minimum of downtime."
Constantly upskilling and keeping himself up to speed with the latest technology in all types of plant and machinery, Enda and his team have the wherewithal to diagnose and repair faults or damage in the full range of quarry, construction, civil engineering / roadworks, agri and haulage machinery and /or vehicles.
"We work mostly for civil engineering companies nationwide," Enda continues. "We do a lot of contract work repairing machinery involved in roadworks projects, where we go out on site and diagnose and repair crushers, eight-wheel tippers, tar machines and road planers, diggers, hammers, dump trucks – anything from the motor to the injectors, hydraulics; whatever the issue is, we'll get to the bottom of it.
"On the breakdown front, we also do some oversupply from the local main dealers if their own vans are busy."
In keeping with the decidedly dismal nature the year that's in it, with the coronavirus pandemic wreaking havoc, Enda suffered a major setback when his workshop was burned down. Instead of dwelling on the negative aspects of this unexpected curveball, however, he's going to use it as an opportunity:
"It set us back but nobody was hurt and we can build a new workshop. That's the plan now. We were doing a lot of work on the road anyway, so we've been able to adapt and I'm going to build a larger workshop which can facilitate bigger machinery. We'll keep going."
Such positivity and a can-do attitude have been instrumental in the growth and enduring sustainability of Loughlin Plant & Truck Repairs as a viable commercial concern. From a young age, Enda has possessed a keen passion and enthusiasm for machinery, inherited from his father, Eamon Loughlin, who was also a well-known local mechanic / technician:
"I've been working at this all my life," he confirms. "My father was a fitter and I served my time working with him. He went more into cars and vans while I moved more towards the heavy vehicle and construction side. Together, we built the new workshop in 2000 and I started to do light commercial work, etc., before diversifying to work for civil engineering companies."
Looking to the future, Enda is optimistic that there is scope for further growth of the business: "I have a lot of plant diagnostics and my plan is definitely to grow the business. We have the tools, equipment and experience to provide a great service and our customers are happy with that. I'm in a bit of a hole for the next year or so due to the fire but I'll build the new workshop and then look at taking on some new lads.
"Fortunately, with a lot of the crushers and diggers and tar machines, we would go out to them anyway, so that service hasn't been affected at all," the affable Mayo man concludes. "I have invested a lot in diagnostics and in training and I'm hopeful that will pay off in the long run. You are never too old to learn and you need to keep on top of things."
Loughlin Plant & Truck Repairs,
Ardkill,
Kilmaine,
County Mayo.
Tel: 087 6575405 / 9442334
Email: [email protected]
Published in Irish Trucker & Light Commercials magazine, Jan 2021, Vol 24 No 1