One of the best around - Jones International Transport
01/03/2021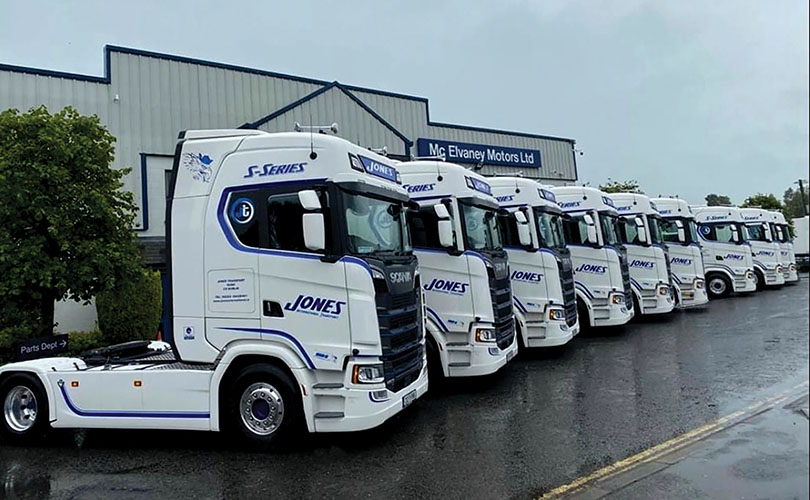 As a specialist provider of temperature controlled transport and logistics services between Ireland the UK and throughout Europe, Jones International Transport are a leader in their field of expertise.
The Dublin based company focuses on the transportation of refrigerated pharmaceutical goods and they can count all the leading pharmaceutical companies in Ireland as their customers.
For this month's edition of Irish Trucker, we profile this family run business and speak to director Keith Jones about the service that they provide.
Using a modern and efficient fleet of Scania trucks enables the company to guarantee their customers a high level of service which sees them transport goods to cities all across the U.K and Europe.
Satellite tracking systems ensure that the company can monitor closely where a load is at any time, thus giving the customer the peace of mind that their goods are in safe hands.
Indeed, not only are the trucks fitted with GPS, but so too are the trailers.
All their refrigerated trailers are fitted TK tracking systems. GPS and GPRS technology are used and linked with the refrigeration unit's microprocessor controller. This enables real-time information about the trailer to be available regarding current location and current temperature status.
It also allows them produce a thermograph in graph format or tabular format for each customer as required at collection or delivery point. Their refrigeration units are set up with unit alarms, which report immediately showing the code, description of the alarm, severity of the alarm. This is done via text message and email to specified users.
Jones International Transport is a GDP certified company that specialise in the handling of complete refrigerated transport jobs which sees them carry a range of pharmaceutical and medical products.
Last year, the company moved into a new two-acre site in Ballyboughal, Co Dublin and Keith revealed that they are happy with the direction the business is taking.
"Business is challenging at the moment," said Keith. "We were very fortunate to be working during the lockdown and we were seen to be providing an essential service delivering pharmaceutical and medical products all over the country as well as the U.K and Europe.
"It is a specialised service that we provide, and we have been doing that for the past ten years now, before that we had been doing general haulage and air freight from the mid-nineties when the business was first established.
"Then the recession hit, and a lot of the smaller factories were forced to close, while the bigger factories diversified. We had to do the same and we invested heavily in a new fleet of refrigerated trailers, which was a big risk to take, but one thankfully that has worked out for us."
As stated the fleet comprises mostly of Scania trucks, but Volvo are used also, while for the trailers, Chereau and Schmitz are the preferred choice.
"The trucks and trailers are changed every five year and our preferred dealer is McElvaney Motors who we find provide an excellent service. It is essential to keep both the trucks and trailers in pristine condition as breakdowns are something that need to be avoided at all costs given the sensitive products we are transporting."
To carry out their daily duties, Keith revealed that he has assembled an excellent teams of drivers, office staff and other personnel which he stressed have played their part in the success of the business.
"We're fortunate to have a very good team here. The drivers are very experienced and are highly trained in all aspects of transport regarding our work. They are the ones that are at the forefront of the company. They all take great care of their trucks and get the job done efficiently and effectively as possible."
Keith has three brothers and a sister involved in the business as Paul, Adrian, Nicholas and Helen have all been a huge part of the success of the business also.
Twenty-Twenty has been an unprecedented year given how Covid-19 has affected all of our lives, but there are other issues that could affect a lot of businesses – Brexit.
"We would have concerns over Brexit alright, preparation for it will be one of the most important factors as we adapt to the potential delays to the supply chain.
"I think being prudent and giving every decision regards the business a lot of consideration is the way forward. Like I said, business is challenging and our customers are happy with the service that we provide, so the aim is to continue delivering a high level of service and constantly looking at ways that we can improve on it, otherwise we will be left behind."
There is no doubt that Jones International Transport provide a level of professionalism that is rivalled by few of their competitors. They have set the benchmark and this family run business just seems to be going from strength to strength.
Contact Details:
Jones International Transport
Ballyboughal,
Co Dublin
Tel: (01) 843 7178
e-mail: [email protected]

Published in Irish Trucker & Light Commercials magazine, Jan 2021, Vol 24 No 1