An A1 recovery job guaranteed 24/7
23/02/2021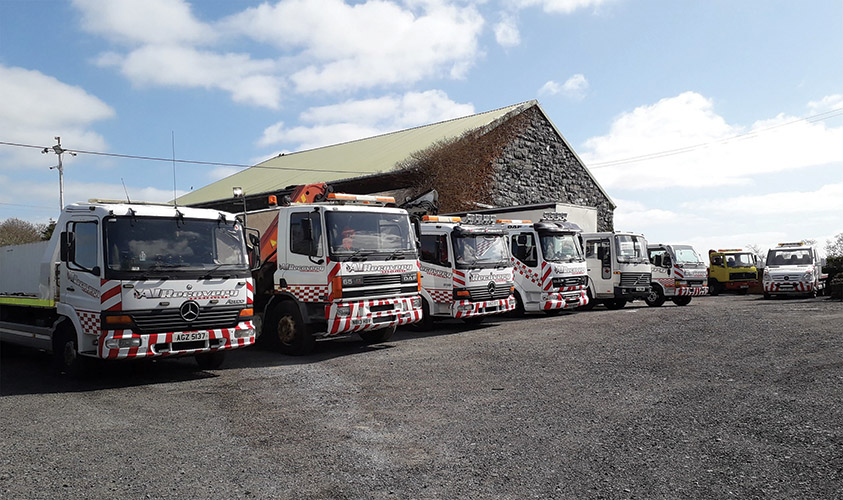 Down-based A1 Recovery Specialists are celebrated 20 years in business in 2020 and MD Darin Savage brought Irish Trucker & Light Commercials up to speed with all the exciting expansion that has been undertaken in recent years.
Darin set up A1 Recovery Specialists in 2000 and today he is joined in the running of the business by his wife Angela, son Stuart, daughter Alexandra and brothers, David and Andrew. The family-run enterprise has developed an enviable reputation as one of the leading breakdown recovery companies in Northern Ireland.
In tandem with its increasing workload, A1 Recovery Specialists has taken major steps to enable it to satisfy the growing demand for its services.
"We've got a lot bigger," Darin Savage revealed. "We have just opened a new state-of-the-art premises in Church Street, Dromore and it has made life a lot easier for us.
"We still have another yard but this yard is the main yard now and at any given time now we are holding 200 vehicles. We also have a workshop for the lorries, a secure bay for vehicle inspections, which holds 30 vehicles, and another workshop (30ft x 18ft) for holding specialised cars.
"It also has office space, a bathroom and a kitchen while it's a secure compound. Every foot of it is secured by CCTV."
He added: "Business has actually doubled for us in recent times so we took on more work and put more lorries on the road and we are growing year on year."
Darin and the A1 Recovery Specialist team understand that if you have a motor vehicle accident that this can be a very stressful time and they provide a professional and courteous service at all times They have a large fleet of recovery vehicles which includes vehicles with cranes which for up to 9 tonnes and up to 20 tonnes.
"We rebranded our vehicles as well recently, changed the logo and the company colours on our lorries to a white livery with black and red graphics.
"We decided it was time for a change, we wanted to freshen things up – you get sick of the same colour after a while!" he quipped.
"We have updated our fleet as well with the purchases of a Land Rover 90 and a Merlo telescopic lift for off road work."
A1 Recovery Specialists Ltd prides itself on its quick response times while they are cost effective when it comes to recovery and fuel drain. A motorcycle recovery service is also available. They operate a 24/7 service and no job is too big or too small.
"At the minute we cover most of Ireland," Darin outlined. "We work closely with other companies such as Dons Recovery (Belfast), SGK Recovery (Dungannon) and Swift Recovery (Dublin) so we have the ability to reach all parts of Ireland very quickly to recover vehicles.
"We are proud of our speed and professionalism and we have all the vehicles and equipment that is necessary to get the job done."
Two years ago, Darin added another string to his bow with the opening up of MD Trauma Clean, along with fellow director Marie Fagan, which is based in Glasgow. MD Trauma Clean offer a professional 'specialist' cleaning services to domestic and commercial customers throughout Scotland.
These include extreme (classed as challenging cleaning jobs that require specialist equipment and trained personnel), trauma (removal, cleaning or disposal of items that have been contaminated with body fluids/blood or tissue matter) and biohazard (recover properties that have been rendered uninhabitable or unsafe as a consequence of contamination with biological hazards).
"MD Trauma Clean is also really growing at the minute," he stated. "And if, for example, we bring a car in with blood or anything else inside the vehicle here to our yard, they would come over and clean the vehicle in our yard. They are specialists in crime scene cleaning.
"Overall, we are very happy with how things are going," Darin commented as the conversation switched back to A1 Recovery Specialists. "Even since the Coronavirus, we haven't had a day off. We've been going 24/7. We see it all here and, unfortunately, sad times come a long with the job as well, but we have to just get on with things."
If you require breakdown recovery then contact A1 Recovery Specialists for a free, no obligation quote. They will leave no stone unturned when it comes to helping you in your hour of need.
A1 Recovery Specialists
98 Church Street
Dromore
Co. Down
BT251AA
Tel: 028 92699629
Email: [email protected]
Website: www.a1recoveryspecialists.com
Published in Irish Trucker & Light Commercials magazine, Jan 2021, Vol 24 No 1