Expansion continues at Quinlan Transport
16/02/2021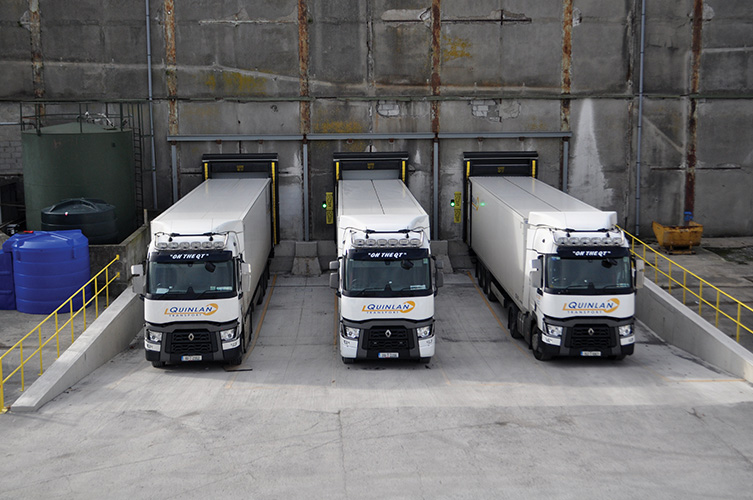 Quinlan Transport in Thurles, Co Tipperary is a family-run business which specialises in the transportation of food products. Irish Trucker touched base with Office Manager Roisin Quinlan to learn all about what the company has been up to as of late.
Business is strong right now at Quinlan Transport down in Cabragh Business Park in Thurles, Co Tipperary, and the Quinlan clan intend to keep it that way as they edge closer towards 30 years in existence.
Set-up by Managing Director Michael Quinlan, the company currently operates with just over 30 Renault trucks in its fleet from its premises in Cabragh.
Michael's has three children involved in the company, Mark, Daragh and Roisin, with all three following their father into a business which has been thriving as of late.
Roisin Quinlan was good enough to take some time out from a hectic schedule recently to fill Irish Trucker in on all the details of Quinlan Transport.
"Business is good right now," said Roisin. "We bought the old sugar factor here in Thurles three years ago in an expansion move and thankfully it has paid off so far.
"The new premises is 20 acres with 94,000 square feet of warehousing complete with loading bays."
She added: "Right now, we have a fleet of just over 30 Renaults, with 42 staff and a depo in Greenogue in Dublin."
It's all a far cry from where Michael Quinlan first started out with his transport venture nearly three decades ago.
Back then, Michael was on the road with just one van and from there he grew his business to where it is today – operating with more than 30 trucks, between arctics and rigids, that are busy on the country's roads all year round in order to meet customer demand.
It seems growth has been the name of the game since 'Day One' for Quinlan Transport and the intention is to grow further again in 2021.
"We are expanding the whole time," outlined Roisin. "Moving to our new premises was a massive gamble at the time but it's one that has really worked in our favour."
Today, Quinlan Transport's vehicles are delivering to bakeries all throughout Ireland, with Greenfield Foods, Country Kitchens, Irwin's Bakery, Foods of Athenry and Twomeys Bakery.
2011 saw Quinlan Transport agreeing a deal to distribute goods for Armagh's Irwin's Bakery to help increase the company's revenue considerably.
The influx of extra business also helped the Thurles-based firm to navigate through the economic downturn successfully and now, almost a decade later, business is booming.
So, what has been the secret to success over the years?
For Roisin, she herself credits the company's staff for its continued excellent work year in, year out.
"Our reputation is our success," she said. "We deliver on time, provide a quality service and our trucks are always tidy.
"All of our staff here are second to none and the company itself has grown a great reputation down through the years."
While Roisin's father heads up the company, her brothers Mark and Daragh specialise in Transport and Warehousing respectively.
Roisin herself works in the company office and is currently in Year 2 of a supply chain and logistics course with the Chartered Institute of Logistics & Transport (CILT) in Ireland.
All three have followed in their father's footsteps and now make up the second generation of Quinlan Transport.
With more trucks on the road than ever, business is booming at the present time and the demand from clients continues to increase as well.
For that reason alone, new trucks have been added to the fleeting and, sticking to his guns, Michael doesn't stray away from the Renault brand.
Down through the years, the Tipperary native has chosen Renault when it comes to the trucks in his fleet as it's a product that he finds reliable and efficient.
Clients could certainly say the same about Quinlan Transport as well.
Greenfield Foods has been a trusted client for many years now and continues to have a strong working relationship with Quinlan Transport going forward.
Looking towards the coming months in what has been a strange year to say the least with the impact of the Covid-19 pandemic, Quinlan Transport is confident of further growth going forward.
"In these uncertain times, every business move has to be carefully examined but we remain optimistic for the future."
It seems the company knows nothing but growth, particularly in these past few years and the bold move that brought about purchasing a 94,000 square foot premises.
It won't be long until Quinlan Transport are marking 30 years in business and who'd bet against them adding a few more trucks to the fleet and a few more customers to the list of clients along the way?
The company is going strong at the present time and continues to expand and be open to new opportunities, so watch this space.
Quinlan Transport
Cabragh Business Park,
Cabragh,
Thurles,
Co Tipperary
Telephone: 05 042 4264
Published in Irish Trucker & Light Commercials magazine, Jan 2021, Vol 24 No 1