Tipperary's transport specialists
12/02/2021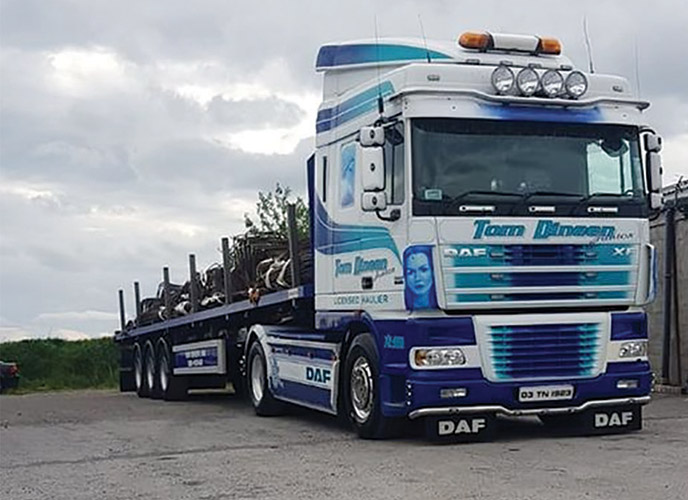 Tom Dineen Jnr Transport Ltd is a family-run haulage company based in Co Tipperary, currently operating with six trucks on the road. Irish Trucker touched based with Managing Director Tom Dineen Jnr recently to learn all about the ins and outs of the company and the state of business at the minute.
These are busy times at Tom Dineen Jnr Transport Ltd and the plan for the Dineen clan down in Bohercrow is to keep things that way right through 2021.
The company has a proud reputation for quality work down through the years, dating back to when Tom Dineen Snr ran his own venture up on 30 years ago.
Since that time, the Dineen name has become synonymous with reliable and expert haulage around the Tipperary area and indeed all over Munster.
Irish Trucker learned more from Tom Dineen Jnr when the man himself took time from a busy schedule to fill us in on the details.
"We're based along the Limerick Road in Bohercrow, Co Tipperary and I would have taken over the company from my father seven years ago," explained Tom Jnr.
"He had the company for 29 years and still remains involved to this day and I have a sister, Hazel, that also works here with us and I am also hugely grateful for the support of my mother Theresa, so I guess you could say it's a family business."
Right now, Tom Dineen Jnr Transport Ltd is operating with seven trucks in its fleet, six of which are currently on the road week in, week out.
The company is busy and "getting busier", according to Tom Jnr, with work on-going for construction and steel businesses throughout the Munster region.
"We're busy at the moment and it looks like getting busier," he said.
"During the lockdown we were still tipping away with a few things and now, thankfully, we're back in full swing.
"BRC McMahon Reinforcements is a crowd that we've done a lot of work over the years and we continue to have a good working relationship with them.
"It's mostly construction companies that we're working for, with an emphasis on steel work in particular. We'd be big time into steel transport when it comes to the companies we do work for."
Transporting steel requires the right equipment and when it comes to using trucks for the job, Tom Dineen Jnr Transport Ltd never stray away from the trusted DAF brand.
The company's fleet is entirely made up of DAF trucks, which come from Interparts Drumalee Ltd in Co Cavan while the company's trailers are purchased in Dennison Trailers Ltd in Naas, Co Kildare.
DAF have been the truck of choice at Tom Dineen Jnr Transport Ltd for some time now.
"My father would have started off with Scania back 30 years ago and over the years he switched his trucks to Volvo," said Tom Jnr.
"I've continued on with DAF here because I've always found them to be a good, reliable truck. The drivers here are happy with them and their comfort, so we've stuck with them."
Reliability is everything in the transport game and it's also one of the reasons why clients like BRC McMahon Reinforcements and Shannonside Galvanising continue to choose Tom Dineen Jnr Transport Ltd first ahead of other competitors out there.
Tom Jnr and his team down in Bohercrow are known for quality work and its part of the reason why they have been able to branch their operation out over to the United Kingdom in recent times.
"They (clients) know that we are a reliable transport company that offers a quality service," the MD put in plainly.
"We've a bit of work ahead of us here now and have started going back and forth to the UK about six weeks ago.
"It's really starting to pick up for us now and if it continues to get busier, maybe we will be looking at adding one or two more trucks to the fleet."
The expansion is a bold one by the Dineens, especially when you take into account the current situation with Brexit.
However, the early signs are promising, according to Tom Jnr, who is keen to grow the business while times are good.
His father certainly took the same approach when he was in charge and is no doubt on hand to offer words of advice whenever needed, given his years of experience and active role in the company.
Looking towards the coming months, as well as 2021 as whole, Tom Jnr is keen for more of the same when it comes to the current state of business.
"Hopefully, we can just keep the head down, continue doing what we're doing at the moment and keep the show on the road," he concluded.
Hear, hear.
Tom Dineen Jnr Transport
Limerick Rd,
Bohercrow,
Co Tipperary
Mobile: 086 819 1461
Published in Irish Trucker & Light Commercials magazine, Jan 2021, Vol 24 No 1