Prompt, professional plant and machinery transportation solutions
10/02/2021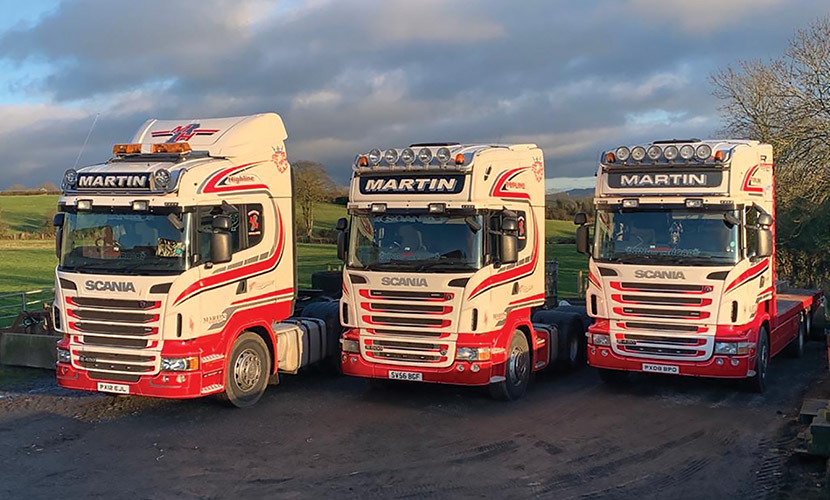 Specialising in the haulage of heavy and awkward loads all over Ireland and the UK, Martin HIAB Haulage Ltd. provides unrivalled solutions from its well-appointed base in Newry, County Down. Irish Trucker had a chat with proprietor Philip Martin to find out more about this flexible and dependable haulage operation.
Since its inception, Martin HIAB Haulage Ltd. has quickly earned a solid reputation as one of Ireland's premier plant and machinery haulage companies. No load is too heavy or awkward for the Newry-headquartered operation which provides a full range of flat bed, low loader, step frame, HIAB, tipper and curtainsider haulage solutions – full loads and part loads - across Ireland and the UK, with every consignment delivered safely and on time, to exact customer requirements.
A true trucker at heart, founder / proprietor Philip Martin runs a fleet of six trucks – five Scania and one Volvo – and the Newry man is currently in the process of restoring a beautiful Scania T Cab. A cursory glance at some of the customers Martin HIAB Haulage Ltd. works for underlines the high esteem in which their services are regarded in the agricultural, plant and machinery, and construction sectors with well-established and highly-regarded names like Hanlon Machinery, Drumlish Farm Machinery, Slurrykat, Kane Trailers, Kingspan and ZeroGrazer jumping out off the page.
In keeping with the high quality of the services provided, business is brisk. "We're busy all the time," Philip confirms. "The challenge is piecing it all together and making sure everything works. The nature of it is that generally you might only have two or three days' work ahead of you at a time, so each week presents a new challenge. But we have a strong reputation at this stage and thankfully there's good demand for our services."
While there's always demand for moving plant and machinery around the island, and Martin HIAB Haulage has the equipment to tackle every job, it's also important to have skilled, experienced drivers. "It's not easy to get good drivers who can do this kind of work," Philip notes. "You need men with very good knowledge and experience."
Ultimately, the goal going forward is to transport more and more new machinery. "We've already done a good bit of that for the likes of Slurrykat, Drumlish Farm Machinery and some exports for Kane Trailers and ZeroGrazer and various products for Kingspan. We're able to deliver any plant, machinery or equipment, new or second hand, to or from anywhere in Ireland or the UK. The vast majority of our work is in the south of Ireland."
At the heart of the business are Philip's five trusty Scania trucks. At the time of writing, he was in the process of painstakingly restoring a recently-acquired 144 T Cab, which will take pride of place in the Martin HIAB Haulage fleet. The T Cab was purchased during the summer along with a Scania 164.
The Down trucker admits he has a real passion for show trucks: "I started off with a 143 Scania classic lorry but sold it to put some capital together to start the business," he reflects. "The 144 T Cab is a real collector's item. I had initially bought a left-hand-drive out of Prague but only had that for two days when this one became available in England. I managed to sell the left-hand-drive quickly and bought this one instead.
"I had three lorries at the Cooley Show last year. We try to get to a few shows every year. When the shows resume again, I'd hope to take the new T Cab and also the 164 low cab."
Alas, with social distancing recommendations remaining in place indefinitely due to the ongoing global pandemic, it looks like there will be no truck shows in Ireland for the foreseeable future at least. These are uncertain times for all businesses, but Philip was relieved that haulage wasn't hit too hard when Covid-19 reached our shores in March: "I only lost one week really and then after that I had four lorries out every day because there was machinery that had to be moved."
What is it about the Scania lorries that appeals so much to him? "I find that Scania does exactly what it says on the tin. As well as being a great truck performance-wise, they are also quite easy to work with and maintain. They're relatively straightforward to trouble-shoot and to get parts for. And they are ideal for machinery work as they offer better visibility than other trucks."
While a complete range of haulage solutions is provided, about 90% of the day-to-day work is transporting plant and machinery, the HIAB cranes also allowing for the safe and efficient relocation of everything from portacabins to containers. "At the end of the day, it all comes down to getting the cargo delivered safely and within the agreed timeframe. I always try to make sure I can get every job carried out within a week at the most; I don't like to take work on and then not do it quickly. When you have a reputation to protect, you have to look after people. We're always on the lookout for new customers and word of mouth is very important in this industry."
Philip has been focussing exclusively on HIAB and heavy haulage work for the past four years, having done some general haulage prior to that. "I also did a bit of fridge work but I really like the awkward work that nobody else seems to like – wide loads and awkward loads."
What is it about these challenges that he enjoys? "As far as I'm concerned, if there's a problem, then there's always a solution. If there's no solution, then there's no problem!"
Logistics is important and Philip is always working out the best solutions to try to make sure he has a backload on as many jobs as possible. "You don't like empty miles," he concludes. "You are planning all the time and you are loading and offloading all the time. You're always thinking about the business. You think about it 24/7 and you have to stay on top of it. The phone is always on and you have to look after people. When they call you, they will usually want something delivered fairly quickly."
Martin HIAB Haulage Ltd.
5 Katesbridge Road,
Newry,
County Down.
Tel: +44 7514 320147 / 087 922 2255
Published in Irish Trucker & Light Commercials magazine, Nov/Dec 2020, Vol 23 No 5