Hill Road Commercials hit the ground running  
09/02/2021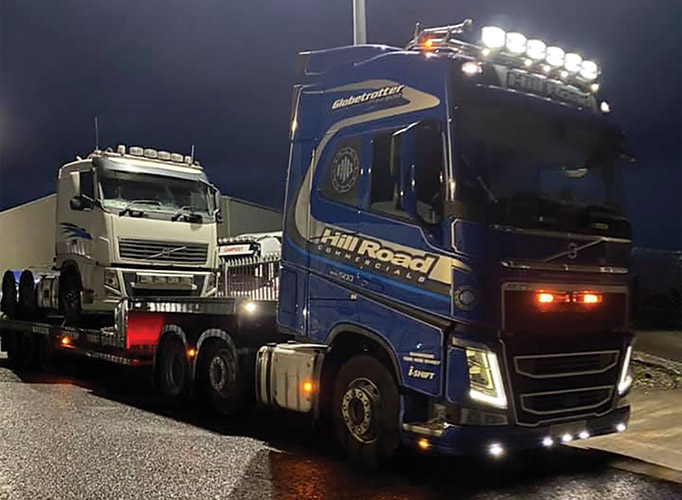 Based in Banbridge, Co Down, Hill Road Commercials Ltd is a family-run company which specialises in commercial vehicle and automotive repairs. Irish Trucker learned more about this new business from joint partner Robbie Baird recently.
Business is booming right now at Hill Road Commercials Ltd and the hope for the Baird clan up in Banbridge is that things will continue that way right through to next year.
Founded in April 2020, the company has enjoyed a rapid rise over the past couple of months and the plan for the months ahead is to simply keep growing.
As of right now, Hill Road Commercials Ltd employs four full-time staff from its base at 20 Hill Road, Ballinaskeagh, Banbridge, Co Down.
Robbie Baird told Irish Trucker all about what they have to offer customers and how the Bairds came to find what is now very much a thriving business.
"I suppose you could say that we are providing a one-stop shop for our customers," Robbie outlined.
"We provide service, maintenance, PSV work and engine repairs predominantly on Volvo lorries, although we've branched out to Scania lorries recently.
"This is a venture spawned out of an idea shared between my brother David and myself. Alongside the guidance and stewardship offered by our father, Robert snr we are well equipped in terms of experience, skills and have the hunger to progress and develop."
Robert snr operates his own haulage company, Baird Bros Transport, which was established by his father and is also based in Banbridge. It has grown a reputation over the years as a provider of excellent service.
It therefore seemed like a natural progression for the two younger Bairds to follow a similar path by setting up Hill Road Commercials Ltd as a family-run business.
Robbie has a background in mechanics, having spent a decade-and-a-half working in Dennison Commercials Ltd in Newry.
The experience he gained there has proved invaluable to date, along with some of the customers he met along the way.
"I joined Dennisons in 1998 after finishing school and started out there working as an apprentice mechanic," Robbie pointed out.
"After a few years, I had eight mechanics working under me in Newry. When I eventually left and took the decision to go out in tandem with David, I just felt that it was the right time to do it. David himself, has also completed a thorough apprenticeship and has gained a great mix of skills and knowledge whilst working alongside me in Dennison's.
"Thankfully, we've been busy here since we started."
The bold decision taken by the brothers to set-up shop this past Easter fully appears to have paid off and they haven't looked back since.
In fact, Robbie himself describes business itself as being "absolutely crazy busy at the moment".
Not bad for a couple of months work.
"We're extremely busy here," he said. "We're looking at taking on a new man here in the next few weeks because the demand is so high right now from customers. Hopefully, things stay that way for the foreseeable."
He added: "We started during the lockdown and obviously that was a strange time to set up a business, but customers will still want value wherever you go and whenever you set up.
"We made a couple of calls before starting and I have to say that there was a lot of interest. I suppose that's what made us go for it."
It seems the Bairds are now the people to go to when it comes to Volvo truck repairs in and around Banbridge.
Specialising in commercial vehicle and automotive repairs, Hill Road Commercials Ltd has earned itself a glowing reputation in a remarkably short space of time.
So what has been the secret to success thus far? According to Robbie, past working relationships with clients have stood tall for him.
"I made good working relationships with customers in Dennisons and I think that has counted for a lot here," he said.
"After spending 15 years in charge of the workshop in Newry, you're bound to develop good relationships with customers along the line.
"So far its paid off, thankfully."
October will see the company passing the six-month mark and, with the state of the business at the moment, Hill Road Commercials Ltd will be celebrating one year before the team in Ballinaskeagh even know it.
Busy times often call for plans for expansion and that's exactly what Robbie is looking at.
Speaking on his hopes for the rest of the year, the Mourne County native is very much optimistic about what's around the corner despite these challenging times with the Covid-19 pandemic.
"We'll just be looking to progress on further and hopefully take on another mechanic here soon.
"We'll be looking to put another garage up in the months ahead as well, because we've grown out of this one at this stage.
"We've got a lot of tools, rams and extra tools ordered, so it's already in motion you could say," he concluded.
Great to hear.
Hill Road Commercials Ltd
20 Hill Road,
Ballinaskeagh,
Banbridge,
Co Down BT32EB
Tel: +44 7999 343382
E-mail: [email protected]
Published in Irish Trucker & Light Commercials magazine, Nov/Dec 2020, Vol 23 No 5