Noone Transport welcomes 30 new Actros trucks
05/02/2021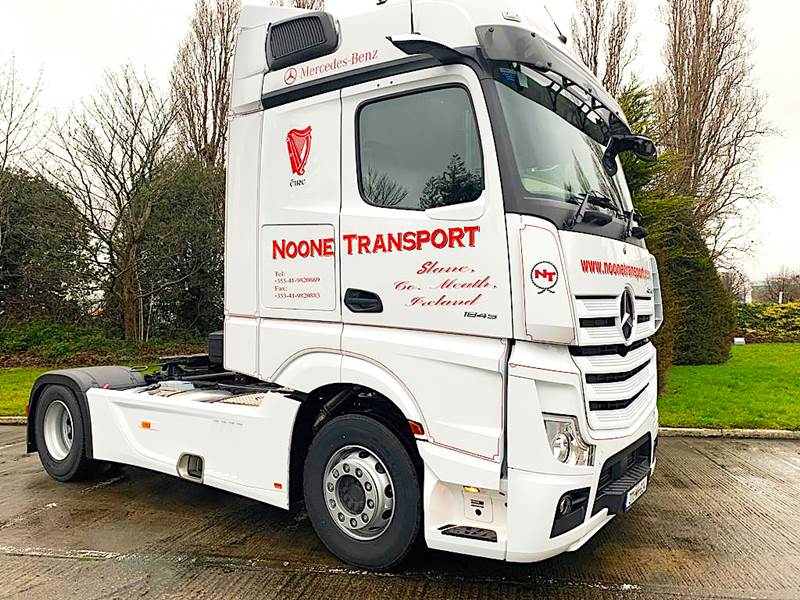 In preparation for a busy year ahead, leading Irish haulage company, Noone Transport Limited has given its fleet of heavy commercial vehicles a 'substantial' boost with the addition of 30 new heavy-duty Mercedes-Benz Actros trucks.
Heading up the list of innovative safety features in the new 2545LS 2.5 units is 'MirrorCam' – a system that replaces conventional wing mirrors to deliver improved aerodynamics coupled with a safer and easier driving experience.
Other safety features include Lane Departure, Active Brake Assist '5', Traffic Sign Assist and Attention Assist as standard.
Inside, each Big Space cab comes fitted with a number of features designed to improve driver comfort including climate control, auxiliary air conditioning, night heater, sliding fridge, LED interior driving and living lighting, Apple Car Play, satellite navigation, premium mattress and a glass sunroof.
Founded in Duleek in 1986, Noone Transport has grown to become one of Ireland's leading logistics and distribution companies. Since 2001, the Company has operated from its current, more extensive headquarters in Slane, Co. Meath.
In addition to a dedicated national transport service, Noone also operates a Europe-wide service for full and part-load consignments employing ambient and temperature controlled trailers.