Busy times at McMullan Transport 
04/02/2021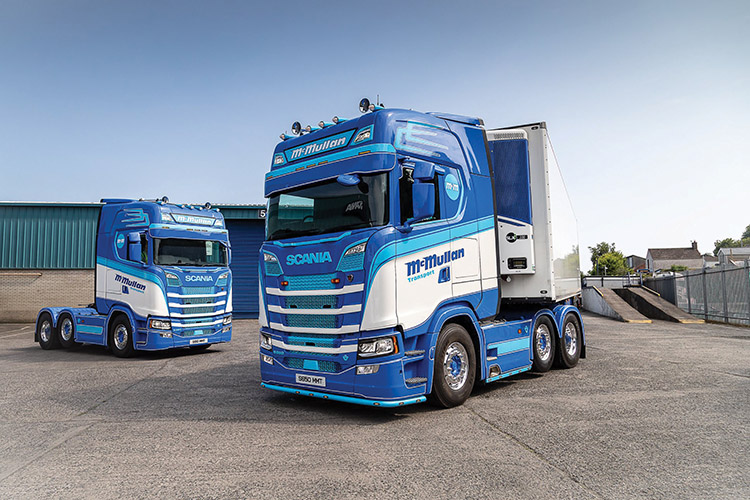 McMullan Transport Ltd in Cushendall, Co Antrim has earned a reputation for both excellence and reliability amongst its clients. Irish Trucker heard more from one half of the company's directorship in Fearghal McMullan about the refrigeration transport experts.
These are busy times at McMullan Transport Ltd. Talk to Fearghal McMullan and he'll tell you that the company is "a fairly new venture" and one which is headed up by his sister Aine, who has been immersed in the transportation industry for the majority of her professional career.
In fact, the company was only set-up in 2014 but in that time it has managed to grow rather quickly with its fleet.
Fearghal himself is quite optimistic over what's in store for the business, as he gave Irish Trucker the lowdown about what they're all about and where he hopes they can go in the next couple of years.
"We're based along the Clough Road in Cushendall, Co Antrim and the company itself is established four years. My sister Aine runs the company," he outlined.
"It's mostly refrigeration work to England and we have all kinds of fridges in our trucks."
McMullan Transport Ltd continues to grow year on year.
As far as Fearghal's concerned, most of the early success has to be accredited to the endeavours of his sister.
Indeed Aine McMullan has been the driving-force behind the company's success to date, having started the business from the ground up alongside her brother.
"As I said, it's a fairly new venture we have here. My dad never had anything to do with lorries but Aine was always involved in them," said Fearghal.
"Our family would have originally come from a farming background. We started up here and soon afterwards our list of customers just got bigger and bigger and, as a result, we got bigger."
"Right now we're doing work all over and have a good bit of work on for Irwin's Bakery in Portadown in particular."
The company's business isn't just restricted to local firms either, as their trucks now make regular trips across the continent.
As Fearghal himself outlined, branching out has been one of the key ingredients to the quick growth the company has experienced.
The hope is that a pending Brexit deal won't disrupt things as business is seemingly thriving for McMullan Transport clients, both within Ireland and across the continent, at the present time.
McMullan Transport Ltd operates with both Volvo and Scania from their base in Cushendall but, as Fearghal explained, the latter brand has been taking over its fleet as of late.
"About 99 per cent of our fleet is made up of Scania and Volvo. At this stage you could say that the Volvo is being replaced by Scania within the fleet," said Fearghal.
"It's because of the relationship that we have with Road Trucks. I'd say it's second to none and we just feel that they give a great back-up service.
"It comes down to driver preference as well – all of the drivers want Scania."
So what has been the key to the success?
"I'd say it's down to reliability. We never let them (the customers) down here and our team of drivers is second to none," Fearghal concluded.
McMullan Transport Ltd
Clough Road,
Cushendall,
Co Antrim
Tel: 0044 283 839 4460
Published in Irish Trucker & Light Commercials magazine, Nov/Dec 2020, Vol 23 No 5