Alpha Storage hits the ground running
02/02/2021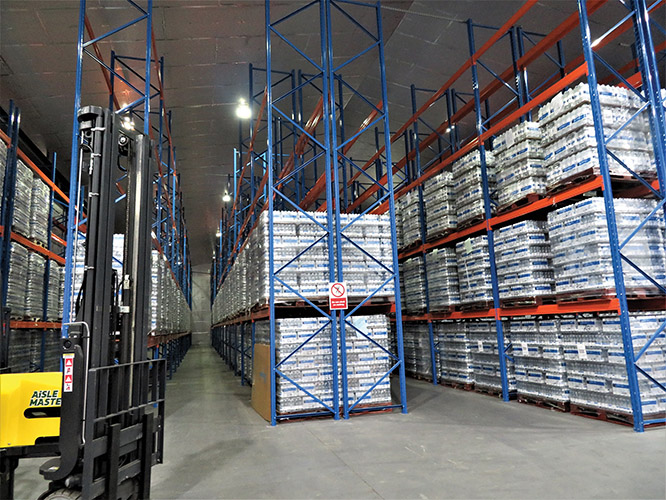 Alpha Storage Ltd is an exciting new storage and logistics company based in Co. Cavan. It was set up by twin brothers Dessie and Barry Duffy in response to the growing export market and the opportunities Brexit is expected to bring.
Trading since July of last year, Alpha Storage is a warehouse facility conveniently located five minutes from Cavan town to support local industry and enterprise. The business provides pallet storage in addition to value-added services such as 'pick and pack', in an ambient-controlled environment. Clients can be assured of a clean and product-protected service.
Alpha Storage was formed to cater for a growing demand for storage and value-added services in the border region. With Brexit on the horizon, the service is a timely one for both suppliers and exporters alike. The company offers palletised racking for 5,000 standard pallet spaces and plans to grow and accommodate customer needs over the coming years. Its focus is on both fast turnaround and long-term rates for customer requirements. Alpha's facility is operating five loading bays and a closed sealed unit facility, with full pest and insect control measures in place to ensure the highest hygiene standards are met.
Alpha Storage's mission statement is to provide a 5-star quality service to all of its clients and be recognised as a premium service provider. Customers can be confident in trusting the respect given to their products.
Directors Dessie and Barry Duffy bring a wealth of knowledge and experience to the business, having worked in international transport and logistics, HGV maintenance and testing as well as the motor trade for many years. They have always worked in a customer-focused way to deliver a quality, committed service in everything they do. The brothers have achieved a BRC 'AA' rating along with ISO 9001 and GPD accreditation, and last April opened the second phase of their warehouse which has created a further 2,500 pallet spaces. Employing 12 highly-skilled staff, including eight drivers, Alpha Storage is currently delivering into all the major distributions centres, including Tesco, Aldi, Lidl and Dunnes Stores.
"Our first year in business has gone very well. There has been great buy-in from companies in our area," Dessie enthuses.
"We took out a 10-year lease on a secure 22,000 sq. ft. warehouse in December 2018 and retrofitted it to suit high-grade products ahead of our opening in July 2019. There wasn't a storage facility in the north-east or border region like this. We serve a large catchment area and have a growing staff and customer-base.
"Barry and I know the business better than most. I worked in international transport and then moved into the housing sector before returning to my transport roots. Barry is a mechanic by trade who worked in HGV maintenance and testing in the family business, Duffy Commercials (Cootehill). His focus is very much on this new venture now."
Dessie continues: "Both of us have a vast network of contacts and have a hands-on attitude. We take the headache out of dealing day to day operations and offer a comprehensive service for exports and imports for our customers. We are working on developing strong, long-lasting partnerships with our clients. We are well placed having DPD in the same industrial estate as us with national distribution services. They like ourselves are customer focused and ready to assist if required."
Barry is equally happy with the company's progress to date.
"A lot of hard work, long hours and research went into it," he explains.
"We started from scratch and have built it up bit-by-bit. Like any start-up business, we've had to overcome many challenges and teething problems. We listen to our customers and try to do our best for them. We'll always go the extra mile for them. We've embraced modern technology in a big way and are using some excellent software packages. We're confident that the business will continue to go from strength to strength."
The services offered by Alpha Storage include palletised storage, 'pick and pack', document storage and transportation. FCL container imports and exports with groupage services to the UK and Europe. Full load movements and any other logistic related needs. Whatever the size of your business, it can provide the perfect storage solution at very affordable prices. The storage facilities are fully alarmed, while additional security is provided by extensive 24-hour CCTV coverage both internally and externally. The warehouse is fitted with automated dehumidifiers in order to minimise internal atmospheric moisture levels. Furthermore, Alpha's self-storage units are accessible to customers from 8am to 6pm Monday to Friday, and from 8am to 1pm on Saturdays.
In response, the company has developed processes to ensure it performs in the most logical, straightforward and time-efficient manner, giving true cost-effectiveness for customers. The family-business is trusted with highly confidential, time sensitive and restricted paperwork from a variety of customers who depend on it to distribute it on demand, singly or in bulk, within Ireland, the UK, Europe or worldwide.
Processes include: delivery via self-owned and operated vehicles and pallet network; pallet pick and dispatch; pallet distribution nationally; file storage with pick files and dispatch;Europe and UK load collections with store and pallet dispatch service.
Alpha Storage has also established itself as a leading transport and logistics partner with a range of services offered. It runs five Volvo, Scania and Renault tractor units and 22 trailers for drop trailer rotation services at home and abroad. The trailers are a mix of box vans, curtain-siders, refrigerated, container and skeletal.
The Duffy brothers would like to take this opportunity to thank everyone who has supported them to date. They look forward to working with you for many more years to come.
Alpha Storage Ltd
Cavanarainy,
Drung,
Co. Cavan, H12 YN59.
Telephone: +353 0(42) 9660044
Mobile: +353 0(86) 3848113 / +353 0(87) 7633025
Email: [email protected]
Web: www.alphastorage.ie
Published in Irish Trucker & Light Commercials magazine, Nov/Dec 2020, Vol 23 No 5