Providing excellence in ram repairs
28/01/2021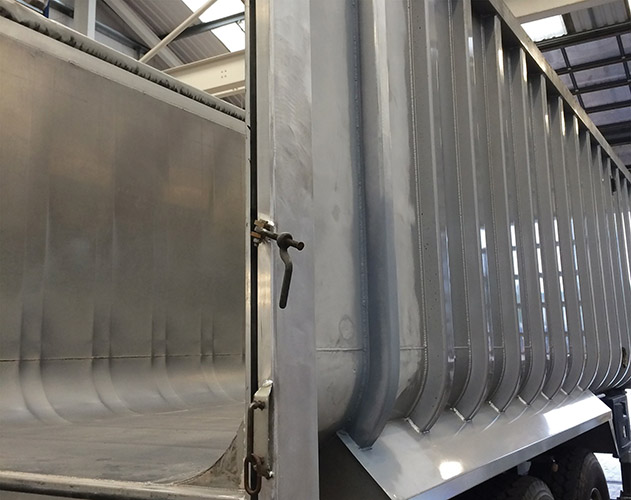 Athy Trailer & Engineering Ltd is a family-run business which specialises in the repairs of hydraulic rams amongst other things. Irish Trucker learned more from company Managing Director Martin Kelly recently.
Based in Barrowford, Co Kildare, Athy Trailer & Engineering Ltd has earned itself a reputation as one of the leading vehicle and trailer repair companies of its size in the country.
The business currently operates with five full-time staff, with Martin Kelly heading it up as Managing Director since 1988.
Martin's two sons Stephen and Jamie have since come on board with the company which has gained a countrywide reputation for excellence, customer service and value for money.
The staff members are highly skilled at Athy Trailer & Engineering Ltd and pride themselves on being one of the few hydraulic ram repair specialists throughout Ireland.
Irish Trucker caught up with Martin Kelly to learn more about the state of business at the moment and what exactly they specialise in down in Barrowford.
"First and foremost, we would be well known for our ram repair service and any repair work that needs to be carried out on a trailer, we can do it," Martin explained.
"It's specialised work and there's hardly anyone else at it, so it's an important service to be able to provide."
He added: "We specialise in hydraulic rams for trailers and repair, fit and sell them. We also specialise in trailers that are twisted and there's nothing that can come in here that couldn't be straightened.
"We do brakes, body maintenance – you name it, we do it here."
Using Edbro and Hyva hydraulic rams, Athy Trailer & Engineering Ltd has developed into a leader when it comes to hydraulic ram repairs in this country.
Edbro is an English company and is one of the world's leading tipping hoist manufacturers. It supplies a product range to suit many vehicle-mounted tipper applications, while also supplying a range of skip loaders and hook lift equipment for the waste industry.
Hyva is a global multinational company. Founded in Holland, the company marked its 40th anniversary last year and remains as committed as ever to the development, production, marketing and distribution of components for the commercial vehicle industry.
Hyva offers a wide range of technical products and components, mainly used in connection with hydraulic loading and unloading systems on trucks and trailers for the road transport industry.
Like Edbro, Hyva is also a major player in the manufacturing and supply of compactors and waste collecting units for the environmental service industry.
Athy Trailer & Engineering Ltd has endeavoured to offer its customers the keenest prices when it comes to their repairs, with each ram being repaired to such a high standard that the same repair should never need to be done again.
The Kildare-based company have the equipment and systems to repair rams very efficiently, which had been the plan all along for Martin Kelly's father, Andy, when he started up his venture back in 1988.
Andy had been a fitter all of his working life and, needless to say, was a big influence on his son's career path as he now operates his own ram repair business.
Martin and his staff have always strived to reduce waste of materials, time and money and these cost savings have been passed on to the customer.
Athy Trailer & Engineering Ltd also specialises in chassis stretching and straightening, crash repair of aluminium bodies, aluminium floor fitting, lift axle fitting, reconditioning of brakes, running gear and reconditioning and air suspension fitting.
It's little wonder why the company's customers have been coming to them from all over the country (and even beyond) for many years now.
"As most of our customers come to us through word of mouth, we try especially hard to give them the right advice and information," said Martin.
"This has worked well for us so far, with customers coming to us from as far north as Donegal and as far south as Cork and Kerry. We've even got business from England."
Indeed the company has come a long way since its inception more than 30 years ago.
Today it operates from a large workshop in Barrowford in Athy and there Martin and his staff are able to inspect, service, repair, upgrade or convert the running gear on most trailers.
Martin's experience means he's able to advise customers on the successful and not so successful products on the market.
In that regard, the Co Kildare native has very much followed in the footsteps of his dad.
"The business was set up by my father Andy and he would have started out by carrying out repairs on trailers for farmers," he explained.
"It wasn't easy at the start – the economy wasn't as strong as it is now – but we persisted and things have been going well for us over the past few years.
Thus far, business in 2020 has been mainly positive, all things considered, according to the Managing Director of Athy Trailer & Engineering Ltd.
"The first month or so of this year was slow but it's after picking up and, at times, it's nearly too busy. We've kind of evened out I suppose," he stated.
Looking towards the months ahead, Martin is keen for more of the same rate of business with hopes of gaining a couple more new customers along the way.
"We'll be just looking to get trailers ready for more tests and try and get enough work to keep us going. Hopefully everything goes okay," he concluded.
Here's hoping.
Athy Trailer & Engineering Ltd
Barrowford,
Athy,
Co Kildare
Tel: 059 863 1819
Mobile: 087 783 2061
Published in Irish Trucker & Light Commercials magazine, Nov/Dec 2020, Vol 23 No 5